Thousands of protesters gathered at airports and cities nationwide for a second day on Sunday to decry President Donald Trump's executive order that temporarily restricts entry to the U.S. from seven Muslim-majority countries and indefinitely bans Syrian refugees from crossing into the country.
Within 24 hours of Trump signing the executive order, its impact was resonating worldwide as officials struggled to interpret Trump's decision — leaving refugees and immigrants who had already been vetted and approved to enter the country detained at airports and stuck in legal limbo.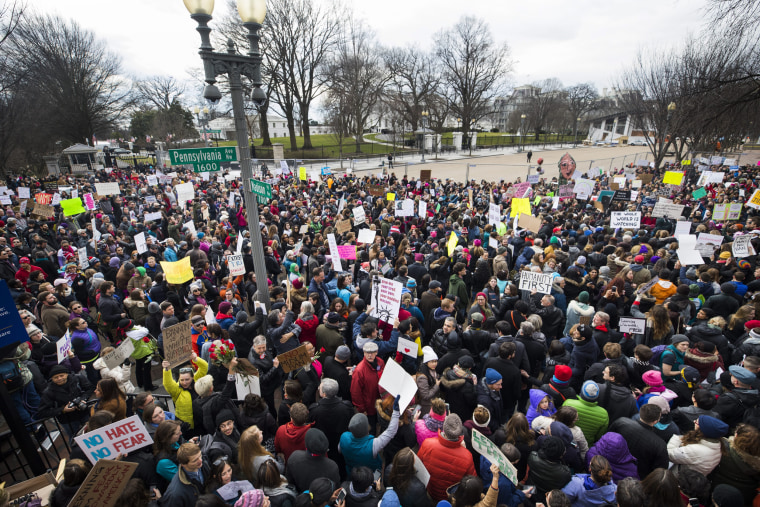 A dozen people who landed in the U.S. after Trump signed the executive order were detained and some were separated from their families at New York's John F. Kennedy International Airport on Friday, according to lawmakers and attorneys. Two of the detained were Iraqi refugees and one — identified as Hameed Khalid Darweesh — was an interpreter working with the U.S. government for a decade, according to his attorneys.
Photo gallery: 'Trump Out, Refugees In': Ban Sparks Protests at Airports Across the Nation
Darweesh was eventually released Saturday afternoon. The other Iraqi detainee was also released, NBC New York reported.
Two people were released from Philadelphia International Airport on Sunday and reunited with their families, according to Mayor Jim Kenney.
In San Francisco, five individuals detained at San Francisco International Airport have been released, SFO said on Twitter Sunday afternoon, citing local Customs and Border Protection.
But there were reports of people detained around the country and lawyers stressed it was hard to know exactly how many people had been detained and where.
At least four federal judges in New York, Massachusetts, Washington state and Virginia have temporarily halted parts of Trump's executive order, blocking the deportation of those coming into the country with valid visas and others who are legally authorized to enter the country.
Meanwhile, a senior White House official said Sunday that the president had the right and Constitutional power to enact the order. The judge's decision changed nothing, the official added.
News of the detentions brought a mass of protesters to JFK and other airports on Saturday, with more protests kicking off in cities around the country on Sunday.
New York City
In New York City, thousands of protesters gathered in Manhattan's Battery Park on Sunday afternoon for a march and second day of protests.
The New York immigration Coalition's Executive Director Steve Choi told NBC News 12,000 people had signed up for the rally.
"What's happening to our country, it's just devastating," demonstrator Abdul Alzindani, part of a group of first and second-generation Yemeni men and children, told NBC News.
"I owe all my success to this country and I will defend it, whatever it takes," he said.
New York Sen. Kirsten Gillibrand and New York City Mayor Bill de Blasio attended the protest.
Gillibrand told the crowd of protesters Trump's executive order "goes against everything that we as New Yorkers stand for."
"Fight for what you believe in, never stop fighting," she said.
Rep. Nydia Velázquez, who was a vocal critic of Trump at Saturday's airport protest, addressed the president directly and said "Mr. President, look around here, this sea of people, this is what America is all about."
"Mr. President, we are not going away. We are not backing down — from our airports, to the courts, to the streets we will continue to fight for justice and freedom," she said to cheers from the crowd.
Los Angeles, California
Thousands of protesters rallied at Los Angeles International Airport Sunday afternoon, marching through the airport's international terminal and continuously chanting, NBC Los Angeles reported.
Washington, D.C.
A massive crowd gathered outside the White House on Sunday to protest the ban.
And at at Dulles airports, people gathered with signs in support of immigrants and refugees.
Dallas
Protesters returned to Dallas/Fortworth International Airport on Sunday morning, in a crowd that started off as a few dozen and soon ballooned into hundreds chanting "Set them free!," NBC DFW reported.
NBC DFW reported that as of Sunday morning, at least nine people were still being detained at the airport.
On Sunday afternoon, DFW airport said on twitter that the detainees were being released "and reunited with their families at an offsite location," citing Customs and Border Patrol.
Boston
Hundreds gathered Sunday afternoon in Boston's Copley Square, filling the square with signs, chanting and singing "America the Beautiful," according to NBC Boston.
Atlanta
Protesters gathered at the nation's busiest airport, Hartsfield-Jackson Atlanta International Airport, on Sunday afternoon after 11 people were detained there for hours while trying to enter the country, according to NBC affiliate WXIA.
All 11 detainees were released by 11 a.m. on Sunday, according to Mayor Kasim Reed.
San Francisco
Droves of protesters turned out at San Francisco International Airport (SFO) on Sunday afternoon and at least 50 lawyers were also at the airport offering legal help, NBC Bay Area reported.
An airport spokesman said Sunday afternoon that all five people that had been detained under the executive order had been released.
The airport had issued a statement earlier Sunday saying they "appreciate all those who have so passionately expressed their concerns over the President's Executive Order relating to immigration."
"We share these concerns deeply, as our highest obligation is to the millions of people from around the world whom we serve," the airport said in the statement.
SFO said it was making supplies available to affected travelers "as well as to the members of the public who have so bravely taken a stand against this action by speaking publicly in our facilities."
Demonstrators also assembled outside of major metropolitan areas, including hundreds of people who protested in Omaha, Nebraska, to protest the ban, according to NBC affiliate WOWT.