ALAMEDA, Calif. — More than a dozen police officers are under investigation in a racist text messaging probe that has rocked the Northern California city of Antioch, an investigative report released Thursday show.
A judge released the investigative report compiled by the Contra Costa County District Attorney's Office that included the partly redacted messages after a joint FBI and local investigation into the city's police department.
The messages, which were sent in 2020 and 2021, detail officers' allegedly using racial epithets and homophobic slurs, sharing racist images and casually discussing the use of "less lethal" weapons on people, including the city's mayor, who is Black.
The majority of the roughly 114,000 residents of Antioch, about 45 miles northeast of San Francisco, are minorities.
The messages could have far-reaching implications for criminal cases linked to the officers. Authorities provided the messages last week to defense lawyers for four men charged with murder and other crimes after two of the accused were named in the messages.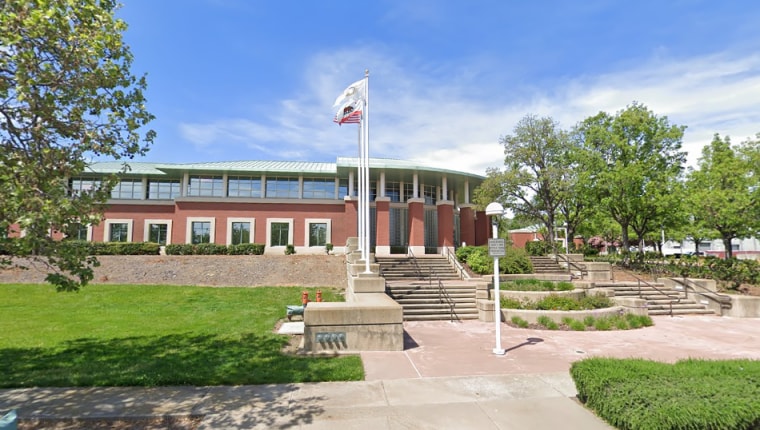 An attorney for one of the men said Thursday the messages could undermine the officers' credibility in hundreds of convictions, if not more.
"Right now there are people sitting in jail based on the word of these officers who've been involved in using this horribly offensive language," said Evan Kuluk, the deputy public defender for Contra Costa County. "That is an intolerable situation."
In a message included in the investigative report and dated April 29, 2020, Officer Morteza Amiri told an officer from a nearby department that because his agency does not record interviews on video, "I sometimes just say people gave me a full confession when they didn't."
"Gets filed easier," Amiri said, according to the report.
Amiri did not respond to a request for comment Thursday night.
In another message, sent April 24, 2020, Sgt. Josh Evans allegedly used a racist slur for a Black person and said he would bury the person "in my fields," the report said.
In a message included in a separate supplemental report from the Contra Costa County District Attorney's Office, Officer Eric Rombough allegedly sent Evans a photo of one of the suspects accused of murder in what appeared to be a hospital bed.
"You plugged him in the neck? Lol," Evans allegedly responded, according to the report, which was provided to NBC News by Mathew Martinez, a lawyer for suspect Trent Allen.
Evans allegedly added that Allen's injury sounded "like his fault."
"So was the 6 muzzle thumps and me trying to kick his head over the fence," Rombough allegedly wrote back, according to the supplemental report.
Evans did not respond to a request for comment Thursday night. Rombough could not be reached for comment at an email account associated with him.
Other messages from the report appear to show Rombough using derogatory terms for Black people and sharing racist images.
In a message on Nov. 22, 2021, Rombough allegedly texted an officer, "I'm only stopping them cuz they black," and added an expletive.
In other messages, the president of the Antioch Police Association, Sgt. Rick Hoffman, allegedly described a suspect with a homophobic slur and used a vulgar phrase to say what he did to the suspect.
Hoffman did not respond to a request for comment Thursday night. The union also did not respond to a request for comment.
Other messages show officers allegedly discussing using a less lethal weapon on suspects and others, including Mayor Lamar Thorpe.
On June 8, 2020, Officer John Ramirez allegedly texted a group of 22 officers and said: "I'll buy someone a prime rib dinner at House of prim rib to 40 that [expletive] during the protest today."
"This is a reference to the potential use of a .40mm less lethal launcher being utilized on current Antioch Mayor Lamar Thorpe," wrote Senior Inspector Larry Wallace of the district attorney's office, the author of the investigative report that included the messages.
Ramirez did not respond to a request for comment Thursday night.
It is not clear whether the officers named in the investigative report are on leave. The police department, the mayor and an attorney for the officers did not respond to requests for comment.
The attorney, Michael Rains, told NBC Bay Area on Tuesday that people should avoid jumping to conclusions.
"It should be a thorough, fair investigation that everybody has faith and trust in if the officers committed misconduct," he told the station. "I think you got a police chief in Antioch that is going to make that finding and is going to take what type of discipline the law calls for, anywhere up to and including terminations."
An FBI spokesperson declined to comment on its investigation.
Thorpe has condemned the alleged texts, saying in a video statement Sunday that the police department "has long been a huge legal and financial liability, which is on full display today."
"The culture of the department requires further exploration, including: how the hell did all this alleged misconduct could go on for so long without anyone at our command staff noticing," Thorpe said. "From lieutenant on up to the chief."
At a City Council meeting Tuesday, Thorpe asked Police Chief Steven Ford whether he believed the messages were "wrong in nature."
Ford started to answer before the city attorney cut him off, saying he should not offer an opinion on a matter under review.