An Oklahoma lawmaker was hit with a child prostitution charge Thursday after he was caught in a motel room with a teenage boy.
State Sen. Ralph Shortey was charged a day after the Oklahoma Senate — by a vote of 43 to 0 — passed a resolution that suspended nearly all his privileges.
Shortey is charged with engaging in child prostitution, engaging in prostitution within 1,000 feet of a church, and transporting a minor for prostitution/lewdness, according to the Cleveland County District Attorney's office.
A 35-year-old married father of two, Shortey turned himself in later Thursday at the Cleveland County Jail, local NBC affiliate KFOR reported.
It remained to be seen whether Oklahoma would move to impeach Shortey, who represents parts of Oklahoma City, now that he has been formally charged.
They have already stripped him of his capitol office, his parking space and state-owned laptop, scrubbed his name off any legislation he authored or co-authored — as well as his office door.
Lt. Governor Todd Lamb, who like Shortey is a Republican, said "Oklahomans deserve to be represented by those above reproach."
"In light of the charges filed against him, Ralph Shortey should resign from his seat so the good people of southwest Oklahoma City can move forward with electing a new state senator," Lamb said in a statement.
Shortey was busted after police were notified that he had checked into a Super 8 Motel in Moore, Oklahoma — using his own name — around midnight on March 9 and the boy was with him, according to the DA's office.
When police arrived at room 120, they "observed a strong odor of marijuana" and found Shortey inside with the teenager, who is identified in the charging papers as a 17-year-old named "JM."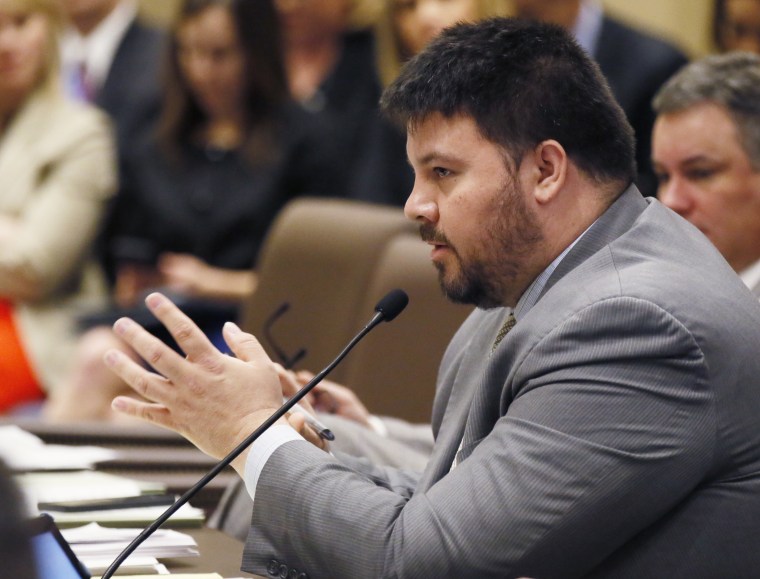 Later, they discovered an online conversation between Shortey and JM.
"Would you be interested in sexual stuff?" Shortey allegedly wrote.
"Yes," JM allegedly replied.
From there, the conversation — as described in DA's charging papers — veered off from logistics to graphic lewdness and included a "smiley face emoji."
Both Shortey and JM admitted to police that they met a year ago through a Craigslist "personal encounter ad," the papers state. And police also found an "open box of condoms" in a backpack.
When asked what he was doing at the motel with the teen, Shortey said they were "just hanging out." according to a Moore Police report.
This is not the first time Shortey made national news. Back in 2012, he proposed a bill banning human fetuses from being used in food, even though he admitted he did not know of any company in Oklahoma or elsewhere that was doing this.
"There are companies that are using embryonic stem cells to research and basically cause a chemical reaction to determine whether or not something tastes good or not," he told The Daily Oklahoman newspaper.
"As a pro-life advocate, it kind of disturbed me that we would use aborted embryos or aborted human fetuses to extract stem cells and use them for research to basically make things taste better."
The bill, which could have been lifted from the 1973 science fiction movie "Soylent Green," was referred to the Agriculture and Rural Development committee where it died, according to The Daily Oklahoman.
Shortey, who identifies himself as a member of the Rosebud Sioux Indian Tribe on his official biography, was also a staunch supporter of then-presidential candidate Donald Trump and part of his leadership team in Oklahoma.