In the three decades since the U.S. Supreme Court banned jailing people because they couldn't afford to pay fines, the practice has crept back into fashion, giving rise to what critics describe as a new generation of debtors' prisons.
And now comes the backlash.
A wave of investigations and lawsuits by civil rights organizations is forcing local courts to curtail their reliance on fines, fees and surcharges related to traffic tickets and other minor offenses. Officials across the country are slowly rethinking what it means to be poor in the eyes of the justice system — and finding ways to allow indigent people to avoid falling into a cycle of debt and incarceration.
The latest example came Thursday in New Orleans, where a federal class-action lawsuit accused the criminal court of routinely jailing the city's poorest for falling behind on court fines and fees.
And in tiny Alexander City, Alabama — population 15,000 — the Southern Poverty Law Center filed a federal lawsuit last week alleging the local government and police chief ran "a modern-day debtors' prison" in which poor people were ordered to pay off their fines by serving time in the municipal jail at a rate of $20 a day.
"We are definitely in a moment where there is a lot of public interest and outrage about this," said Sam Brooke, the SPLC's deputy legal director.
Much of that interest has to do with the response to the shooting last year of an unarmed black man by a white police officer in Ferguson, Missouri. That killing triggered riots and a furious national discussion about inequalities in the criminal justice system — including the use of court fines.
A U.S. Department of Justice report commissioned in response to the unrest documented how Ferguson's strategy of boosting municipal revenue through heavy-handed enforcement of petty offenses. The burden fell disproportionately on the town's poorest citizens, many of whom ended up behind bars, federal investigators found.
In effect, the report backed up what many civil rights organizations had been documenting for years.
"It amplified the message and allowed for more reform to happen," Brooke said. "When we go into places and say, 'This isn't right,' we get, 'What do we need to make it better?' — Rather than them blowing us off entirely."
Brooke runs the SPLC's new economic justice unit, which in the last 18 months has begun to target municipal courts where poor people say they were forced into jail for no other reason than their inability to pay a fine.
Last year, the organization forced Montgomery, Alabama, to adopt new policies to avoid incarcerating people who couldn't afford traffic tickets. The city promised to set a clear standard for judges to determine whether someone is too poor to pay, and avoid sending them to jail for that reason alone.
The New Orleans suit accuses court officials of issuing arrest warrants for unpaid debts by signing the names of judges without even notifying the judges. It describes a scheme to pay for the local criminal justice system on the backs of the poor.
Among the plaintiffs is a 21-year-old woman with a prior theft conviction who was jailed in May because she could not come up with $900 to pay court costs.
Even though she was pregnant, the lawsuit says, she was handcuffed and jailed, not allowed to shower for days, and not given medical attention for two days after she began bleeding from her genitals.
The court uses some of the fees to feed a judicial expense fund, the lawsuit says. A state audit report found in 2012 that judges were using money from that fund to pay for out-of-pocket medical expenses and excessive hotels at conferences.
Officials with the Orleans Parish Criminal District Court did not immediately answer a request for comment.
The suit was filed by Equal Justice Under Law, a civil rights group. Civil rights organizations are increasingly trying to expose and dismantle what they see as illegal incarceration of indigent defendants.
The American Civil Liberties Union, The Brennan Center for Justice and Human Rights Watch have all made the issue a priority, winning reforms in Ohio, Washington state, Colorado, Georgia and Missouri.
Their work has expanded to the use of private companies to collect debt, which is more common in the South, where there tends to be resistance to increased government spending.
"Ultimately we want to get to a point where it's not politically conscionable to have a debtors prison happening in your local court," Brooke said.
Some officials bristle at the comparison to debtors' prisons, saying the link is unfair.
Debtors' prisons — a remnant of an ancient English legal strategy to scare people into paying — became a feature in early American criminal justice before they were abolished in the mid-1800s. Since then, the U.S. Supreme Court has repeatedly deemed it illegal to incarcerate people because they can't repay a debt. That included a 1983 ruling that said courts must ask defendants about their ability to afford fines, and jail only those who willingly defy the system.
Courts are supposed to use payment alternatives, like garnishment or community service.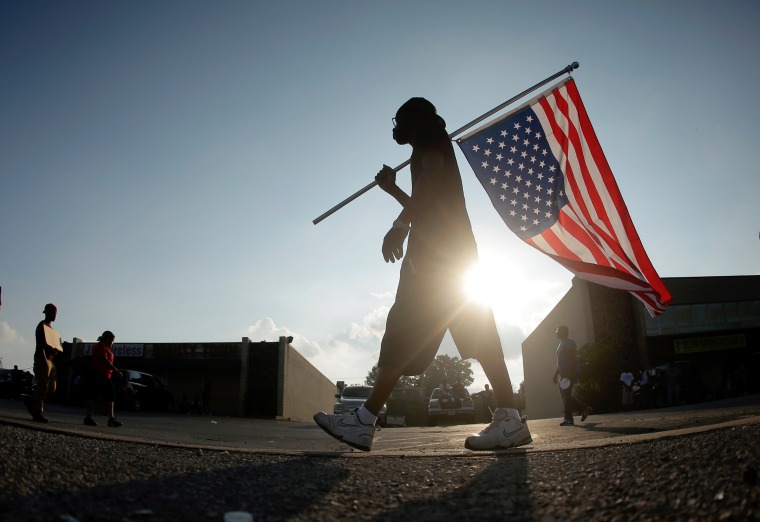 But the ruling left a legal gray area that governments took advantage of as American prison populations skyrocketed. The trend toward jailing poor defendants was hastened by the economic crisis of the early 2000s, when many cash strapped municipalities turned to their courts, rather than taxpayers, to generate revenue. That in turn led to the growth of private companies that promised to save local governments money by collecting fees from people on probation, many of whom were jailed for inability to pay.
Stories of lives ripped apart by such jailings became legion, leading to claims that they violated constitutional rights of due process and equal protection.
Reforms in Ohio came about when the state ACLU chapter told Ohio Supreme Court Chief Justice Maureen O'Connor in 2013 of indigent defendants being jailed for failure to pay fines in several local courts. The fix, O'Connor recalled, was simple: creating "bench cards" that reminded judges that the law required them to determine whether a person could afford a fine. If they couldn't, that was not a reason to have them jailed.
"What it boiled down to was a re-education of the judiciary," O'Connor said. "And advising them that they were missing a step or two in the process in determining how to collect those fines."
It appears to have worked.
"I haven't heard from the ACLU back on this so I guess things are going on pretty well," O'Connor said.
But advocates say illegal debt-collection practices continue to thrive across the country.
And that's what the SPLC said it found in Alexander City.
The alleged victims include Amanda Underwood, a 35-year-old mother of five and fast-food worker who says that since April 2014 she has twice spent time in the municipal jail after she was unable to come up with money she owed for driving with a suspended license. She agreed to become a plaintiff in the lawsuit "because I didn't think what Alexander City was doing was fair."
The SPLC said Thursday that the city had agreed to hold off, for 60 days, on jailing people because they can't afford to pay fines. The SPLC said it was in settlement talks with the city.
Alexander City's lawyer did not respond to a request for comment, and its police chief, named as a defendant in the lawsuit, declined to comment.
Not long ago, Underwood was issued another driving-while-suspended ticket — received when she borrowed a friend's car to buy her children food. She has got a court date scheduled for Oct. 1, and expects to be asked to pay $250, which she knows she won't have.
But she hopes that, by then, the SPLC lawsuit will have persuaded the city to change its ways.
"I don't want this to happen to anybody else — or even to me — again," she said.