Robert De Niro's 19-year-old grandson has died, the family said.
In a statement, De Niro said he was "deeply distressed by the passing of my beloved grandson," Leandro Anthony De Niro-Rodriguez.
"We're greatly appreciative of the condolences from everyone," De Niro said. "We ask that we please be given privacy to grieve our loss of Leo."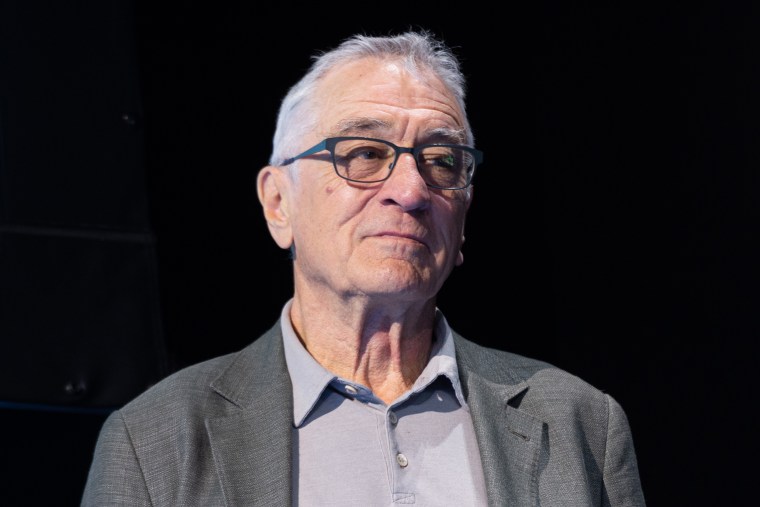 A cause of death was not announced.
The New York City Police Department said De Niro-Rodriguez was found unconscious just after 2:20 p.m. Sunday at 55 Wall St. in lower Manhattan. Emergency medical personnel pronounced him dead at the scene, police said.
Police said the cause of death would be determined by the office of the chief medical examiner, where a spokesperson could not immediately be reached Monday.
The NYPD said De Niro-Rodriguez was 18 years old, but a representative for Robert De Niro said he was 19.
In a statement provided to NBC News, Drena De Niro, De Niro's daughter and the mother of De Niro-Rodriguez, said: "It is with immeasurable shock and sadness that we say goodbye to our beloved son Leo. We thank you for the outpouring of love and support and ask that we are given privacy at this time to process this inconsolable grief."
Drena De Niro posted an Instagram tribute to her son Sunday night, calling him "my beautiful sweet angel."
"I have loved you beyond words or description from the moment I felt you in my belly," she wrote. "You have been my joy my heart and all that was ever pure and real in my life. I wish I was with you right now."
"I don't know how to live without you but I'll try to go on and spread the love and light that you so made me feel in getting to be your mama," she continued. "You were so deeply loved and appreciated and I wish that love alone could have saved you."
Celebrities expressed their condolences in the comments section of the social media post.
"Drena I am so sad to hear about beautiful Leo," Bravo's Andy Cohen wrote. "Sending you all my love."
Actor Rosie Perez wrote: "Shocked! I'm so sorry! We are all here for you !!! I love you too much!"
Former reality television star Victoria Gotti shared memories of De Niro-Rodriguez from when he was young.
"You were such a playful handsome amicable and amazing young boy who grew into an amazing young man!" she wrote.
"A young life cut far too short," Gotti added. "Love you baby boy!!! Dearest Dreana you were a GREAT 'hands-on' mom."
According to an IMDB page, De Niro-Rodriguez was a budding actor, appearing in films including "A Star Is Born" and "Cabaret Maxime."
Robert De Niro, 79, told Entertainment Tonight Canada in May that he had welcomed a seventh child.