Defying the Supreme Court and invoking "God's authority," a Kentucky county clerk on Tuesday turned away two same-sex couples seeking marriage licenses — and then was summoned to federal court.
Kim Davis, the clerk for Rowan County, who says that her personal Christian objections preclude her from issuing licenses to gay couples, declined the licenses to two men and two women.
She said in a statement that it was not a "gay or lesbian issue" but a "Heaven or Hell decision."
"To issue a marriage license which conflicts with God's definition of marriage, with my name affixed to the certificate, would violate my conscience," she said.
She said would not resign.
In the clerk's office, supporters of Davis shouted "Praise the Lord!" and supporters of the couples called her a bigot and shouted "Do your job!" after she declined the licenses. Sheriff's deputies cleared the room, and demonstrations continued outside.
The Supreme Court refused to intervene on Monday, leaving in place a ruling from a federal judge that ordered Davis to keep issuing marriage licenses while she presses her case in the courts, claiming a religious objection to performing her official duties.
The judge summoned Davis and her deputies to a hearing on Thursday. Couples who have sued Davis for marriage licenses asked that she be held in contempt and fined, but not thrown in jail.
The legal drama escalated after a confrontation Tuesday morning in the clerk's office. Davis denied marriage licenses to April Miller and Karen Roberts and to David Moore and David Ermold.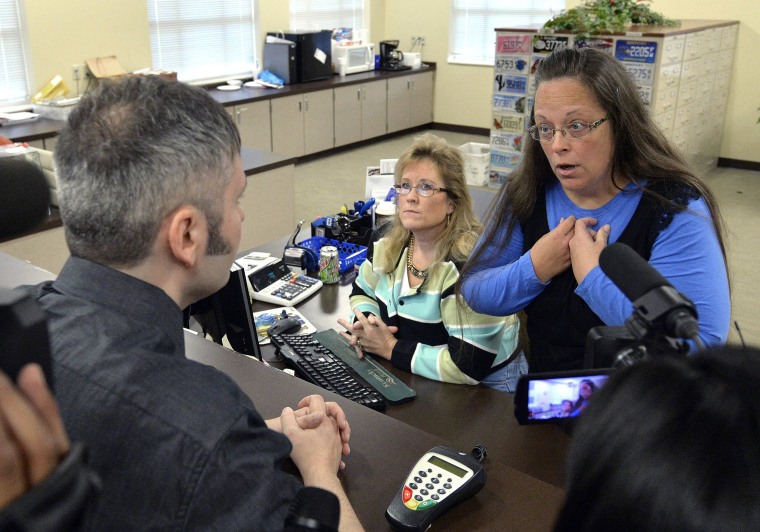 With a crush of TV cameras behind them, Moore and Ermold, confronted her across a desk.
"I'm not being disrespectful to you," Davis told Moore.
"You absolutely are," he said. "You're treating us like second-class citizens, is what you're doing."
He later asked whether she would deny a marriage license to an interracial couple.
"A man and a woman? No," she said. She added that she was acting "under God's authority."
After the Supreme Court legalized same-sex marriage nationwide on June 26, Gov. Steve Beshear ordered all the state's clerks to comply immediately. Davis, saying she did not want to discriminate, stopped issuing all marriage licenses.
A federal judge ordered her to issue them, and an appeals court agreed. The Supreme Court's rejection of Davis' appeal was the first legal skirmish to reach the justices since the landmark marriage ruling in June.
The contempt request was filed by the American Civil Liberties Union of Kentucky on behalf of couples, both same-sex and opposite-sex, who sued Davis.
Related: Why Hasn't Kentucky Clerk Kim Davis Been Fired?
"Since Defendant Davis continues to collect compensation from the Commonwealth for duties she fails to perform," lawyers wrote, "plaintiffs urge the Court to impose financial penalties sufficiently serious and increasingly onerous to compel Davis' immediate compliance without further delay."
The county attorney has referred a misconduct charge to the state attorney general's office.