For two and a half years Astrid Morataya languished behind bars, living out a double punishment for a sentence she had already served.
The single mother of three had paid her time for a minor drug charge buried long in her past. But then 15 years later cops showed up at Morataya's door once again.
Police threw her into jail, this time along with an order of deportation. And like thousands of immigrants detained nationwide, Morataya would spend years behind bars, all the while trying to prove she had the legal right to stay in the United States.
The right of due process is a core tenet of American values. But the issue before the U.S. Supreme Court in oral arguments on Wednesday raises fundamental questions about the scope of those rights for immigrants.
Does the federal government have the authority to detain immigrants indefinitely? Or, should immigrants be given the opportunity for release on bond — like all U.S. citizens — once their detention time exceeds a certain limit?
In the case before the high court, Jennings v. Rodriguez, an incomplete panel of eight justices will hear arguments out of a class action lawsuit filed by the ACLU.
More than 1,000 immigrants claimed they faced prolonged detention times in facilities throughout California. And not all held in immigrant detention were undocumented.
Like Morataya, many were legal permanent residents or green card holders, while others were seeking asylum.
Related: Group Sues For DHS, ICE Records on Immigrants' Arrests
Morataya had been a longtime green card holder with legal status in the United States. Still she faced being sent back to a country she had not seen since she was a child.
Had she been a full U.S. citizen, she would have been guaranteed a chance to appear before a judge to argue for her release. Her past conviction was a non-violent offense and as the sole breadwinner to her three American citizen kids, she wasn't considered a flight risk.
Instead she was kept behind bars for the entire duration of her case.
"It's either you stay and fight, or you get deported," Morataya said. "I obviously had no life but here."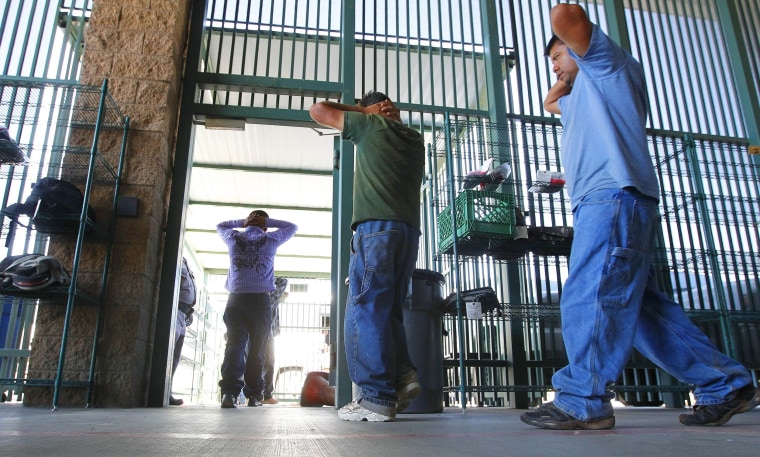 Michael Tan, staff attorney for the ACLU's Immigrant's Rights Project, said that while immigrants with the weakest cases would quickly cycle out of detention, the people with the greatest chance of fighting deportation also suffered the harshest consequences.
"This is one of the sad ironies of this case," Tan said. "The people who have the longest period of detention are usually the ones with the strongest cases to stay in the U.S."
Congress has given the federal government broad authority to use mandatory detention as a tool to enforce immigration laws. But so far the courts have been inconsistent in answering whether immigrants can challenge their prolonged detention before a judge.
Related: Report: Some Central American Families Arrested Before They Could Seek Protection
Further muddling the issue, previous decisions on immigrant detention were later found to be based on inaccurate information.
In the 2003 case Demore v. Kim, the Department of Justice reported that detention times for immigrants averaged around five months. But those figures were grossly understated.
The DOJ was forced to later to admit that in reality, detention times exceeded a full year. Acting Solicitor General Ian Heath Gershengorn apologized for the error in August —14 years after the high court used that data in its decision.
Since Demore, lower courts have determined that there should be a bright line indicating how long detention without judicial review was considered unreasonable.
The Ninth Circuit Court of Appeals weighed in last year, ruling that at the six month mark of detention, non-citizens must be given an opportunity to prove they are not a danger to the community or a flight risk if released.
The Obama administration is now pushing back. In the government's brief filed this year, Gershengorn said it was not up to the courts to rewrite what Congress had already outlined.
"Congress weighed the interests in controlling the border, protecting the public from criminal aliens, affording individual aliens adequate protections and opportunities for relief and review, and minimizing the adverse foreign-relations impact of U.S. immigration law," the DOJ wrote.
Rachel Levenson, who is with the Immigrant Rights Project at NYU Law, says the case before the Court on Wednesday is an opportunity to strengthen procedural protections in what is already a vast immigrant detention system and in ways that align with American values.
"There is a fundamental value in this country that people should not be locked up and the key thrown away without a judge even looking at their case," Levenson said. "People have a right to their day in court."
For Morataya, it took 30 months of detention before a judge ultimately ruled that she could return to her family.
All three of her children had to shuttle between caregivers and guardians while Morataya had been locked behind bars. Her oldest was just 18 at the time; her youngest about to enter Kindergarten.
"Immigration made me feel like a menace to society when I really wasn't," she said. "I was just a single mom trying to survive and keep my family united."