The city of Seattle on Wednesday announced a federal lawsuit over the Trump administration's threat to withhold federal grants to so-called "sanctuary cities," citing the 10th Amendment that deals with states' rights.
"Apparently the Trump administration, their war on facts, has now become a war on cities," Seattle Mayor Ed Murray said. He said the goal of the suit is to have a judge declare the order unconstitutional.
"Let me be clear about the facts: We are not breaking any laws and we are prioritizing safety," Murray said.
President Donald Trump on Jan. 25 signed an executive order directing the federal government to ensure that jurisdictions that refuse to cooperate with immigration officials are not eligible to receive some federal grants.
"These jurisdictions have caused immeasurable harm to the American people and to the very fabric of our Republic," Trump said in the executive order. Trump made illegal immigration a central issue of his campaign.
Related: Conservative Cities See 'Sanctuary City' Term as Scarlet Letter
On Monday, Attorney General Jeff Sessions said the Justice Department would require cities seeking some of $4.1 billion available in grant money to verify that they are in compliance with a section of federal law that allows information sharing with immigration officials.
San Francisco has already filed suit against the Trump administration over the executive order, also citing the 10th Amendment. "This strikes at the heart of established principles of federalism and violates the United States Constitution," attorneys for the city and county of San Francisco wrote in its complaint.
A federal judge set a hearing for the city's motion for a preliminary injunction to block the executive order for April 14.
Seattle City Attorney Pete Holmes said the effects of the executive order have already been felt, with victims in domestic violence cases choosing not to pursue prosecution due to immigration status. He said local governments do not enforce federal immigration laws. Holmes noted that terms like "sanctuary cities" are nebulous and ill defined.
"Instead of the press conferences from Washington, instead of the Tweets from the White House, we want to have a sober statement of the law that can be reassuring to the communities that this is still the rule of law, and it's still a nation of laws," he said.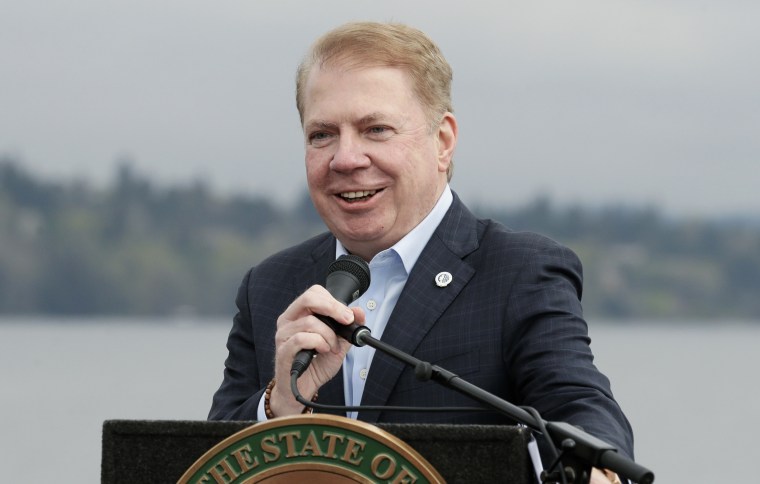 The International Association of Police Chiefs this week urged the Trump administration not to punish jurisdictions that don't honor all requests from Immigration and Customs Enforcement.
The association said "[S]tate and local law enforcement agencies depend on the cooperation of immigrants, legal or not, in solving a wide array of crimes" and that penalizing sanctuary cities is counter-productive.
The mayors of several cities and some police chiefs have said that officers can't be seen as immigration officers if they are to maintain public trust and do their jobs effectively.
Related: ICE Arrests Transgender Woman Seeking Help for Domestic Violence
Some police departments do not honor all requests for ICE detainers. San Francisco's official policy is law enforcement would only notify immigration authorities of an inmate's release in limited circumstances involving serious felonies.
New York Mayor Bill de Blasio has said that police in that city do not turn over information about immigration status to federal authorities, but police do cooperate with federal immigration authorities in criminal cases involving 170 serious and violent offenses.
The state of Washington has also filed suit over another executive order, Trump's so-called "travel ban" that temporarily restricted entry to the U.S. from nationals of some predominantly Muslim nations, and a federal judge in Seattle blocked the order and an appeals court refused to reinstate it.
The Trump administration responded with a second revised order and a federal judge in Hawaii put that order on hold as well.