U.S. Senate Armed Services Committee Chairman John McCain on Wednesday said he planned to introduce legislation that would strike language included in a massive 2016 spending bill that eased a congressional ban on the use of Russian rocket engines.
McCain said he would introduce the legislation on Thursday, the first of many actions he planned "to ensure we end our dependence on Russian rocket engines and stop subsidizing Vladimir Putin and his gang of corrupt cronies."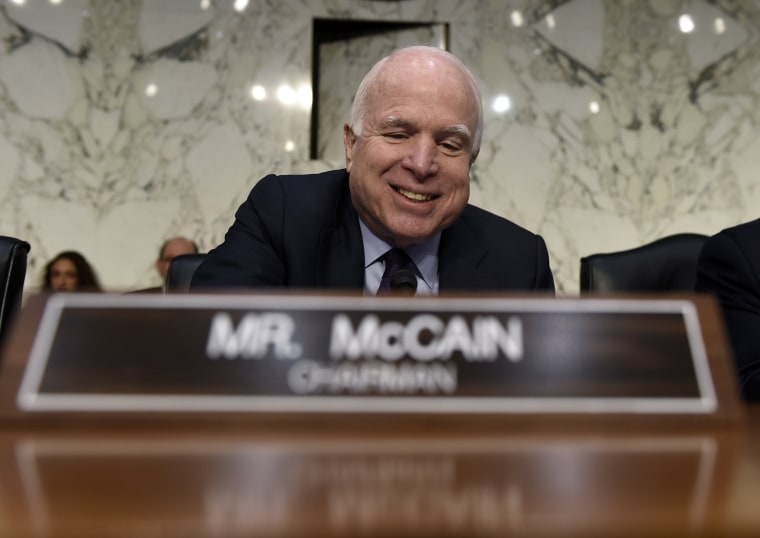 Congress banned use of the Russian RD-180 rocket engines for military use after Russia annexed Ukraine's Crimea region in 2014. But U.S. lawmakers weakened the ban late last year, worried that it could drive United Launch Alliance, a joint venture of Lockheed Martin Corp and Boeing Co, out of business and leave just one other U.S. provider, privately-held SpaceX, to lift satellites into space.
Top Pentagon and Air Force officials on Wednesday urged the committee to allow use of the Russian engines until alternatives were available, and said they were moving ahead with plans to fund public-private launch services in fiscal year 2017.
Related: U.S. Air Force Mulls Proposals to Replace Russian Rocket Engines
Defense Undersecretary Frank Kendall, the Pentagon's chief arms buyer, told the committee it was questionable whether ULA could survive if the U.S. military immediately stopped using the Russian RD-180 engine that powers ULA's Atlas 5 rocket.
He said ULA had a second rocket, the Delta 4, that did not use the RD-180 engines, but that vehicle cost "millions of dollars more" than the Atlas 5 rocket and could not compete with cheaper launches provided by privately-held SpaceX.
The Air Force last year certified technology entrepreneur Elon Musk's SpaceX to execute military launches, but has not yet awarded a contract to the company.
Kendall said losing ULA would leave the military relying only on SpaceX for launches, despite a policy that requires two ways to launch satellites into space.
McCain and other senators urged the department to provide data on the exact cost of switching to the Delta 4 rocket until other options were available. They said they backed spending more money on that rocket, rather than buying Russian engines.
ULA's recent order of 20 more Russian engines amounted to a "a nearly half-billion-dollar windfall" for Russia, McCain said.
McCain also blasted ULA for refusing to bid in an Air Force launch competition last year, despite receiving billions of dollars in government funding to maintain its launch capability.
At the time, ULA, the monopoly provider of such launches since its creation in 2006, said it was unable to submit a compliant bid because it lacked enough RD-180 engines and did not have the accounting systems to comply with government rules.
Deputy Secretary Robert Work told McCain in a letter dated Jan. 26 that he disagreed with ULA over the accounting systems, and believed ULA would now be willing to compete.
Air Force Secretary Deborah Lee James said the department was looking at possible ways to sanction ULA for refusing to bid in the competition, including early termination of a contract that provides the company about $800 million a year in support funding.