Ninety is the new 20. Or at least that's the message that a couple of senior citizen homes in Ohio are sending with a charity calendar they've put together with photos of least a dozen residents in their 80s and 90s, who are scantily clad, and apparently having a ball.
One 98-year-old resident literally holds a ball — an exercise ball — in a picture on one of the calendar's pages. The only visible piece of clothing on her is a sweatband holding back her silver hair. She's also wearing a massive smile.
Wilma Purvis, 94, and Norma Elfrink, 91, aren't smiling in their photo, but that's probably because they have cigars in their mouths. The pair are covered up by oversized playing cards, and each have their own pile of poker chips, bowl of pretzels and bottle of Corona.
The residents of the aptly-named Pleasant View Health Care Center and the affiliated Pleasant Pointe Assisted Living Center, who participated in making the calendar, "said that it made them feel important again," said Tia Walker, a receptionist at Pleasant View in Barberton, Ohio.
"They loved it, they absolutely loved it," Walker told NBC News. "It made them feel young."
The oldest person in the calendar is 99, Walker said, and the 90-year-old former owner of the family-run homes even lent her physique to the fun. In her photo, Eileen Morris, sits at a desk with an open briefcase in front of her. The caption reads, "Top Dog."
All of the proceeds from sales of the calendars go to the Barberton-based Esther Ryan shoe fund, which provides low-income kids with necessities for school, Walker said.
So far, 200 calendars have sold for $12 a piece, and orders are still coming in, she said.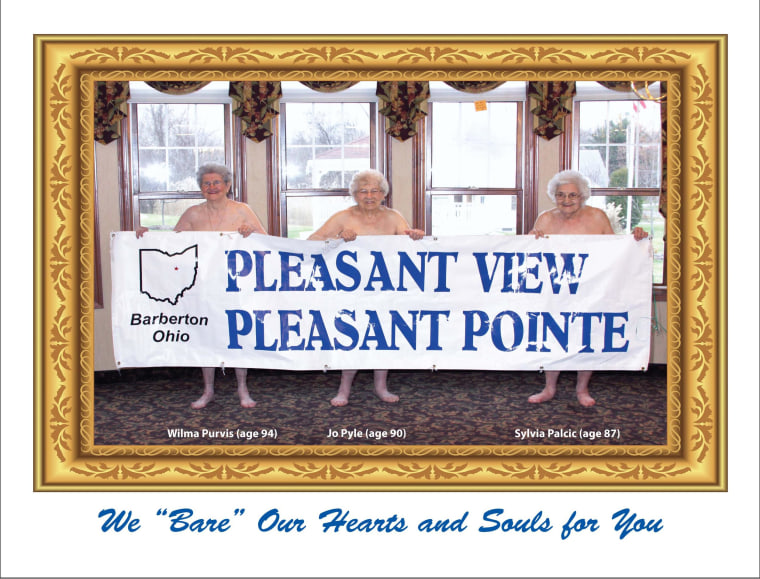 — Elisha Fieldstadt