The woman who accused Jameis Winston of raping her in 2012 filed a civil lawsuit against the former Florida State University quarterback and top NFL draft prospect on Thursday.
Erica Kinsman says Winston, who won the Heisman Trophy in 2013, raped her in a Tallahassee hotel room after she was given a shot of an unknown liquor at a bar on Dec. 7, 2012.
Police never filed any criminal charges in the case, and FSU has ruled Winston didn't violate its code of student conduct.
"Since others have refused to hold him accountable, our client will," Kinsman's attorney, John Clune, said in a statement.
A request for comment from Winston's lawyer was not immediately returned. The university declined to comment on the new lawsuit.
The suit, filed in Ninth Judicial District Circuit Court in Orlando, alleges sexual battery, assault, false imprisonment and intentional infliction of emotional distress. It doesn't specify a dollar amount but said it seeks more than $15,000 in damages.
The suit claims Kinsman was at a Tallahassee bar on Dec. 6 when a man she believes was Winston gave her a shot, and she became separated from her friends. The suit says she was put in a cab by three men and taken to a hotel room where Winston had sex with her her despite her repeated protestations of "no, no," and "please stop."
Winston has denied any wrongdoing, and said the sex was consensual.
The prosecutor who said he lacked enough evidence to charge Winston was highly critical of the police investigation, telling the New York Times last year that police "just missed all the basic fundamental stuff" like failing to immediately interview a witness who recorded — and later deleted — part of the sex act on video, and failing to track down the cab driver or get video from the bar.
Winston was awarded the Heisman Trophy in 2013 and led FSU's team to a BCS championship over Auburn that same season. Winston is expected to be a top pick in the NFL draft, which is on April 30.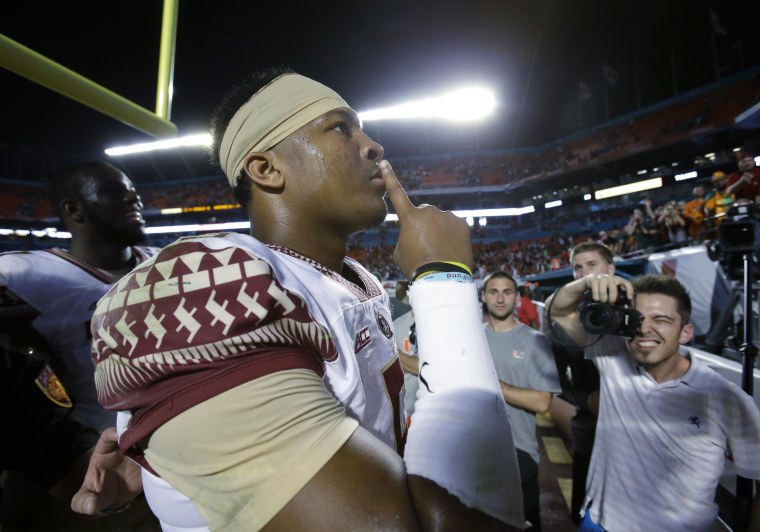 IN-DEPTH
— Phil Helsel