Attending summer concerts has become as much of seasonal tradition as backyard barbecues and lazy afternoons at the beach, but the persistent threat of sexual violence has supplied a dangerous undercurrent to what should be a innocuous atmosphere.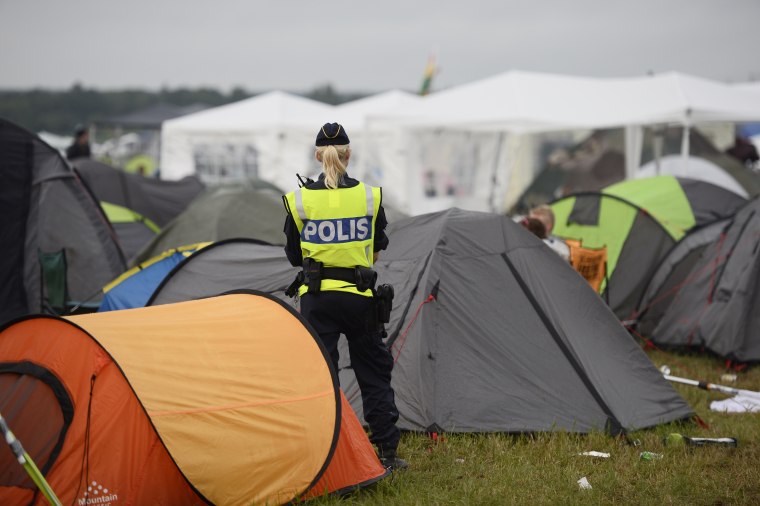 This past weekend, according to The Telegraph, there were five reported rapes and several dozen allegations of groping at a pair of music festivals in Sweden. The Grammy-winning band Mumford & Sons, which headlined one of the festivals alongside artists like Macklemore and Rammstein, condemned the alleged attacks in a statement on their Facebook page.
"We're appalled to hear what happened at the Bravalla Festival last weekend," the band wrote. "Festivals are a celebration of music and people, a place to let go and feel safe doing so. We're gutted by these hideous reports."
But this kind of brutal violence at music events is nothing new, and in recent years it appears to be on a bit of an uptick. It appears that the combination of heavy drinking, recreational drug use, occasionally lax security and unchecked testosterone may all be contributing to a perfect storm of disturbing behavior.
In 1999, the 30th anniversary celebration of Woodstock was infamously sullied by reports of two women being raped in mosh pits by multiple assailants.
"At one point I saw this girl, a very petite girl, maybe 100 pounds, who was body-surfing above the crowd and either fell in or was pulled into a circle in the mosh pit," a man who allegedly witnessed one of the assaults told MTV News at the time. "These gentlemen, probably in the 25–32 age range, looked as though they were holding her down. They were holding her arms; you could see she was struggling."
In 2014, a 17-year-old girl was allegedly assaulted at a Keith Urban concert while onlookers watched and shot the incident on cellphone video. And that took place within a 12-month span that included allegations of sexual assaults at the "Made in America" festival in Philadelphia, Electric Zoo festival in New York City and the Stagecoach Country Music Festival in Indio, California.
And it's not just attendees who have been subjected to abuse, some of the artists themselves have been targeted for physical contact that clearly crosses the line. Three years ago, Beyoncé's butt was slapped while she performed a show in Denmark. And rap star Iggy Azalea claimed in 2014 that she stopped crowd surfing at her concerts because fans had repeatedly tried to digitally penetrate her.
Related: 'I Can Finally Breathe': Sexual Assault Survivors Find Healing Through Yoga
"Concert music festivals are absolutely a hotbed for sexual violence and assaults, and the reason why is because historically a lot of these places have been pretty male-dominated. Perpetrators feel like they can take advantage of the women around them, it's part of their night out," Debjani Roy, the deputy director of Hollaback, a nonprofit committed to raising awareness about and ending harassment in public places, told NBC News on Wednesday."It's similar to what happens on college campuses -- there is a culture where sexual harassment and violence is quietly accepted and has been for a long time."
Roy knows firsthand about this phenomenon. She herself was groped and assaulted at musical venues she attended in her youth and the same kinds of things have happened to many other women she knows. Her organization has tirelessly encouraged victims not to be afraid to tell their stories and put pressure on festivals, venues and promoters to take more responsibility for the safety of their patrons by providing better security and training for their staff.
"People are not alone ... this is an epidemic," she said. "Harassment happens on the way to work, on the way to school, at Comic Con and music festivals. It's happening everywhere."
"Festival producers have to be proactive in thinking about how sexual violence plays out in large groups and how to prevent it. It's simply not acceptable to hope for the best or look the other way," added Terri Poore, Policy Director for the National Alliance to End Sexual Violence. "Organizers are responsible to interrupt rape culture and do the front work to make their events safer."
Related: Clinton Pushes Crackdown on 'Epidemic' of Campus Sexual Assault
And although there isn't much in the way of empirical data to confirm or deny that sexual assaults at concerts are either more commonplace, or just being reported more, according to Scott Berkowitz, the president of RAINN (Rape, Abuse & Incest National Network), "it's something that happens fairly regularly."
Following the public outcry over what took place at Woodstock in 1999, Berkowitz says that several artists and powerful figures in the music industry reached out to his organization to see how they could get more involved in beefing up prevention, and in the years since RAINN has been invited to set up their own tables at concerts to raise awareness and have even received supportive shout-outs from artists on stage.
Still, according to Berkowitz, so much of the onus is still on bystanders who can play a significant role in this specific environment.
"We try and teach people there's easy ways to step in to divert and diffuse a situation before it becomes dangerous," he told NBC News on Wednesday. "People are reluctant to step in because they don't want to make a scene ... or be subjected to retaliation from the perpetrator. But there are ways to react to things very subtlety."
Berkowitz also believes that while drugs and alcohol can play a significant factor in making concerts more permissive and victims more reticent to report their assaults, it's important to not lose sight of the fact that "it's really the decision of the perpetrator to commit a bad act."
"Our general motto is you have the right to walk down the street and feel safe," added Roy. "You have a right to not expect sexual violence or harassment in any shape or form. You have the right to be you."