Rapper ScHoolboy Q may have been the intended target of a gunman who sprayed his sport utility vehicle with rifle fire outside a concert in Colorado on Thursday night, injuring three passengers.
"It appears to be more targeted than random, based on what we've learned so far," Jacki Kelley, a spokeswoman for the Jefferson County Sheriff's Office, told NBC News.
Sign up for breaking news alerts from NBC News.
ScHoolboy Q, whose birth name is Quincy Matthew Hanley, was not hurt. The three victims were shot as they sat in a white SUV outside the Red Rocks Amphitheater, a near-10,000 capacity venue in the mountains 10 miles outside of Denver.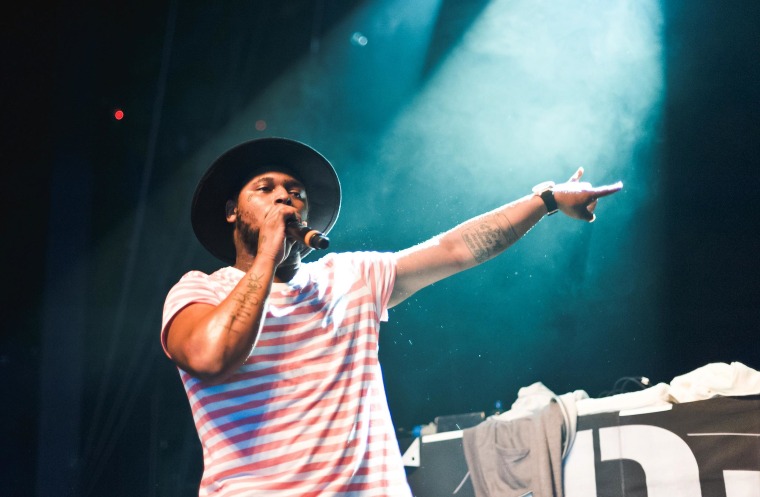 The gunman, who escaped on foot, is still on the loose.
The names of the shot men were not released. All are expected to survive, and one of the three victims was released from a local hospital on Friday, authorities said.
The shooting happened at about 10:30 p.m. local time, just moments after the end of a concert featuring popular hip-hop acts Nas, Flying Lotus and ScHoolboy Q.
The SUV drove away from the scene after the shooting but were stopped by Denver police at a nearby intersection, where the victims were taken to a hospital for treatment, Kelley said. ScHoolboy Q was briefly detained for questioning but he was not arrested and is not a suspect.
ScHoolboy Q, a native of Los Angeles, reassured his fans Friday that he was OK, posting on Twitter: "im str8 … don't trip."
The gunman is described as a black male, between 5-foot 10 and 6 feet tall.
ScHoolboy Q's most recent album, "Oxymoron," debuted at No. 1 earlier this year and reflects his life as a father and former gang member.
He and Kendrick Lamar, who was nominated for seven Grammys this year, are members of Black Hippy.
— Phil Helsel
The Associated Press contributed to this report