One person was killed and another hospitalized after a shooting erupted Thursday night near a music video set for rapper Sexyy Red in Florida.
A call about a shooting came in shortly before 8 p.m. in the 3100 block of W. Oakland Park Boulevard near the Oakland Park Flea Market, the Broward County Sheriff's Office said.
Deputies found two people with apparent gunshot wounds. One person was pronounced dead at the scene and the other was transported to a hospital for treatment. Their identities were not released.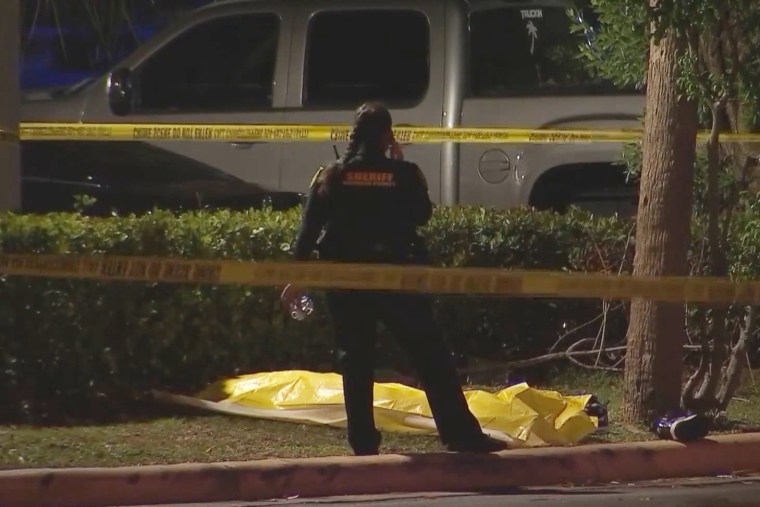 The sheriff's office said the gunfire erupted "near a video shoot being filmed in the area" and detectives were working to see if the two were related. 
In a statement on Instagram, Sexyy Red wrote: "I send my condolences to the family of the man who lost his life and prayers up for the person who was wounded."
"To be clear it happened at a gas station across the street from my video set. Florida Highway Patrol and Broward County Sheriff confirmed that the shooting wasn't on my set," she wrote.
The sheriff's office, however, said in a statement they're still investigating the matter.  
"We finished the shoot at a different location and everyone from our set went home safely. Period," she added.
The 25-year-old St. Louis rapper's "SkeeYee" is currently number one on Billboard's new chart that ranks a song's performance on TikTok. She was also recently named as an opener for Drake's new tour and was nominated for best breakthrough artist at the BET Hip Hop awards.
Anyone with information regarding the incident are asking to contact Broward Crime Stoppers at 954-493-TIPS.