A Connecticut state representative was assaulted after she attended a service marking Eid al-Adha in downtown Hartford on Wednesday, police and officials said.
"My heart is with Rep. Maryam Khan who was attacked today after attending Eid al-Adha services with her family," Gov. Ned Lamont said in a statement on Twitter.
"It's disturbing to me that this happened on a holy day meant to be marked with peaceful prayer," he said.
Khan's office did not immediately respond to a request for comment.
A 30-year-old man identified as Andrey Desmond, of New Britain, was arrested, Hartford police said in a news release.
Officers were initially called to the downtown Hartford area just after 11 a.m. ET after they received a report that a man had assaulted a woman, police said. They arrived to find the man had been detained by civilian bystanders, and they later arrested him.
Police said the suspect was alleged to have approached Khan and made "unwanted advances." He was then alleged to have tried to prevent the official from leaving and assaulted her.
The suspect tried to flee, but another worshipper chased him and held him down, police said. Khan sustained minor injuries and was evaluated by medical personnel at the scene, authorities said.
Police said Desmond faces charges including third-degree assault, unlawful restraint, breach of peace and interfering with police.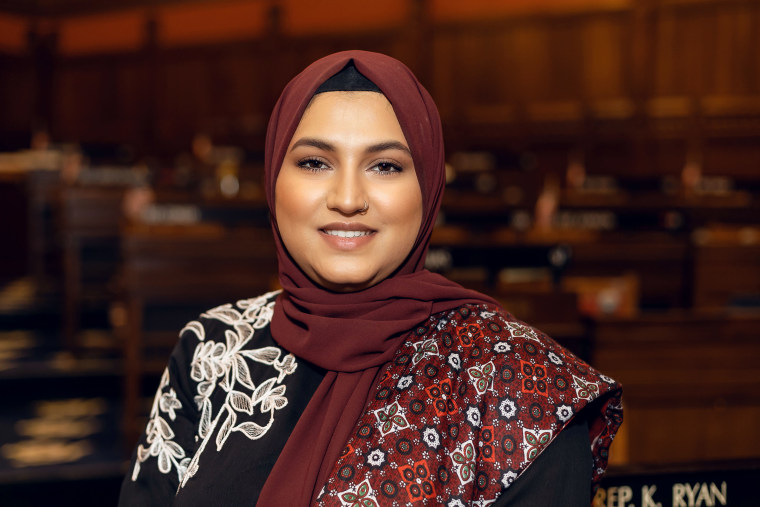 Any potential motive was not immediately clear.
Farhan Memon, the chair of the Connecticut Council on American-Islamic Relations, urged local, state and federal authorities to "investigate a possible bias motive for this attack and to ensure the safety of the Connecticut Muslim community during the ongoing Eid al-Adha celebrations."
"All too often we have seen American Muslims, or those perceived to be Muslim, targeted by hate because of their attire, race or ethnicity," Memon said.
He said that the Eid al-Adha prayer service at the XL Center in Hartford was the largest gathering of Muslims in recent years and that it warranted a heightened police presence, noting past attacks against houses of worships and Muslims in the U.S. He said the Muslim community had to hire two off-duty officers at its own expense.
"Given the size and prominence of the event more officers should have been present," Memon said.
Connecticut House Speaker Matt Ritter and Majority Leader Jason Rojas said State Capitol Police had "assured us they will work with Hartford Police to conduct a full and thorough investigation."
"It is especially painful that Rep. Khan was attacked on a holy night of peace and prayer. On a night she should be spending with her friends and family," they said.
Meaning the "Feast of the Sacrifice," Eid al-Adha, which began Wednesday, is a joyous occasion marked by special prayers and feasts.
Lamont said the details of the assault were "still unfolding." "I know our law enforcement personnel will conduct a thorough investigation into what happened," he said.
Khan, who was elected in a special election in March 2022 to represent the 5th District, serving Hartford and Windsor, is the first Muslim member of the Connecticut House, according to a biography on the Connecticut House Democrats' website. She was re-elected in November to serve her first full legislative term.
She lives in Windsor, just under 10 miles north of Hartford, with her husband and three children, according to the biography.
"Rep. Khan is a dedicated public servant who cares deeply about passing legislation that uplifts her constituents in Hartford and Windsor. I'm keeping her and her loved ones in my thoughts," Lamont said.