President Donald Trump has removed Steve Bannon, his chief strategist, from the National Security Council, according to a filing in the federal registry.
As part of the shakeup announced Wednesday, two officials were added back to the NSC's Principals Committee: the director of national intelligence, Dan Coats, and the chairman of the Joint Chiefs of Staff, Gen. Joseph Dunford. Also added to the Principals Committee: Secretary of Energy Rick Perry.
A senior White House official told NBC News that the changes were not the result of any "power struggle" within the administration.
Bannon was given a seat on the Principals Committee only as a check against then-National Security Adviser Michael Flynn, the official said. Now that Flynn is gone, Bannon is no longer needed in that role, the official said.
Another administration official said the changes were orchestrated by Flynn's replacement as NSA, H.R. McMaster, who was given authority to reorganize when he was brought on.
Bannon, a former executive for Breitbart News, had attended only one NSC meeting. He keeps his security clearance, according to the senior White House official.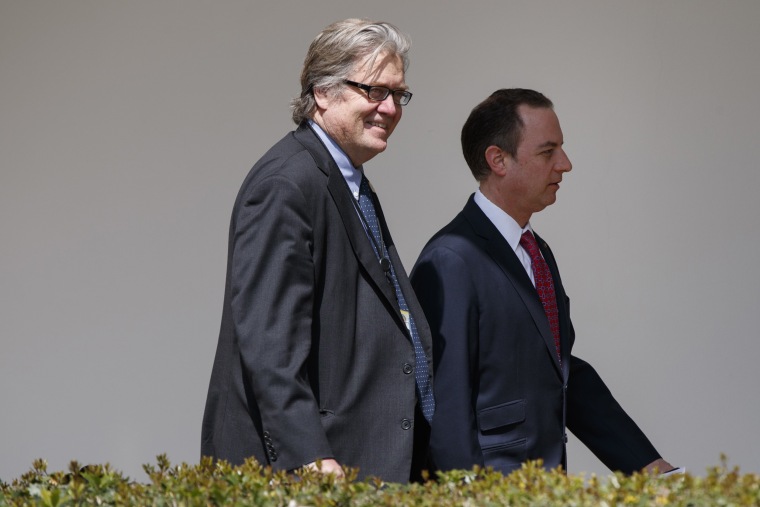 Trump's decision in January to put Bannon, a political operative, on the NSC drew criticism from some lawmakers on both sides of the aisle, with Sen. John McCain, R.-Ariz., calling it a "radical departure."
After the reversal Wednesday, Sen. Ben Cardin, D.-Maryland, said he was happy to hear about it.
"My hope is that he would have no role in government at all, that he be completely out because I do think that is not the type of advice the president should be receiving in regards to diversity and tolerance and the values of our country," Cardin said.
Former NSC spokesperson Ned Price said in a statement that Bannon's removal was a "welcome, if belated, first step."
"The removal of Steve Bannon is as overdue as the addition of leading military and intelligence advisors, whose information and counsel have long been critical to the formulation of U.S. foreign policy," Price said.