Two men were in custody Sunday after a day-long manhunt in Wyoming in connection with the alleged kidnapping and assault of a Utah woman and her four daughters.
Dereck James "D.J." Harrison, 22, was found and arrested without incident Saturday night after the manhunt in the Half Moon Lake area northeast of Pinedale, Wyoming, police said Sunday.
His father, Flint Wayne Harrison, 51, had turned himself in to authorities in Sublette County early Saturday. At that point, he "immediately started working with local investigators to locate his son Dereck," county police said in a release.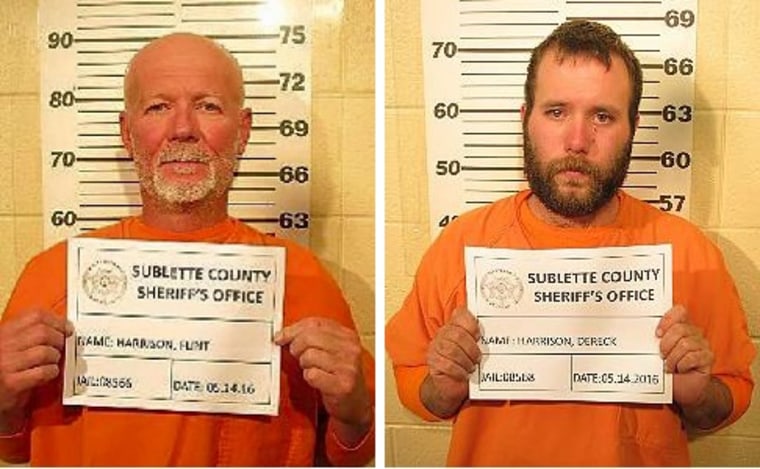 The Harrisons had been wanted for allegedly luring the mother and her daughters, ages 13 to 18, to a Utah home Tuesday for a barbecue. There, the men allegedly tied them up with wire and duct tape, according to police in Centerville, north of Salt Lake City.
The woman and some of the young girls were assaulted with a baseball bat as they tried to break free, Centerville police said. But the girls managed to break free and run from the house screaming for help, and one of them called 911 on her cell phone.
But by the time police arrived, the suspects had already fled.
Centerville police said Dereck Harrison was believed to have extensively used methamphetamine and may have believed — falsely, it turns out — that the woman had turned him in.
"The motive appears to be retaliation on the mother," police said Sunday.
The manhunt centered on Half Moon Lake Lodge in Pinedale, where authorities found a makeshift campsite. Authorities, who said Flint Harrison owns a home in Pinedale, evacuated the campground Saturday and urged the town's 2,000 residents to shelter in place.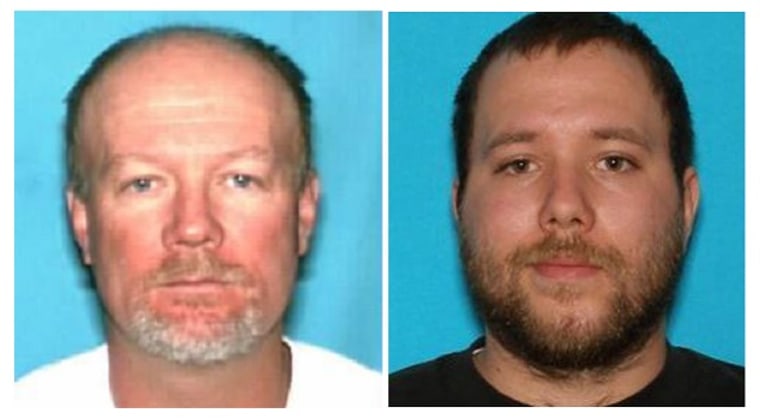 The Sublette County Sheriff's Office said the younger Harrison was believed to have been armed with two knives, a 300 Winchester Magnum rifle, a .22-caliber Remington rifle and several high-capacity magazines. Authorities said he had made several threats against law enforcement officials.
Deputies found him walking a little more than a mile from a roadblock. "This is an incredible end to a very stressful day," Sheriff Stephen Haskell said in a statement.
Both father and son will be extradited to Utah to face charges, according to the Sublette County Sheriff's Office.
It is unclear whether they will face additional charges in Wyoming, where the elder Harrison is registered as a sex offender for attempted forcible sexual abuse in 2001, according to the Wyoming Division of Criminal Investigation.