Weeks before a South Carolina father allegedly murdered his five kids, drove them across three states and dumped them in the woods, authorities investigated a child-abuse complaint against him but decided they were not in danger. "At that time there was nothing to alarm them immediately, Department of Social Services director Jackie Swindler said of the caseworker and deputies who looked into the Aug. 7 allegation against Timothy Ray Jones Jr.
Jones, 32, is now being brought from Mississippi, where he was arrested over the weekend in a blood-spattered Cadillac Escalade, to South Carolina to face five counts of murder. The remains of his children, who ranged in age from 1 to 8, have been driven back from Alabama, where they were found in the woods in garbage bags on Tuesday evening.
"In all my years in law enforcement, I have never seen a case like this," said Lewis McCarty, sheriff of Lexington County, South Carolina.
Police say they believe Jones, who worked for Intel, killed the children in South Carolina sometime before Sept. 3, when they were reported missing by their mother and their school. He allegedly drove their remains across three states and left them off a highway in Camden, Alabama, before heading to Mississippi, where his parents live. He was detained there on Sept. 6 when a sheriff's deputy who "had been around long enough to know the smell of death" looked in the back of the vehicle during a traffic stop, according to a prosecutor.
Police found blood, bleach and rags in the Escalade. Jones — who was "high as a kite" on synthetic marijuana, according to Mississippi district attorney Daniel Jones — eventually confessed to killing the children and led authorities to their makeshift graves, officials said. "He has not indicated why he did this," said Lewis McCarty, the sheriff of Lexington County, South Carolina. The DA told NBC News that Jones "probably just went mad."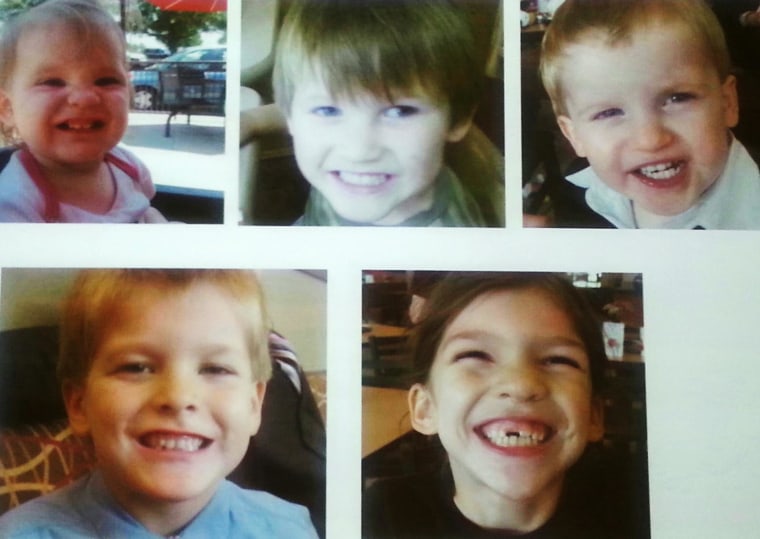 After Jones and his wife Amber separated, he won custody of the children. Court papers detail a troubled marriage and a battle over where the kids would live. A family therapist wrote in a 2012 affidavit that Jones was "a highly intelligent, responsible father who is capable of caring for his children as the sole custodial parent."
"He is no stranger to responsibility as he worked his way through a very demanding and challenging undergraduate engineering program while being a father, husband and employee of often more than one job," she wrote.
"His thoughts are very detailed, action oriented and focused on his children," she continued. "When Mr. Jones sees an obstacle, he sets his sights on the solution and is willing to go through the often-difficult process of achieving his goal of resolution."
The therapist did not return a call for comment, and Jones' custody lawyer was out of the country.
Because the father had legal custody, police said, they decided not to issue an Amber Alert for the children when their mother reported that she had not been able to contact her ex-husband. McCarty said all the evidence in the case points to the children being killed "very early on." A trace of Jones' credit card showed he only bought food for one while he was on the road, and there was no sign of the children when he stopped at an ATM in Mississippi, DA Jones said.
The victims' mother, who had been divorced from Jones for about a year, has not spoken publicly about the murders. "I don't think that there's a person in this room that can speak to the mother of these children and not become emotional," McCarty said after meeting with her. "She's a very nice person, a very sweet lady. She is in shock and is extremely distraught."
Jones' family has been in contact with a public defender in South Carolina, Boyd Young, but he said he had no comment on the allegations because he had not yet met with him.
Jones' father, Timothy Ray Jones Sr., said his son was "not an animal."
"Our son was a very loving father," he said at a press conference outside his Amory, Mississippi, home. "We do not have all the answers and we may never have all the answers."
He said a memorial for the children — who were identified in Family Court documents as Merah, 8, Elias, 7, Nahtahn, 6, Gabriel, 2 and Abigail, 1 — would be held Friday.
IN-DEPTH
— Tracy Connor and Vivian Glover