A violent early-morning crash in Palm Springs, Calif., killed 13 people and injured more than 30 others Sunday, police said.
Police responded to reports of a vehicle collision on Interstate 10 shortly after 5 a.m. (8 a.m. ET) and arrived to find the passenger bus blocking traffic. Police said rescue crews worked quickly to pull survivors out through bus windows.
Jim Abele, chief of the California Highway Patrol Border Division, confirmed that the bus was operated by USA Holiday Bus, a Los Angeles-based tour company. Abele said the bus driver was killed.
The driver of the tractor-trailer sustained minor injuries and was treated at a hospital.
Officials were still working to confirm the identities of the passengers Sunday afternoon. Abele said it appeared most were asleep at the time of the incident.
Poet Aleman, 21, said she was driving down I-10 when traffic came to a sudden halt. After crawling in traffic, Aleman said, she finally reached the scene of the accident.
"The front part of the bus was completely merged into the rear of the semi-truck," she said, adding that it took her more than two hours to drive past the accident and exit the freeway.
The immediate cause was unknown, although Abele said early reports seem to indicate that speed was a factor.
"The speed was so significant [that] when it hit the back, the trailer itself entered about 15 feet into the bus," Abele said, adding it appeared that the majority of the passengers who died were sitting toward the front .
"In almost 30 years, I've never been to a crash where there's been 13 confirmed fatal accidents," Abele said. "We're going to do everything we can to find out specifically what is the cause of this accident."
The National Transportation Safety Board also dispatched a team to investigate.
At least 30 passengers were taken to area hospitals, according to officials, who confirmed that five were in critical condition, and two were being transferred to other local hospitals. Seven other patients have been treated and discharged.
The bus was en route to Los Angeles from the Red Earth Casino in Salton City when the accident occurred.
Abele said that the bus had been inspected by Highway Patrol annually since 2014 and as recently as this April and that "no mechanical deficiencies were noted."
Related: One Killed, Dozens Injured in Georgia Highway Crash
Desert Regional Medical Center, the Coachella Valley's only trauma center, said it treated 15 adults. Four remained in critical condition and one remained listed as serious Sunday night, it said.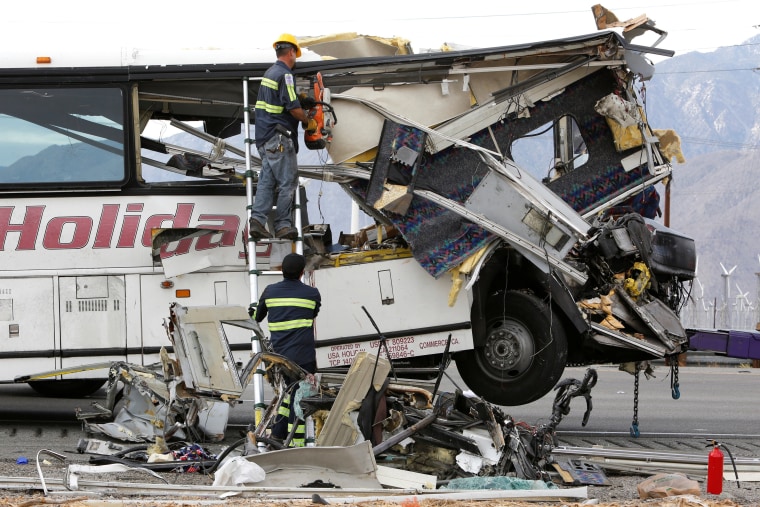 Charles Townsend, a trauma surgeon at the hospital, said the injuries were unique, because the trailer collapsed when the bus slammed into the truck.
"Most of the victims sustained facial trauma, which is usually a hallmark of people who are unrestrained," Townsend said at a news conference Sunday. Several passengers were also treated passengers for spinal injuries, he said.
Townsend said that the majority of the patients treated were Hispanic and that the hospital relied on Spanish-speaking emergency staff to overcome the language barrier.
Records of the Federal Motor Carrier Safety Administration show that USA Holiday owns one vehicle and employs one driver. Its Facebook and Instagram accounts advertise weekend bus trips to casinos in Las Vegas and the Imperial Valley in English and Spanish.
USA Holiday was among 19 companies cited or fined for unspecified violations in a 2008 investigation of California passenger carriers by the state Public Utilities Commission, according to state records. An investigation into the company's insurance history shows that it had several revocations and reinstatement of insurance from 2009 to 2014.
The crash comes about 25 years after one of Palm Spring's deadliest crashes. In August 1991, a tour bus carrying 60 Girl Scouts and adults overturned on a highway, killing seven people and injuring 53 others.