Three people were injured in a fire at Trump Tower in Manhattan Monday morning, authorities said.
Fire Department of New York Chief Roger Sakowich told NBC New York that the fire started in a cooling unit that contains heaters for use during this time of year, and said flames came out a vent just before 7 a.m. on Monday. The fire was reported after Secret Service agents noticed smoke.
The president was not in the building when the fire erupted. The fire was reported under control as of 8:13 a.m., the FDNY said.
A police source had told NBC News that there were no initial reports of injuries or evacuations. Authorities later said there were three injuries: The fire chief later said there were two injuries: a firefighter who was hurt when debris fell on top of him, and an engineer who was injured but refused treatment. A civilian was also injured but details were not immediately available.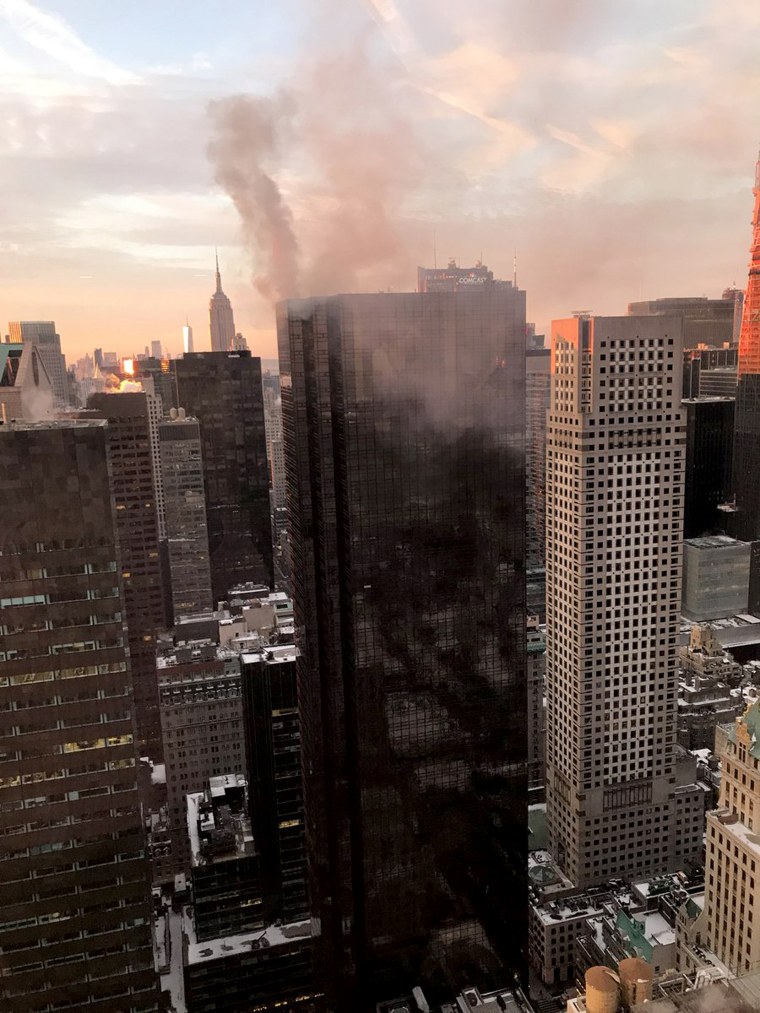 More than 70 firefighters responded to the call, a standard number for fire on the roof of a high rise, the NYPD told the Associated Press.
Smoke could be seen wafting off the roof of Trump Tower, but the fire started dissipating within a half hour, witnesses posting photos on social media said.
The president's son, Eric Trump, praised the FDNY on Twitter for their speedy response.
"There was a small electrical fire in a cooling tower on the roof of Trump Tower. The New York Fire Department was here within minutes and did an incredible job. The men and women of the #FDNY are true heroes and deserve our most sincere thanks and praise!" he wrote.
The building is Trump's crown jewel, which he purchased in 1979. The real estate mogul turned what was then an 11-story property into a 68-story, 663-foot gilded skyscraper. Located on Fifth Avenue between Gucci and Tiffany, the glitzy building contains offices, eateries, condos, and an atrium that's open to the public.
Trump maintains a three-story penthouse residence there, which has earned Trump Tower the nickname of "White House North."
Related: Trump Tower Got Its Start With Undocumented Foreign Workers
Trump Tower's history came under scrutiny during the presidential campaign when fellow Republican contender Marco Rubio attacked Trump during a debate for using undocumented Polish workers to build it.
"He brings up something from 30 years ago," Trump responded at the time. "It worked out very well. Everybody was happy."