Rescue crews on Monday continued trying to reach two miners buried since Friday in the collapse of a gravel pit in Mississippi.
In an update Monday afternoon on what it's now calling a recovery effort, the U.S. Mine Safety and Health Administration said out-of-state equipment, including heavy-duty pumps, had arrived and was being put to use around the clock.
The men — whose identities the Mississippi Emergency Management Agency confirmed Monday as Emmitt Shorter and James "Dee" Hemphill — were operating an excavator and a dump truck at the bottom of a pit in Crystal Springs when they were "engulfed" by a wall of sludge-like material. Officials believe the men are trapped under about 10 feet of mud, sand and gravel.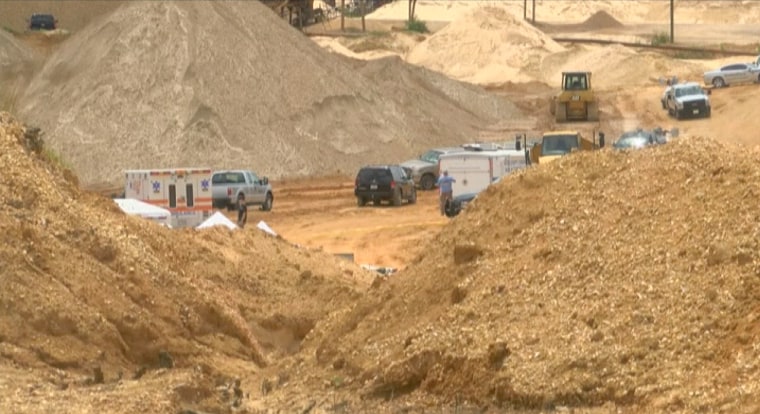 Lee Smithson, executive director of the emergency agency, called the event "unprecedented," saying that while authorities are keenly aware of people's concerns about how long it's taking to recover the men, "we must take safety of everyone involved into account."
Officials acknowledged that the odds of rescuing the men are slim.
"If we find the men, the families will be notified first," said William O'Dell, an assistant district manager for the federal mine safety agency.
Norman Ford, assistant vice president of Green Brothers Gravel, said: "Please continue to ask for comfort for these families and strength for us to press on for the only mission that matters: the recovery of our guys and their loved ones."
Emergency officials were notified about noon Friday (1 p.m. ET) that there had been accident at Green Brothers' Harmony Mine and Mill.
Crews were forced to halt their rescue attempt that day after the rain-soaked material at the pit prompted more landslides, according to the state emergency agency.
Workers have constructed a road to allow a crane to drive across the unstable material to reach the site, where more than two dozen men were working to recover the miners. They were initially unsuccessful in lifting the crane, but authorities said the crane was in place late Monday afternoon.