Two police officers were fatally shot Saturday after responding to a 911 hang-up call at a home just outside of Columbus, Ohio.
Westerville police officers Anthony Morelli and Eric Joering were shot and killed while responding to a domestic situation at a home in the Columbus suburb. A male suspect was wounded and hospitalized, a spokesperson for Westerville said.
Joering, 39, was a 17-year veteran of the police department. His partner, Morelli, had been with the force for 30 years. He was 54.
Police Chief Joe Morbitzer praised the officers as two of the department's "best" and later broke down in tears during the press conference Saturday.
"Those officers gave their lives in the protection of others, those are true American heroes," he said.
Morbitzer said officers Morelli and Joering responded to a 911 call at an apartment building just after 12:10 p.m. on Saturday. But as they arrived on the scene, they were immediately met with gunfire.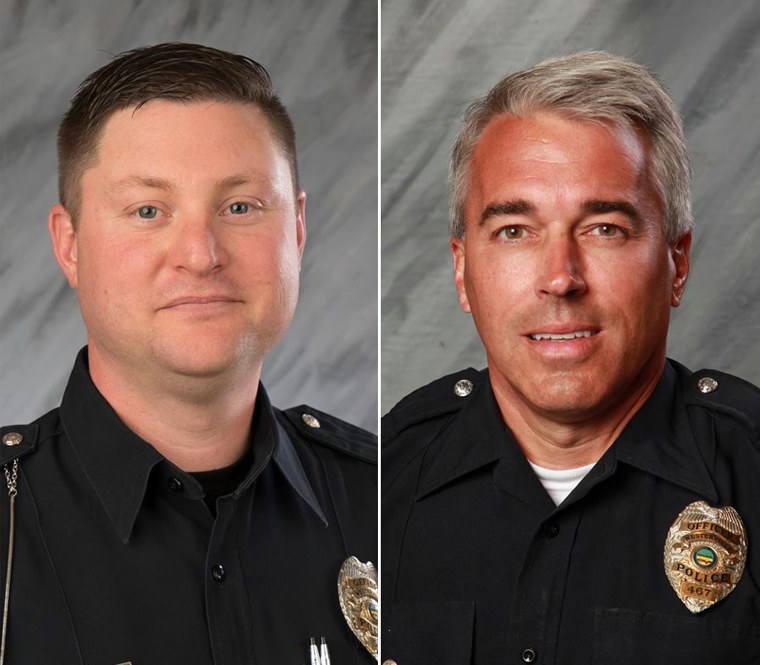 Both officers were shot. Morbitzer said Joering died at the scene and Morelli was transported to a nearby hospital where he later died from his injuries.
The Columbus Police Department will handle the investigation into the shooting, Morbitzer said.
Westerville police late Saturday confirmed that the suspect is Quentin Lamar Smith, 30. Authorities released incident reports showing police had been to his home or had dealings with him several times since 2017.
In a Nov. 29 incident, police say his wife asked about protection orders because she and Quentin Smith weren't getting along. She accused her husband of threatening to kill her, their daughter and himself. She told police he had a gun.
President Donald Trump tweeted that his thoughts and prayers were with the officers, their families and the Westerville Police Department.
Republican Gov. John Kasich, who lives with his family in a nearby township, tweeted that he's "very saddened to learn of the deaths of two of my hometown police officers."
He also asked Ohio residents to join him in "lifting up these officers' families in prayer."
Ohio Sens. Sherrod Brown and Rob Portman also wrote on Twitter that they are thinking of the families.
Westerville, on the northeast side of Columbus, is a suburb with about 39,000 residents.