With national tensions still high after the deadly violence at a white nationalist rally in Virginia, cities around the country are bracing for the next wave of protests organized by right-wing groups and their sympathizers.
In Boston, where a "free speech" rally is planned for Saturday, officials said they were preparing to ensure the public's safety.
Mayor Marty Walsh said at a press conference Monday that while the city believes in free speech, violence would not be tolerated and that "racism" was not welcome in Beantown.
"Boston does not welcome you here ... and we will do every single thing in our power to keep hate out of our city," he said.
The group organizing the Boston event has said in a Facebook post they are "not in any way associated" with the organizers of the rally in Charlottesville. While some of the speakers who were expected to attend the event have been dropping out, others have been associated with the far-right.
Related: Battle Over Confederate Monuments Renewed After Charlottesville Violence
Boston Police Commissioner William Evans said at the Monday press conference that he was "confident" in his department's ability to keep the community safe, adding that there would be a "strong" uniformed presence at the rally.
A spokesman for Massachusetts Gov. Charlie Baker said in a statement Tuesday that state officials have been in touch with Boston law enforcement to monitor the situation.
"Governor Baker is saddened and disturbed by the tragic events in Charlottesville, and believes hatred, bigotry and violence as well as those who promote it have no place in our Commonwealth or country," Spokesman Billy Pitman said.
Related: Trump Says 'Alt-Left' Shares Blame for Charlottesville Rally Violence
Meanwhile in California, the cities of San Francisco and Berkeley were preparing for more right-wing rallies later this month.
San Francisco city leaders denounced the demonstration in a press conference Tuesday, with Mayor Edwin Lee saying he was calling on the National Park Service (NPS) to reevaluate the permit for a Aug. 26 event at Crissy Field organized by the pro-Trump, right-wing group Patriot Prayer.
"We do not invite hate speech or hate to come to our city and to instigate potential violence," Lee said.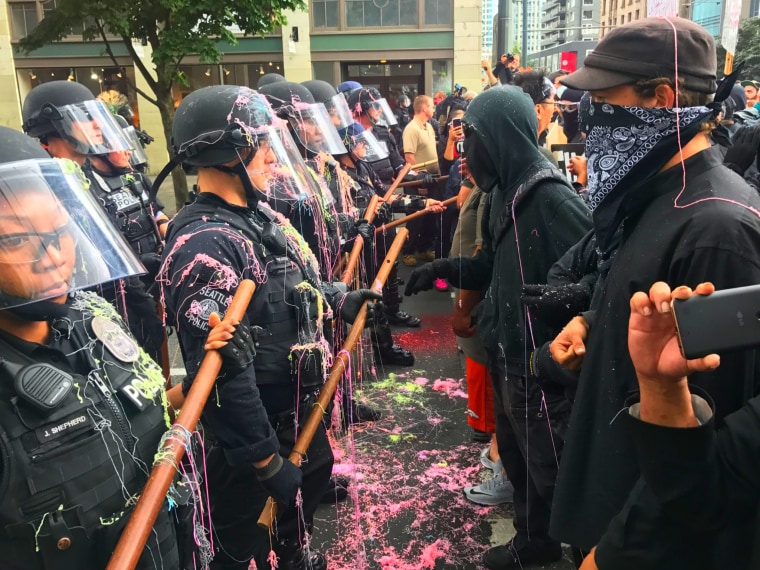 The group's members have organized recent demonstrations, including one last Sunday in Seattle, that have spiraled into violence between far-right ralliers and counter-protesters.
The Southern Poverty Law Center describes them as a "Portland-based group that specializes in rallies around the Northwest seemingly aimed at provoking far-left and anarchist groups."
In a letter, Lee wrote that top city officials were "outraged" with the Golden Gate National Recreation Area's (GGNRA) decision to grant a permit for the event "without proper planning and resources, given the public safety concerns."
"Events in Charlottesville and Seattle are proof that rallies such as these attract extreme and racist fringe groups who only want to provoke malice and incite brutality," he wrote, adding that they were hoping to work with the GGNRA on a "productive, respectful solution."
Messages left with a spokesperson for the GGNRA, which is managed by the NPS, were not returned as of Tuesday evening.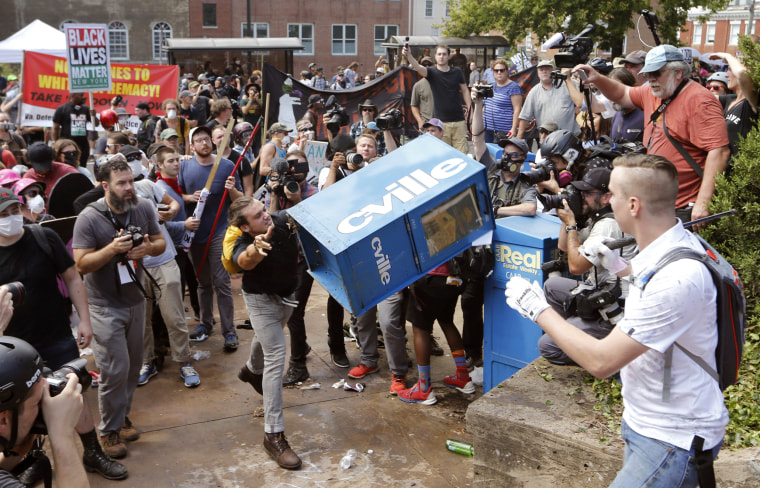 And a "No to Marxism in America" right-wing rally is scheduled for Aug. 27 — at the Martin Luther King Jr. Civic Center Park of all places — in Berkeley.
"The department is planning for a number of different contingencies and will be staffing accordingly," Sgt. Andrew Frankel with the City of Berkeley Police Department said Tuesday.
A permit has not been requested or issued for the event, he said, but that did not stop protesters from being able to assemble.
Berkeley is no stranger to tense rallies, with right-wing protesters and counter-demonstrators clashing in several previous protests this year alone.
"So, we're not unfamiliar to the violence — of course we're concerned about any potential threat of violence to our community and we're going to plan and conduct operations accordingly," Frankel said.
Also, protests planned in nine cities at Google offices on Saturday, over claims the company is "abusing its power to silence dissent," were cancelled on Wednesday. Organizers said on their website that the marches were postponed due to "credible threats" and that they hoped to "hold our peaceful march in a few weeks' time."
The planned protests followed Google's firing of James Damore, an employee who authored a so-called controversial "manifesto" purporting to explain why more women aren't engineers. A post on the March on Google website condemns the violence in Charlottesville.
And Texas A&M University announced Monday that it had cancelled a Sept. 11 "White Lives Matter" rally, where white nationalist Richard Spencer was supposed to speak, over safety concerns.
The school cited a notification from the group's organizer under the headline "Today Charlottesville, Tomorrow Texas A&M."
"Linking the tragedy of Charlottesville with the Texas A&M event creates a major security risk on our campus," the school said in a statement.
Spencer's request for campus space at the University of Florida on Sept. 12 was also denied Wednesday by school officials.
"I find the racist rhetoric of Richard Spencer and white nationalism repugnant and counter to everything the university and this nation stands for," UF President W. Kent Fuchs said in a statement.
Cameron Padgett, who is affiliated with Spencer, vowed a legal fight.