The United States passed its first real test of the Women's World Cup and even aced a pop quiz in geometry thanks to Tobin Heath.
The veteran forward booted home a tight-angle, match-clinching shot as the United States earned a hard-fought 2-0 victory over Sweden on Thursday at Stade Oceane in Le Havre, France.
The Americans completed Group F play undefeated and advanced to a round-of-16 knockout match against Spain on Monday.
With the United States leading 1-0 at halftime, Heath gave her team breathing room in the 50th minute, blasting the ball into the upper-left corner of the goal from a seemingly impossible angle on the right wing.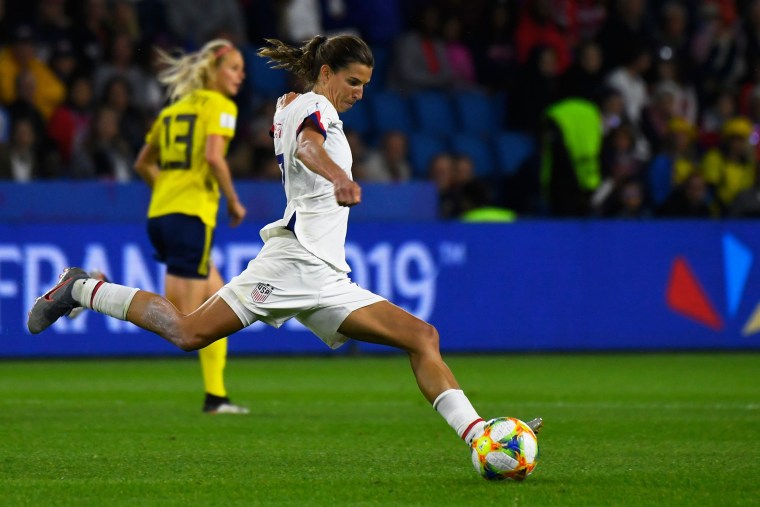 She was originally credited with the tally, but it was later declared an "own goal" as the ball apparently went off of Sweden's Jonna Andersson and over goalkeeper Hedvig Lindahl.
Despite being responsible for one the the tournament's signature goals, Heath was more impressed with her team's defense. The Americans haven't surrendered a goal yet in three matches.
"It's huge and a big part of what we're trying to do both offensively and defensively," said Heath, anative of Basking Ridge, New Jersey. "We talk about the idea of 360-degree defending where everyone is defending."
The reigning World Cup-champion Americans broke though less than three minutes into the match when a corner kick by Megan Rapinoe skipped through a sea of legs before Sam Mewis tapped the ball over to Horan's right foot.
Horan, a 25-year-old from Golden, Colorado, did not miss from close range, in the fastest goal of this tournament.
After 13-0 and 3-0 American wins to begin this tournament, Thursday's match had figured to be the Americans' first tough challenge of the competition.
The upper echelons of women's soccer is an exclusive club with only four nations winning the seven World Cup titles since the tournament began in 1991. Only seven sides have even played for the title, one of them being Sweden in 2003.
The American victory also served as a small measure of revenge for the one the U.S. program's most crushing losses, at the feet of the Swedes at the 2016 Rio Olympics. Alex Morgan and Christan Press failed to convert in a penalty-kick tiebreaker that kept the United States off the medal podium.
Then-U.S. goalkeeper Hope Solo famously called Sweden "cowards" for conservative play that seemed aimed at forcing the match into penalties.
"We've been part of some very big games against them, and we haven't beaten them in a major tournament in a while," defender Becky Sauerbrunn said.
"So it feels good that we can go into this tournament and we can play well against a quality side and get a result."
The Americans will now prepare for their round-of-16 match against Spain at Stade Auguste-Delaune in Reims. It's slated to kick off Monday at 6 p.m. local time and noon ET and be televised on Fox Sports 1 and Telemundo.
Looking ahead, the bracket now sets up America for a possible quarterfinal clash against the World Cup's host, France. If both sides win their next matches, America and its oldest ally would meet on the women's soccer stage a week from Friday in Paris with a spot in the semifinals at stake.
This is the eighth Women's World Cup and the United States has gone 3-0 in group play three times before — strong, early performances that led to two championships (1991, 1999) and one third-place finish (2003).
"To have the players in a good place with self-belief makes my job easier," U.S. coach Jill Ellis said, "because certainly they are highly motivated and hungry."
The American women are playing in top form, even as they fight in court against their own association.
The players are demanding better compensation and an end to the "institutionalized gender discrimination" that's also medical treatment, travel arrangements and overall workload.