A fan was removed from a U.S. Open tennis match in New York on Monday after German player Alexander Zverev accused the fan of using "the most famous Hitler phrase" during the match. 
Zverev, the No. 12 men's seed, was serving to No. 6 seed Jannik Sinner when he suddenly approached the umpire and pointed out a fan behind him.
"He just said the most famous Hitler phrase there is in this world," Zverev could be heard saying in the video, aired by ESPN. "It's not acceptable."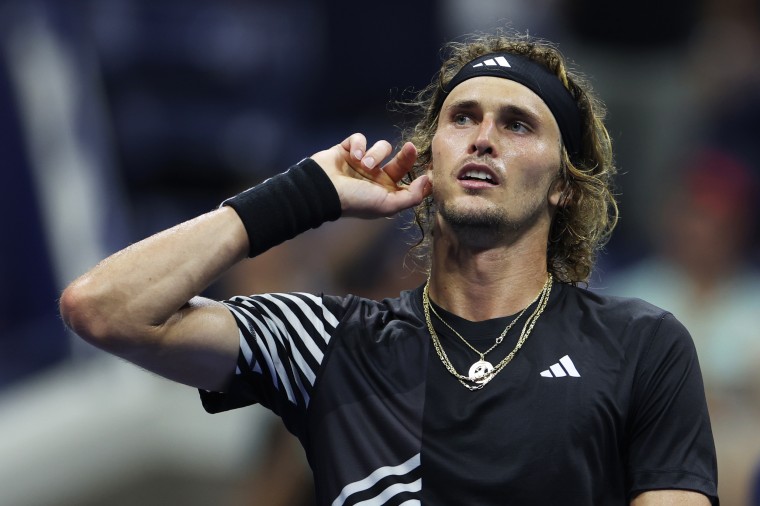 Umpire James Keothavong turns back in his chair and asks the fan to identify himself. "Put your hand up," Keothavong says before repeatedly asking, "Who said that?"
Security officials approached a fan, whom they escorted out of the venue during a break in the fourth set of the marathon match, which began late Monday and finished early Tuesday.
"A disparaging remark was directed toward Alexander Zverev," U.S. Tennis Association spokesman Chris Widmaier said, according to The Associated Press. "The fan was identified and escorted from the stadium." The USTA did not immediately respond to a request for comment from NBC News.
Zverev said later that the fan had started "singing the anthem of Hitler that was back in the day," the AP reported. "It was 'Deutschland über alles,' and it was a bit too much," he said.
According to the German broadcaster Deutsche Welle, those words, which translate to "Germany above all," once formed the start of the song that was officially declared the national anthem of the Weimar Republic in 1922.
After Adolf Hitler rose to power in the 1930s, the Nazi regime began to misuse the verse, however, leading public singing of the anthem to be banned after World War II in 1945.
Years later, then-Chancellor Konrad Adenauer asked that the song be reintroduced, but only with the third verse being sung: "Einigkeit und Recht und Freiheit / Für das deutsche Vaterland," which translates to "Unity and justice and freedom / for the German fatherland," Deutsche Welle reported.
"I think me being German and not really proud of that history, it's not really a great thing to do, and I think him sitting in one of the front rows, I think a lot of people heard it," Zverev said, according to the AP. "So if I just don't react, I think it's bad from my side."
Zverev went on to drop the set but won the fifth, bringing an end to a match that lasted nearly five hours. 
He will play defending U.S. Open champion Carlos Alcaraz in the quarterfinals.