Editor's Note: This article has been updated with the name of the driver.
A vehicle that was possibly packed with propane tanks crashed through the main gate of Travis Air Force Base in California and exploded, killing the driver, base officials said Thursday.
Detectives from the FBI and Air Force Office of Special Investigations have identified the motorist responsible for the "unauthorized access" as Hafiz Kazi, 51. They did not release a possible motive for the mayhem. The detectives originally spelled the man's first name as Hasiz.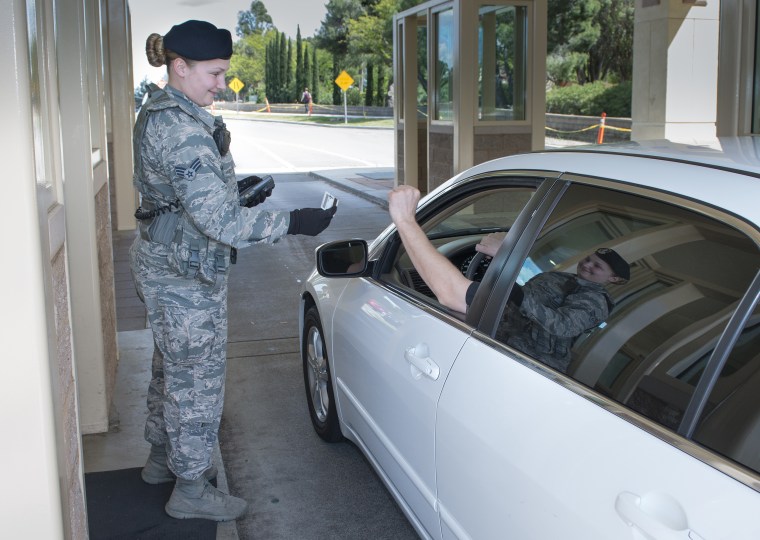 "A unique and unusual situation" were the words Lt. Greg Hurlbut of the Fairfield Police Department used to describe the inferno, which erupted shortly after the vehicle breached the gate around 7 p.m. PT (10 p.m. ET) Wednesday.
The driver was pronounced dead at the scene after first responders doused the flames engulfing the vehicle, which appeared to be either a truck or an SUV.
Hurlbut told NBC News a robot was used to make sure there were no unexploded military supplies in what was left of the vehicle before the area was declared safe.
Videos posted on a Facebook forum for members of the Air Force show the vehicle in flames inside the gate with thick gray smoke billowing into the sky.
An account from an apparent witness on the forum said the vehicle was carrying propane tanks when it approached the gate.
The driver "started messing with a fuel ignition source to blow the propane tanks" before driving to the side of the road, "where he burned to death," the account said.
"We didn't know if it was a terrorist attack or a suicide, but we were using the word bomb for the incident," according to the account, which said no shots were fired.
NBC News hasn't verified the authenticity of the video or the Facebook accounts. The page is a well-established forum widely used by airmen and non-commissioned officers, and its contents are moderated.
The main Travis gate is near the base's family military RV park. Access to the camp was barred overnight as the blast was being investigated and reopened it Thursday morning.
The base, which is about 30 miles southeast of Sacramento, employs more than 26,000 active-duty, reserve and civilian personnel.