The dramatic rescue of a Vermont man who had been lost at sea for a week took a sinister turn Wednesday when it was revealed that he was a person of interest in the unsolved murder of his multi-millionaire grandfather.
Nathan Carman was found Sunday floating on a life raft in the Atlantic eight days after his boat "Chickenpox" sank, but his mother, Linda Carman, who had gone fishing with him, is still missing and presumed dead, authorities said.
Carman, 22, was also the last person to see his maternal grandfather John Chakalos alive before he was fatally shot back in December 2013 at his Windsor, Connecticut home, police said.
"There was an application for an arrest warrant for Nathan Carman," said Captain Thomas LePore of the Windsor Police Department told NBC News on Wednesday. "The arrest warrant was never issued. I can't discuss the reasons."
Police described him as a "person of interest."
"This remains an active investigation," added Mark Dupuis, a spokesman for the Connecticut State's Attorney's office, when asked if Carman remains a suspect in the case.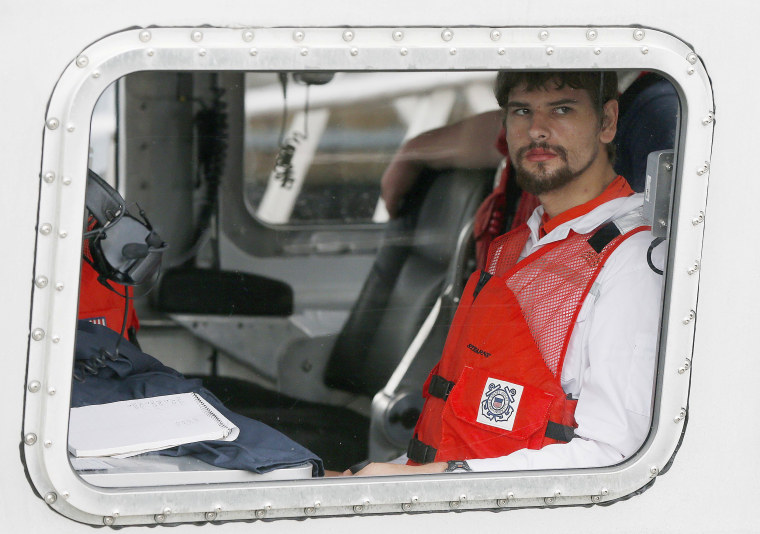 Carman's missing mother and her three sisters inherited the slain 87-year-old real estate developer's $42 million fortune, according to the Hartford Courant, which was the first to report the existence of the warrant.
Meanwhile, police in South Kingstown, Rhode Island — from whence mother and son set off on Sept. 17 — reported in an affidavit obtained by NBC News that Carman's boat "was in need of mechanical repair" and that he "intended to go fishing farther off-shore in a different location than what were his mother's intentions and understanding."
"Nathan had been conducting a portion of these repairs upon his own volition which could have potentially rendered his boat unsafe for operation," South Kingstown Det. Lt. Alfred Bucco III wrote in his warrant application.
At Bucco's request, Carman's house in Vernon, Vermont was searched on Monday by local police. They were looking for documents and electronic devices "that would provide coordinates, locations or positioning information" on where exactly they were headed.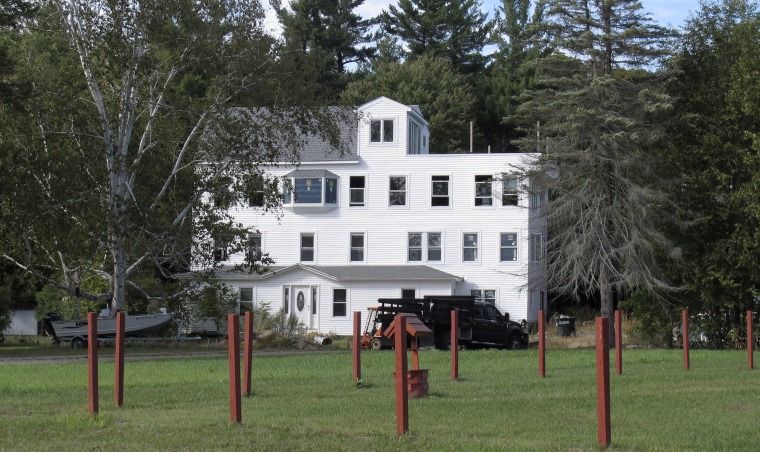 They were also seeking receipts for boat parts and equipment Carman used to fix his 31-foot aluminum fishing boat, the affidavit states.
While the missing persons investigation remains open, the Coast Guard probe is closed.
"We treated this like a regular search and rescue," U.S. Coast Guard Petty Officer Nicole Groll told NBC News on Wednesday. "We confirmed he has no new information about the whereabouts of his mother."
Carman returned home on Tuesday and has not been charged with a crime, authorities said. His lawyer, Hubert Santos, did not return a call for comment about the Chakalos murder investigation or the rescue at sea.
The police got involved on Sept. 18 after Sharon Harstein, a friend of Carman's 54-year-old mother, reported that they had not returned to port, the affidavit states.
Hartstein told investigators Linda Carman told her they were headed to a spot off the Rhode Island coast near Block Island. But police learned from another friend that they were heading to a fishing area known as the "Canyons" that is much farther out to sea.
Carman was found off the coast of Martha's Vineyard by a Chinese freighter, some 100 miles out in the Atlantic.
In a recorded conversation with the Coast Guard, Carman said he heard a "funny noise" in the engine compartment, saw water pouring in, and lost sight of his mom before he climbed into the raft, which fits fours people and was equipped with food.
"I was bringing one of the safety bags forward," Carman can be heard saying on the recording. "The boat just dropped out from under my feet. When I saw the life raft, I did not see my mom. Have you found her?"
Told that his mother is still missing, Carman said, "I was whistling and calling and looking around, and I didn't see her."
Hartstein told NECN that Carman and his mother often went fishing together.
"That was one of their bonding things," Hartstein said. "When he was available, she tried to make time so she could spend time with him."
Family members also told NECN that Carman suffers from Asperger's syndrome, which is a form of autism.