Logistical roadblocks to President Donald Trump's immigration crackdown are mounting.
A new report by the Department of Homeland Security's inspector general found immigration agencies' efforts to track and remove visitors to the U.S. who have overstayed their visas continue to be hampered by longstanding issues with agency computer system. The government watchdog added that the issues have delayed investigations into public safety and homeland security risks.
Immigration and Customs Enforcement personnel responsible for investigating in-country visa overstays, the IG wrote, have to piece together information from dozens of often unintegrated systems and databases.
During the presidential campaign, Trump pledged a crackdown on immigrants who remain in the country illegally after their visas expire. "If we don't enforce visa expiration dates, then we have an open border — it's as simple as that," Trump said at an Aug. 27 campaign stop in Des Moines, Iowa.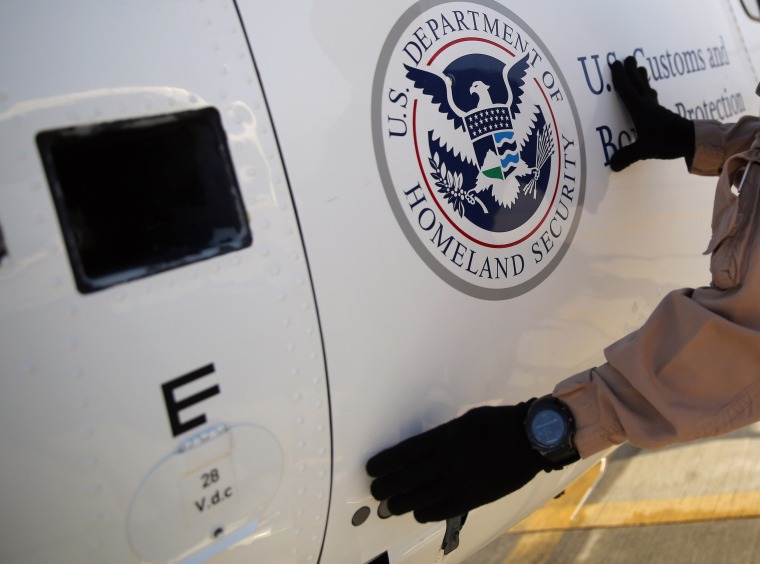 As many as 27 DHS systems and databases support visa-related investigations, but the use and ownership of these systems are fragmented among the department's agencies and their divisions, the report said. Many of the systems were built for a specific purpose and only contain narrow fields of information.
Analysts at ICE's Counterterrorism and Criminal Exploitation Unit, which identifies potential national security risks among visa overstays, reported having to check 17 different systems to determine if a visitor had actually overstayed a visa.
ICE agents must also manage between 10 and 40 passwords, all of which expire on different dates. According to inspectors, agents reported being locked out of a system for a day or more in certain cases. In others, the lock-outs were resolved in minutes.
In either case, the IG said, users had taken to writing down passwords, a practice posing a national security risk.
Related: Trump Lashes Out After Judge Blocks His Sanctuary Cities Order
"ICE currently reviews the records of more than 1 million potential visa violators each year," an ICE spokesperson said in a statement to NBC News. "ICE is conducting an inventory of all systems used by the agency to track visa overstays to see how the process can be improved. From there, ICE will develop a comprehensive training and guidance plan for agency personnel to use those systems to their full capabilities."
DHS did not respond to NBC News' request for comment.
U.S. Customs and Border Protection began consolidating 34 datasets into a single system in 2012, but the Unified Passenger database was not made available to ICE Homeland Security Investigations and Enforcement and Removal Operations personnel. Some weren't even aware the database existed, the report said.
Part of the problem comes from the lack of a reliable exit-tracking system. When visitors arrive in the United States, U.S. Customs and Border Protection collects visitors' biographic and biometric information. A similar collection process does not exist for those leaving the country, despite being required by U.S. law.
The lack of that system, the IG said, forces the agencies to rely on third-party systems, which occasionally provide false information.
To make matters worse, ICE agents often lacked proper training on how to use these systems, according to the report.
"ICE personnel we spoke with did not know how to use the tools and technology available for overstay tracking despite [Office of Management and Budget] direction that users of Federal IT resources have the skills, knowledge, and training needed to be effective," the report said.
In one case, an ICE agent of more than 20 years interviewed by inspectors was unaware of a system commonly used by colleagues to search data on national security vetting results.
More than 10.8 million were granted non-immigrant visas to the United States in fiscal year 2015, the latest available reporting period. Of those, roughly 970,000 were flagged for possible overstays, and about 685,000 were eventually referred to Enforcement and Removal Operations, while ICE's counterterrorism arm processed 145,000. About 141,000 were cleared through automatic vetting.
Related: ICE Deportation Officers Overburdened, Undertrained: Inspector General
The IG report comes on the heels of another unfavorable report by the agency watchdog released mid-April that found ICE deportation officers were often undertrained and were, at times, tasked with overseeing more than 10,000 immigrants outside of detention facilities awaiting deportation or immigration hearings.
In that case, the workloads were preventing proper vetting and check-ins, inspectors said.
The hiring surges called for by Trump and DHS Secretary John Kelly could alleviate some of those issues, but spokespeople for CBP and ICE said the agencies expect the hirings to take several years to complete.