The weapons expert on the set of the Western movie "Rust" was likely "hungover" when she put a live bullet into a gun that later killed a cinematographer, prosecutors contend in new court filings. 
Hannah Gutierrez-Reed, the armorer for "Rust," was charged with involuntary manslaughter after 42-year-old cinematographer Halyna Hutchins was fatally shot by a set gun handled by actor Alec Baldwin in October 2021.
Prosecutors said in a filing Friday that witnesses will testify that Gutierrez-Reed was "drinking heavily and smoking marijuana in the evenings during the shooting of 'Rust.'"
"It is likely that Defendant Gutierrez was hung over when she inserted a live bullet into a gun that she knew was going to be used at some point by an actor while filming a shooting scene with other actors and crew members," prosecutors alleged.
The Friday filing was in response to a motion to dismiss Gutierrez-Reed's involuntary manslaughter charge.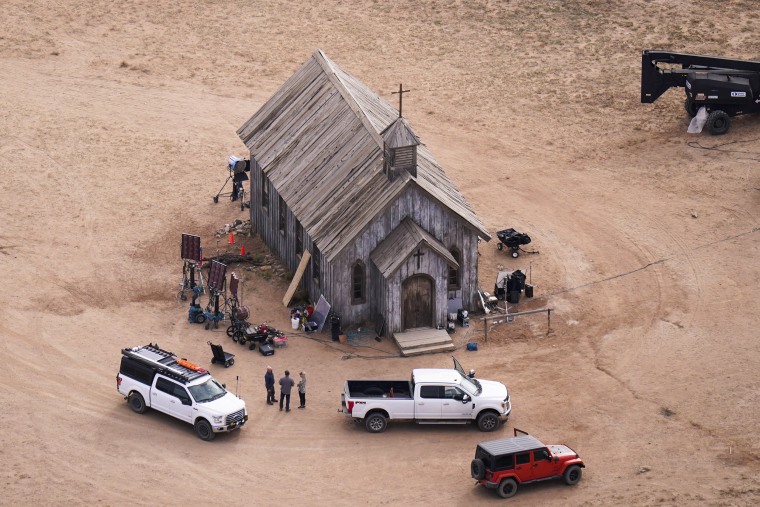 In filing to dismiss, her attorneys argued that the prosecution had personal and political motivations and were treating Gutierrez-Reed differently from others in the case. 
Prosecutors responded by saying that she is being "appropriately prosecuted" because, as armorer on set, it was her duty to "ensure gun safety." 
"Her reckless failure resulted in the senseless death of another human being," the filing said.  "All Defendant Gutierrez needed to do was shake every bullet and make sure it rattled before putting it in the gun — she failed and killed someone." 
The filing said that Gutierrez-Reed has a "history of reckless conduct that has resulted in loss of human life" and it was in "the public interest" that she be "held accountable."
Jason Bowles, an attorney for Gutierrez-Reed told NBC News Wednesday: "The prosecution has so mishandled this case and the case is so weak that they are now resorting to character assassination tactics to further taint the jury pool."
"This investigation and prosecution has not been about seeking justice; for them it's been about finding a convenient scapegoat," he added.
The shooting occurred when Baldwin was rehearsing with a pistol for a scene and the gun went off at Bonanza Creek Ranch in New Mexico on Oct. 21, 2021. Hutchins was killed and director Joel Souza was wounded.
It's still not clear exactly how the live rounds ended up on set. 
Baldwin was also charged with involuntary manslaughter in wake of the shooting, but the charges were dismissed in April citing "new facts" amid further investigation. 
Baldwin had said he did not pull the trigger. His attorneys praised the decision to drop the charges, saying they "encourage a proper investigation into the facts and circumstances of this tragic accident."
The prosecution's filing said that the charges against Baldwin were dismissed because "a possible malfunction of the gun significantly effects causation with regard to Baldwin, not with regard to Gutierrez."
"If it is determined that the gun did not malfunction, charges against Mr. Baldwin will proceed," the document said, noting a final charging decision will come within 60 days of the Friday filing.
Gutierrez-Reed has a preliminary hearing scheduled in August at which it'll be decided if there's enough probable cause to move forward, The Associated Press reported.