Alaska hit record-breaking temperatures on Independence Day, shattering the previous heat record by 5 degrees.
At 5 p.m. local time Thursday, Anchorage reached 90 degrees for the first time in the state's recorded history, topping the previous record set at Anchorage International Airport of 85 degrees on June 14, 1969.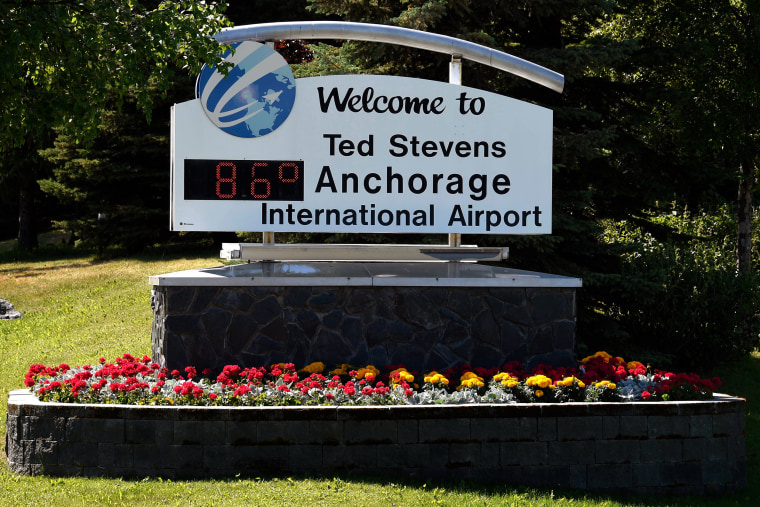 "Breaking an all-time record by this much is pretty unheard of in the climate community," NBC News meteorologist Bill Karins said. At least three other cities and towns in Alaska also reached new record temperatures, according to Karins.
"A plethora of daily and all-time records were set across southcentral and southwestern Alaska" on Thursday, the National Weather Service said Friday.
Kenai and King Salmon, Alaska, both hit a new all-time high temperature record of 89 degrees, according to the National Weather Service. The previous high in Kenai was 87 degrees on June 26, 1953 and June 18, 1903. Palmer, Alaska, reached 88 degrees, matching its previous record of 88 degrees on May 27, 2011.
The state has been battling several wildfires, with a dense smoke advisory in effect until noon local time on Saturday for the interior Kenai Peninsula, including the cities of Kenai, Soldotna, Homer,and Cooper Landing, the National Weather Service said. Smoke from the Swan Lake fire will reduce visibility to a quarter mile or less at times, the weather service said, with the worst conditions taking place overnight through the morning hours.
The unusual heat wave is expected to continue through the next week with highs about 15 to 20 degrees above average and comes as a massive heat dome has parked over the region.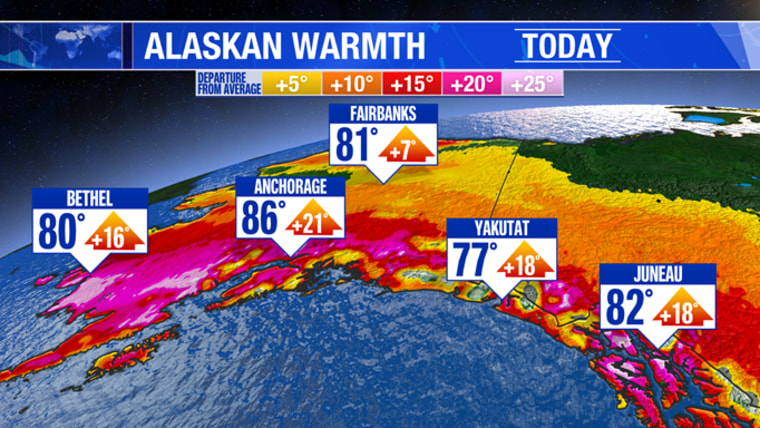 "Near record-breaking temperatures will remain a possibility through the weekend as hot and dry conditions persist across southcentral and southwest Alaska," the agency said.
Dozens of daily record highs were likely to be broken each day as the heat wave continues, but it appeared doubtful they would hit 90 degrees again in Anchorage this week, according to Karins.
Rick Thoman of the Alaska Center for Climate Assessment and Policy told the Associated Press the high temperatures are both a weather story and a climate story as extreme weather events become much more likely in a warming world.
The extreme temperatures come after a record dry June for Alaska, and the second warmest June on record, a climate researcher at the University of Alaska Fairbanks previously told NBC News.
The northernmost state's hot spell also comes on the heels of a heat wave that baked Western Europe and shattered records in France, Germany, Poland and the Czech Republic.