Strong winds, large hail and even possible tornadoes were forecast for Texas and the Plains on Monday, after at least seven people died during a weekend of heavy flooding.
Rescuers were expected to continue searching for at least two people swept away by rising floodwaters in Texas and Kansas. Seven bodies have already been recovered in Texas since Friday after days of torrential rain.
Meteorologists said Monday would bring little respite.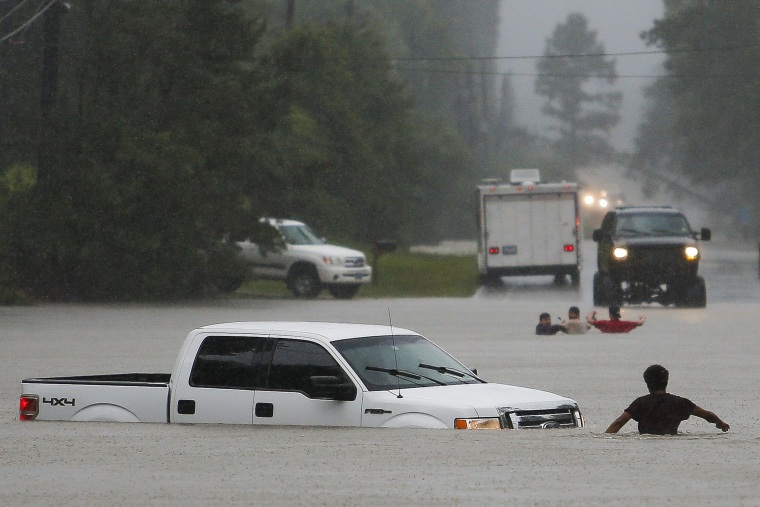 Severe thunderstorms were possible from the Texas-Mexico border up to North Dakota, The Weather Channel reported. Parts of Oklahoma, Kansas, Colorado, Nebraska, and South Dakota were also in the firing line.
"Large hail and damaging wind gusts are the biggest concerns," The Weather Channel reported, adding that isolated tornadoes "can't be ruled out."
Moisture from the Gulf of Mexico meant there was a risk of more heavy rain and flash flooding across many of the same areas.
The National Weather Service issued flood warnings in several of these states, as well as severe thunderstorms and flash flood warnings for parts of Texas.
At Dallas-Fort Worth International Airport, 34 flights were canceled and 104 were delayed on Sunday, according to the tracking website FlightAware. There had been six cancellations as of 4:30 a.m. ET Monday.
Meanwhile, authorities were due to continue searching Monday for a 10-year-old boy who fell into the Brazos River in Texas' Parker County while fishing, NBC Dallas-Fort Worth reported. The river, which had already spilled onto streets and rendered bridges impassable, was expected to rise another 3 feet on Monday, according to police.
The body of a 37-year-old man who went missing after being swept out to sea while trying to rescue a woman was recovered Monday morning, according to the Coast Guard.
Stephen Espedal was one of several people who attempted to save the woman at San Luis Pass, between Freeport and Galveston, on Sunday evening. The woman managed to make it ashore and the other rescuers were picked up in a boat — but Espedal has not been found.
Related: Up to 16 Named Storms in Store for Summer
Two people were also swept away in Travis County, near Austin, on Friday, Travis County Emergency Services spokeswoman Lisa Block told NBC News. It was unclear whether a body found Sunday afternoon was one of those people. It was one of six recovered in Texas over the weekend. Among those who died in the floods was 21-year-old National Guardsman Darren Mitchell, whose body was recovered Saturday after his vehicle was swept off the road.
Separately, officials in Kansas were still searching for an 11-year-old boy who was swept away by Wichita's fast-moving Gypsum Creek on Friday night, according to NBC station KSNW.
"We're basically in a body recovery mode right now," Wichita Fire Department Battalion Chief Scott Brown told the station.
Meanwhile, the remnants of Tropical Depression Bonnie was continuing to drench parts of the Carolinas early Monday after making landfall Sunday.
The system was downgraded to a post-tropical cyclone, according to the National Weather Service, which said the heavy winds and rains associated with the storm would dissipate by Wednesday.