/ Source: Associated Press
Storm warnings were in effect Monday from Long Island to Nantucket as post-Tropical Cyclone Hermine drifted slowly up the Atlantic, promising near hurricane-strength winds, floods and beach erosion.
The National Weather Service said large waves will pound the East Coast from the mid-Atlantic states to southern New England through the end of Labor Day. Life-threatening rip currents are expected at least into the middle of the week, it added.
At 11 a.m. ET, Hermine was about 230 miles southeast of the eastern tip of Long Island, N.Y. The storm was moving northwest at 6 mph and expected to will "meander slowly offshore of the New England coast through Tuesday," according to the National Weather Service.
It said a storm surge of up to two feet was expected around the time of high tide late Monday along the coast of Long Island.
"The combination of a storm surge and the tide will cause normally dry areas near the coast to be flooded by rising waters moving inland from the shoreline," the NWS said in an advisory. "Along the immediate coastline, the surge will be accompanied by large and dangerous waves."
Connecticut's Gov. Dannel Malloy partially activated the state's Emergency Operation Center at the Hartford Armory at 6 p.m. Sunday to monitor conditions as Hermine churned to the south.
"We must keep our guard up," he said, according to NBC Connecticut. "I want to caution residents that weather conditions can change quickly. Especially with a slow-moving storm."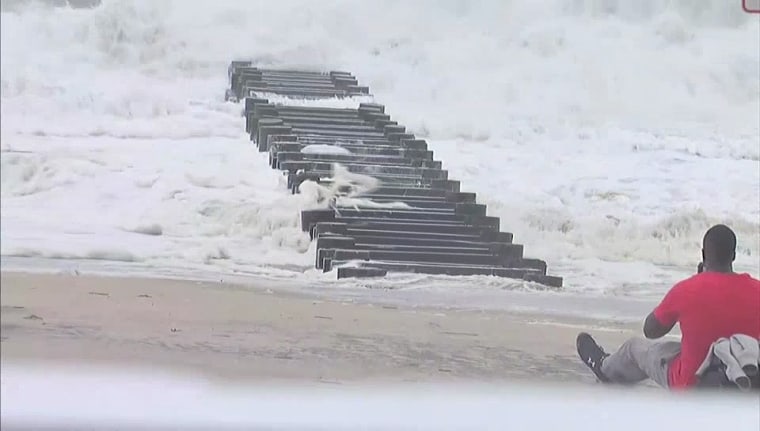 Tropical storm warnings were in effect Monday for the eastern seaboard from New Haven, Connecticut to Massachusetts's Sagamore Beach, Nantucket and Martha's Vineyard. Warnings were also in effect for Block Island and Long Island — from Fire Island Inlet to Port Jefferson.
Hermine was packing maximum sustained winds of 70 mph, just short of hurricane strength — and expected to remain near hurricane strength through Monday evening.
Beaches in Nantucket were closed for the Labor Day holiday, and New York City announced Monday that all beaches would be closed to swimmers for a third day Tuesday.
Boaters, meanwhile, were busy retrieving their vessels or making sure they were secure for Monday's holiday.
Hermine has been moving east since it battered Florida and the Carolinas on its way up the coast beginning Friday. But updated NWS projections indicated that its eastward motion is ending and that Hermine is likely to slowly veer northwestward through Tuesday back toward the Northeast coast.
Vacationers who fled the beaches Friday and Saturday kept business owners busy figuring out just how much revenue they'd lost.
"We live by the weather and we die by the weather," said Louis Gouvas, who's owned Louie's Pizza in Rehoboth Beach, Del., for almost 60 years.
A voluntary evacuation from Long Island's popular vacation destination Fire Island was lifted Monday, leaving some business owners on the narrow barrier island feeling that they had suffered from an overhyped forecast.
"Fire Island's small businesses from Davis Park to Kismet lost millions of dollars in lost revenue in what was supposed to be one of the most profitable weekends of the summer because of timid politicians who were slow to realize that the threat of Tropical Storm Hermine had dissipated," a Long Island Citizens for Good Government statement said.
But the storm, because it is slow-moving, remained unpredictable. Even under sunny skies, rip currents and storm-surges posed a threat, and the storm had a track-record of wreaking lasting havoc.
When it first made landfall as a hurricane in Florida Friday, the storm knocked out power to hundreds of thousands. Gov. Rick Scott said Monday that nearly 21,000 customers were still without power.
Just north of Tampa in Florida's Pasco County, residents were forced from their homes two days after the storm hit as run-off from flooded northern parts of the state washed over roads and through houses. About 2,500 residents were still displaced Monday.
Lenny Panzitta joined friends and neighbors who spent Sunday sawing up downed trees that were blocking the roads on Whitemarsh Island, off the Georgia coast.
Then "the electricity went off, and I said I hope another tree didn't come down where they were clearing, and it did," Panzitta told NBC station WSAV of Savannah.
"It knocked the transformer down," he said. "Nobody was hit, but now we have wires hanging over the road so you can't get through."
North Carolina Gov. Pat McCrory and other state officials spent the day touring farm damage in the eastern part of his state, where thousands of acres of crops remained under water.
Two deaths — one in Florida and one in North Carolina — have been blamed on the storm.
Editor's note: An earlier version of this story attributed three deaths to the storm, but a fatality in South Carolina has not been confirmed to have been Hermine related.