Dangerous floods and landslides are feared as another "atmospheric river" makes its way over Northern and Central California, forecasters warned Monday.
The area likely to take the worst hit is central California, between Sacramento and San Francisco, Kevin Roth, a senior meteorologist with The Weather Channel told NBC NEWS.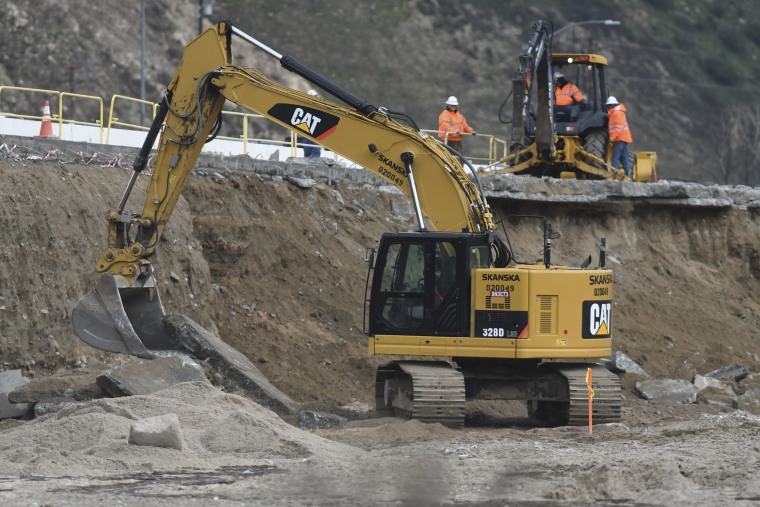 "Landslides and mudslides are certainly a possibility," Roth said.
The worst of the storm, which could dump 2 to 4 inches of rain on an already-sodden landscape, should swirl into the state sometime after 3 p.m. local time on Monday, Roth said.
The entire Sacramento Valley is under a flood warning through early Tuesday, the National Weather Service said. That includes Oroville, where almost 200,000 people were forced to evacuate last week as an earlier storm damaged a spillway behind the Lake Oroville dam.
Five construction contractors at the Orville dam were fired on Friday for posting photos of the dam on social media, according to officials with the California Department of Water Resources. The contractors were employed by Syblon Reid and were terminated because their posts violated the company's social media policy.
At the behest of local officials in Stanislaus County — who warned that the Tuolumne River's Don Pedro Reservoir could overflow in the next day or so — Louise Singleton packed a "bug-out" bag of necessities in case she and her nine children have to flee at a moment's notice.
"You never know what's going to happen," Singleton told NBC station KCRA of Sacramento. "It might be an uncontrolled spill, and then Don Pedro's going to end up in my back yard."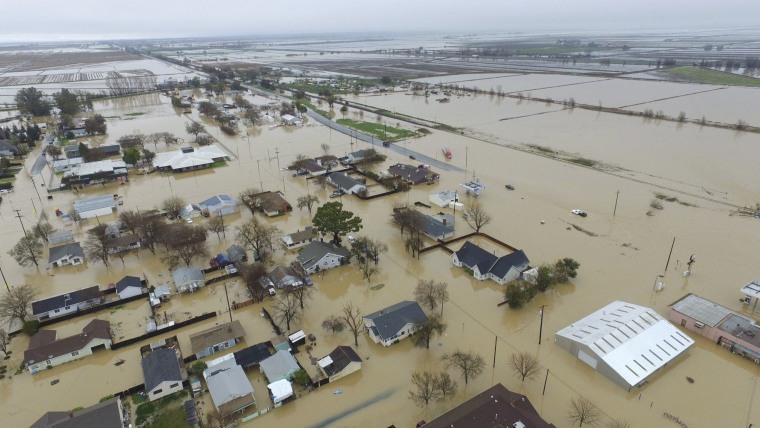 In the San Joaquin Valley, residents were patrolling levees for signs of danger, reviewing evacuation plans and filling hundreds of sand bags after the San Joaquin River kept rising.
"Our community is pulling together like real champs," San Joaquin River Club resident Paula Martin told The Associated Press. Martin is helping coordinate emergency plans for the private neighborhood of 800 homes.
Martin said the neighborhood has sirens in a clubhouse and church that can warn residents of impending flooding.
The National Weather Service predicted "excessive rainfall" over the San Francisco Bay Area through Monday evening.
"This rainfall will likely result in widespread flooding as well as debris flows," including mud and rock slides, it said.
"More rain is the last thing" those parts of the state need, said Danielle Banks, a meteorologist for The Weather Channel, who also warned of strong winds and power failures, because the ground in Northern and Central California is already saturated from the storms last week and this weekend, which spanned the state, killing at least five people.
The San Joaquin River was approaching the top of levees and could remain at that level for four days, said Tim Daly, a spokesman with the San Joaquin County Office of Emergency Services.
"When the water gets that high and more water is coming, there is just too much pressure and levees can break," Daly told the AP. "They can be topped."
The Don Pedro reservoir, which captures water from the Tuolumne River, a key tributary of the San Joaquin, was at 97 percent capacity.
In colder, higher elevations farther east, the rail will be snow, probably very heavy, according to the National Weather Service, which predicted that several more feet will fall up in the Sierra Nevada.
Photos: Powerful California Storms Leave Thousands Without Power
That could mean even more problems later in the week, because "runoff from the mountains will eventually flow downstream," it said.