Residents were clearing up Wednesday after at least five tornadoes tore across Mississippi and Alabama, destroying homes and damaging buildings including a college, a church and a federal prison.
The severe weather, which also brought lashing rain and localized flooding, was spun off from the same storm system that buried the Great Plains and parts of the Midwest under a blizzard.
One of the areas worst-hit by Tuesday's outbreak in the South was the Mississippi town of Collinsville, where local officials were reportedly requesting that town be declared a disaster zone.
"We have several houses that have been totaled, we have a lot of damage," Lauderdale Co. supervisor Josh Todd told local station WTOV. There were no reports of injuries.
First Baptist Church said several of its buildings were badly damaged, "but praise God no one was hurt."
Jackson International Airport received 4.6 inches of rain and "flash flooding is a concern" in the area, the National Weather Service said late Tuesday.
The National Weather Service said at least three other tornadoes were reported in Mississippi at Newton, Prismatic and Scooba — where East Mississippi Community College said it had suffered structural damage.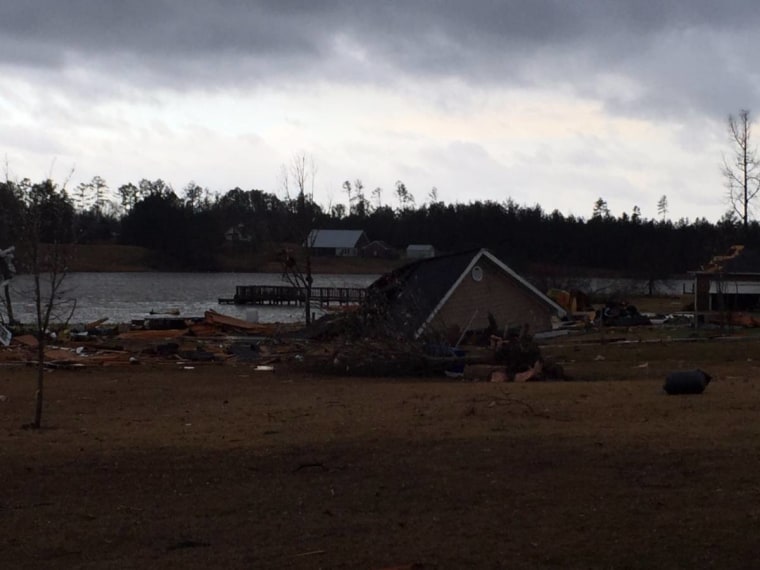 The storm then moved into Alabama, where it spawned at least one "large and extremely dangerous tornado" in Pickens County, the National Weather Service said.
The Pickens County Sheriff's Office told NBC News that there were no preliminary reports of injuries as the tornado tore through Pickensville and Aliceville, near Tuscaloosa.
An administrative building was damaged and several power lines were down at the federal prison in Aliceville, Assistant Police Chief Tony Thrasher told NBC News.
Alabama's Emergency Management Agency warned residents to be prepared for possible tornadoes, widespread showers and damaging winds into Wednesday.
Straight-line winds also ripped the roof off a building in Cookeville, Tennessee, according to mayor Ricky Shelton.
The nasty weather came about because the Deep South is on the warm side of the same massive system whose cold side pummeled parts of the Plains and the Midwest with record snowfall and winds of up to 60 mph.
Related: Snowstorm, 60-MPH Winds Threaten Blizzards Across Plains and Midwest
A snow emergency was declared in the Twin Cities of Minneapolis and St. Paul, Minnesota. The state transportation department closed Interstate 90 west of I-35 at the town of Albert Lea, south of the Twin Cities, because of "extremely hazardous driving conditions."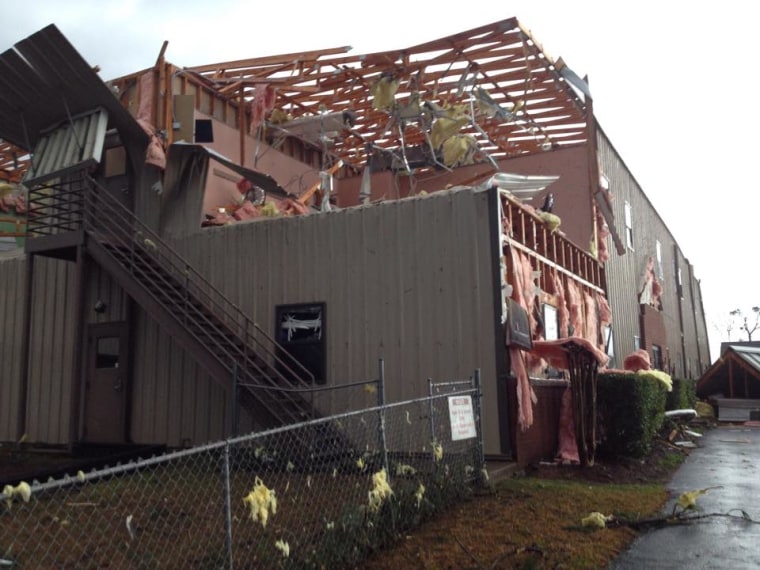 The State Patrol reported 287 crashes on icy, low-visibility roads across Minnesota by 4:30 p.m. (5:30 p.m. ET).
Sioux City, Iowa, had gotten about a foot of snow by Tuesday evening — quadrupling its previous record for Feb. 2. Mayor Bob Scott closed all non-essential city services, including garbage collection, Tuesday morning, NBC affiliate KTIV reported.
The only people pleased by the winter storm were merchants specializing in snow removal, like Cary Christenson, owner of Barr Sprinkler Systems in North Platte, Nebraska, where 13 inches of snow was forecast Tuesday.
Christensen started clearing roads and driveways Monday night, stopping only for a quick nap Tuesday afternoon, he told NBC affiliate KNOP.
"We haven't plowed this much snow since 2009," he said.