Tropical Storm Ana was headed straight for Hawaii Wednesday morning and was expected to intensify into a hurricane by Thursday night and impact Honolulu.
As of 5 a.m. local time (11 a.m. EST) the storm was about 680 miles south east of Hilo, on The Big Island, and about 900 miles from the capital, according to the National Weather Service. Ana had maximum sustained winds of 70 mph and was moving west at about 9 mph, forecasters said. The storm is expected to turn northwest later Wednesday night or early Thursday and become a Category 1 hurricane, meaning winds of 74-95 mph.
While there is still much uncertainty, the storm could hit the Big Island by 2 a.m. Saturday local time, and Honolulu about a day later. The islands may see heavy rain and stronger winds as soon as Friday.
"There's still a big question of a lot of error," Weather Channel Senior Hurricane Specialist Bryan Norcross told NBC News. "In Honolulu, it could be anything from passing showers and gusty winds all the way to a significant storm — which hasn't hit Honolulu in some decades." Since 1950, only four hurricanes have come within 150 nautical miles of Hawaii's capital city.
Meanwhile, stores across the Aloha State were stocking up on disaster-prep supplies.
"Bottle water, which we stock quite a lot, ropes, standard propane tanks, portable stoves, grills, typical charcoal, batteries would be the best, and a lot of flashlights," City Mill Kaimuki Supervisor Keven Self-Gomes told local NBC affiliate KHNL.
Norcross noted that the mid-fall storm is named "Ana" because nomenclature in the Central North Pacific Basin doesn't start at A every year, but rather pulls from a set of lists that can carry over.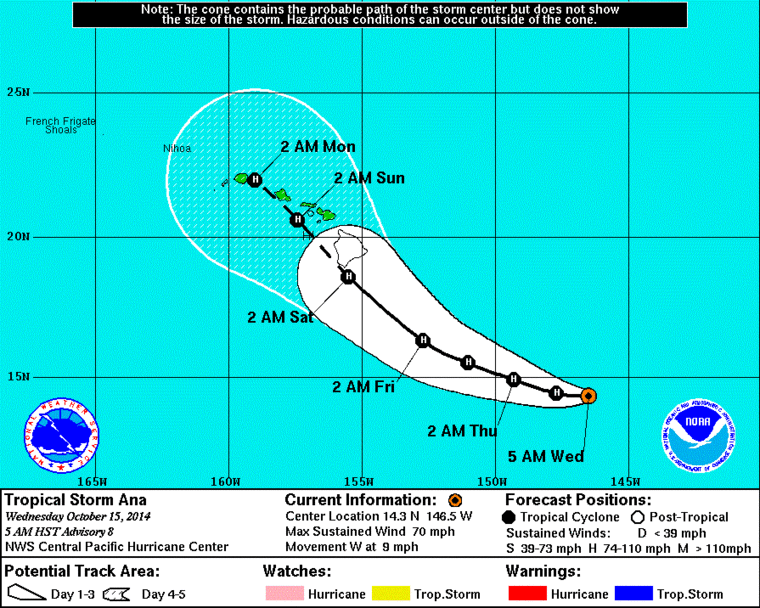 IN-DEPTH
SOCIAL
— Hasani Gittens