MAINZ, Germany — Dozens of Holocaust survivors and their relatives from around the world are expected to converge on a German courtroom Tuesday as the so-called "accountant of Auschwitz" is due to go on trial.
Former concentration camp bookkeeper and guard Oskar Groening, 93, is accused of being an accessory to the murder of at least 300,000 Jews.
"Many of the survivors, who are co-plaintiffs in the trial, are stepping on German soil for the first time since the end of Nazi regime," Christoph Heubner, the executive vice president of the International Auschwitz Committee, told NBC News from Berlin.
A total of 63 Holocaust survivors or their relatives from the United States, Canada, Israel and elsewhere have joined the prosecution as co-plaintiffs in the closely-watched trial. Around 30 are expected in court in Lueneburg.
Groening's trial comes 70 years after the liberation of Adolf Hitler's concentration camps.
He is accused of working as a guard at the Auschwitz death camp between May and June 1944, when some 425,000 Jews from Hungary were brought there and at least 300,000 almost immediately gassed to death. German prosecutors allege that Groening was responsible for dealing with the belongings and money stolen from camp victims, which is why he has often been referred to as "the accountant of Auschwitz" in the German media.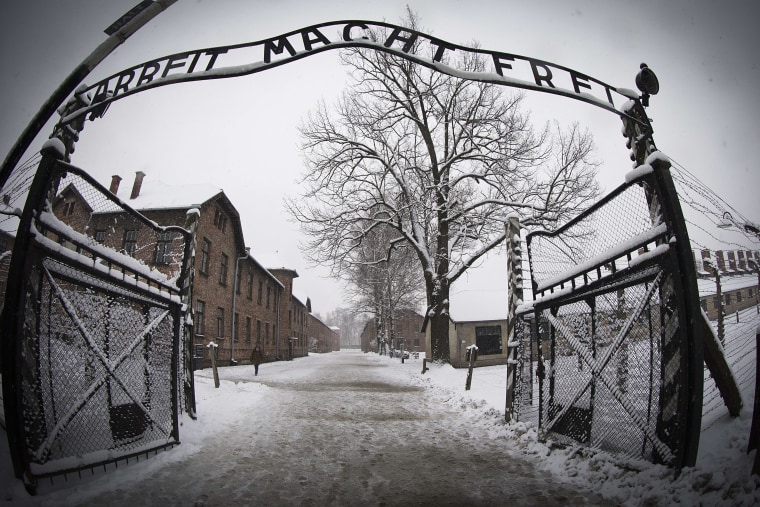 As fugitives age, the case is likely to be one of Germany's last Nazi trials. Authorities say it is intended to be "an important signal for the last remaining survivors of the Holocaust."
But while the proceedings highlight Germany's last push to bring Nazi criminals to justice, critics accuse the country's judicial system of "disastrous failings."
Following the Nuremberg trials in 1949, German authorities for decades had only targeted individuals linked to specific atrocities.
An estimated 6,500 Nazis who worked at SS concentration camps were alive at the end of World War II. However, just 43 men from Hitler's elite SS units faced court afterward.
Nine received life sentences, 20 received prison terms between three and 15 years and 10 were acquitted, according to the Fritz-Bauer-Institute in Frankfurt, a Holocaust research center.
"It is a black stain on Germany's map," Heubner said. "The culprits were welcomed in the midst of society and the general public kept silent. Groening was a wheel in the murder machine of Auschwitz and therefore, also had blood on his hands."
The 2011 prosecution of John Demjanjuk, an autoworker who lived in the U.S. for years after the war and was convicted of 28,060 counts of being an accessory to murder, was a game-changer for the German legal system. The court's ruling that Demjanjuk could be convicted on his service record alone, triggered a search for dozens of suspected Auschwitz guards who were still believed to be living in Germany.
According to the federal office investigating Nazi crimes, there are currently 11 open investigations against former Auschwitz guards, and "charges have been filed in three of those cases including Groening's case," prosecutor Thomas Will told NBC News.
If convicted, Groening could face up to a 15-year prison sentence.
"It is important that Groening stands trial, but the survivors had hoped to see prosecution much earlier," Heubner added.
The Associated Press contributed to this report.