A proposal by the Australian government to recognize the country's Indigenous people in the constitution has inflamed a culture war and set off divisive debates — including among Indigenous people themselves. 
Prime Minister Anthony Albanese's center-left Labor government is backing a landmark referendum to enshrine in the Australian Constitution an Indigenous body — known as a "Voice to Parliament" — to advise the government on legislation and policy affecting Aboriginal and Torres Strait Islander people, who make up almost 4% of Australia's population of 26 million.
Unlike other former British colonies such as the United States, Canada and New Zealand, Australia has no treaty with its Indigenous people, who are not mentioned in the 1901 constitution. Like Indigenous peoples in the United States and elsewhere, Indigenous Australians fare much worse than their fellow countrymen on life expectancy, incarceration rates and other measures of socioeconomic well-being.
Supporters say the referendum's success would improve Australia's image and help Indigenous peoples in other nations.
"It's an opportunity for Australia to be unique in the world, sharing over 60,000 years of Indigenous heritage and culture in a practical way that gives greater fairness to Indigenous people," said Thomas Mayo, director of the nonprofit group Australians for Indigenous Constitutional Recognition, as well as a Kaurareg Aboriginal and a Kalkalgal, Erubamle Torres Strait Islander.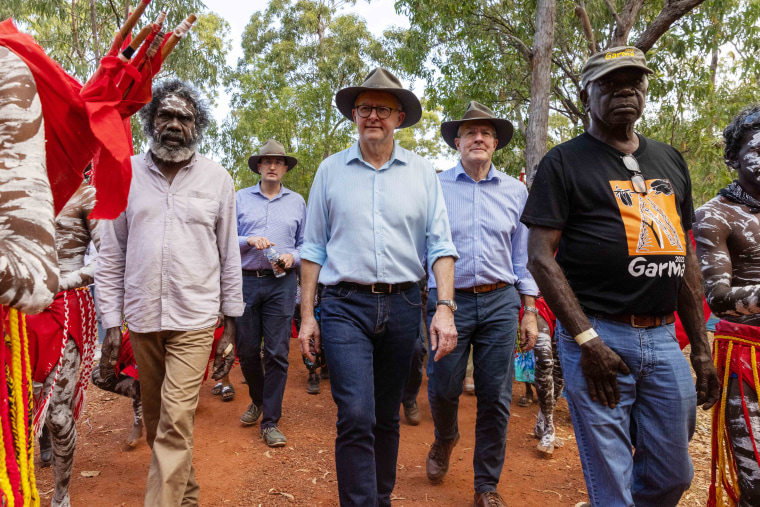 After being approved by the Senate last month, the referendum is expected to be held between October and December. Opposition conservatives are actively campaigning against it, saying that no other demographic in Australian society is allowed such privileges and that they would give Indigenous people excessive power in Parliament.
Earlier this month, thousands of people across Australia turned out at rallies organized by the referendum's "yes" campaign. But a poll last month by The Sydney Morning Herald found that support for the referendum was at 49%, down from 53% in May.
Australians have voted on 44 referendum proposals since 1901, only eight of which have succeeded.
Polarization over the Voice referendum has fueled racist behavior, Mayo said, including on social media, where he said he had seen "a sharp rise in vile, racist comments towards me and towards other Indigenous people that are advocating for this."
Nine Entertainment, a major Australian media outlet, apologized last week over a full-page advertisement in its daily newspaper that featured Mayo and was criticized as racist. The advertisement, paid for by the "no" campaign, showed Michael Chaney, chairman of the Australian conglomerate Wesfarmers and a supporter of the referendum, handing money to Mayo, who is depicted as a child standing at his feet.
The referendum also has strong opponents within the Indigenous community.
"Of course it's creating division, because we're trying to fit into a framework, a colonialist framework," said Taylah Gray, a member of the Wiradjuri people and Indigenous rights campaigner who has not yet decided how to vote.
The Voice proposal is a futile and "cosmetic" change, said Gary Foley, a veteran Indigenous activist, member of the Gumbaynggirr people and a professor of history at Victoria University in Melbourne.
He said the referendum was likely to fail due to Australia's deepening polarization and its reluctance to confront its problematic past.
"The majority of Australians know absolutely nothing of their own history," he said. "How are Australians today in a position to make an informed decision about something they know nothing about?"
Some Indigenous people who oppose the constitutional change argue that it means ceding sovereignty to those who took their lands by force.
What Indigenous people want, Foley said, "is self-determination — political and economic independence."
Lidia Thorpe, the first Aboriginal senator from the state of Victoria, said the Voice could override existing Indigenous governance systems.
"I have supported and amplified the voices of the Sovereign 'No' camp, which is made up of First Nations people across the country that have never ceded their sovereignty and do not want to be recognised in the colonizer's constitution," she told NBC News in a written statement.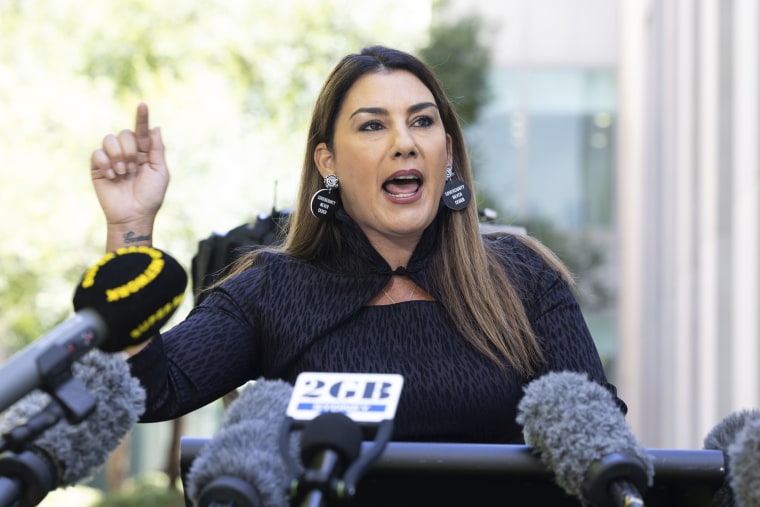 Thorpe is instead calling for more concrete actions, saying the government should first implement the recommendations from reports in 1991 and 1997 on the deaths of Aboriginal people in custody and the separation of Aboriginal children from their families.
"Our people are in a desperate situation as a result of record incarceration and child removal rates and the government already has the policies that will make an immediate difference," said Thorpe, who voted last month against holding the referendum.
Thorpe has urged Australians, who are required to vote by law, to vote no, while Foley is encouraging them to spoil their ballots.
"It's about time governments enabled Aboriginal people to determine their own destiny, instead of having white racists determine what our destiny is," he said.
Finlay said she was confident that constitutional recognition would not impede Indigenous sovereignty, and could even breathe life into the treaty process.
"At the moment," she said, "I don't see that we have any mechanisms" that will allow a treaty to be negotiated at the federal level. 
"The Voice will allow us to do that," she said.
Every past Indigenous advisory body has ended up being either watered down or abolished as governments have changed, fueling a mistrust of such initiatives among some Indigenous people.
Gray said she remained "wary" of any government structure aimed at improving the lives of  Indigenous people, saying they had been subjected to "centuries of violence, displacements, broken promises" by governments from both the left and the right.
But Mayo said enshrining the Voice in the constitution will protect it from the same fate as its predecessors, putting it out of reach of future governments "that either are avoiding accountability or using Indigenous lives and our issues as a political football."
Despite their opposing views, Foley, Mayo, Finlay and Grayl agreed that a majority "no" vote on the referendum would be irreversibly harmful for Indigenous rights.
"There's everything to gain if we succeed in being able to self-determine who speaks for us, and to influence the decisions that are made about us," Mayo said.
If the referendum should fail, he said, Indigenous people will be worse off "because the Australian people will have officially dismissed that long and proud history, heritage and culture."
"It'll be officially dismissing a step towards greater fairness in our country," Mayo said.