The United Nations' Secretary General jetted to the Middle East on a last-minute trip Tuesday in an attempt to defuse a deadly spiral of violence gripping the region.
Ban Ki-moon said his visit "reflects the sense of global alarm" over a dangerous escalation in violence between Israelis and Palestinians, telling a news conference he was there to support all efforts to "prevent the situation from spinning out of control."
"No society should have to live in fear. No society can afford to see its youth suffer in hopelessness," he said alongside Israel's President Reuben Rivlin according to a statement released by the U.N. "If we do not act fast, the dynamics on the ground may only get worse, with serious repercussions in and beyond Israel and Palestine."
Ban — who will meet later with Israeli and Palestinian leaders — said he would urge both sides to take "concerted" efforts to prevent further incidents."
"Violence only begets violence," he said. "We must not allow extremists on either side, or those who think violence is the answer, to further fuel the conflict….This conflict has gone on for far too long. We must, for the future of our children, turn back from this dangerous abyss."
At least eight Israelis have been killed by Palestinians in near-daily stabbing and shooting attacks over the past month. More than 40 Palestinians have been killed by Israeli fire in clashes over the same period of time.
Ban's visit came amid two more attacks on Israelis and fresh clashes in the West Bank. Israel's military said a Palestinian stabbed an Israeli soldier during a violent riot near Hebron early Tuesday, adding that the soldier was lightly wounded and the assailant was shot on site.
Hours later, a Palestinian tried to ram his car into pedestrians at a West Bank bus stop before getting out of his vehicle and trying to stab people, according to the Israeli Army. One civilian and one soldier were wounded in the attack, at Gush Etzion junction. The attacker was shot and killed, Israeli police said.
Meanwhile, the Palestinian Health Ministry said one Palestinian was killed and 11 were injured in clashes with Israeli forces in the Gaza strip.
The U.N. secretary general was expected later Tuesday to meet with Israel's Prime Minister Benjamin Netanyahu and Palestinian President Mahmoud Abbas.
The themes Ban referenced in remarks on his arrival echoed comments made in a message he released before his visit in which he appealed for calm and stressed violence was a solution.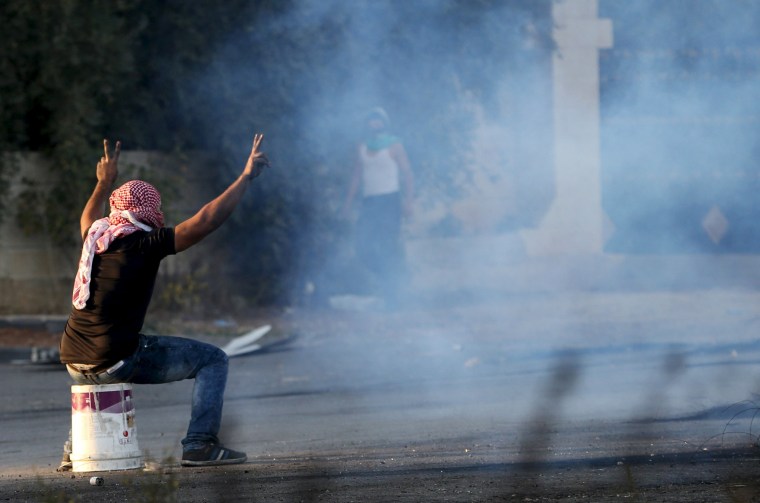 "I am dismayed — as we all should be — when I see young people, children, picking up weapons and seeking to kill," he said in the video message. "Let me be clear: violence will only undermine the legitimate Palestinian aspirations for statehood and the longing of Israelis for security."
The secretary-general said he understands the frustration of Palestinian youth — their hopes for peace "dashed countless times," anger over "the continued occupation" and over Israeli settlement expansion.
"I urge the youth of Palestine — as the future of your people and society — to turn your frustration into a strong, but peaceful, voice for change," he said. "I am not asking you to be passive, but you must put down the weapons of despair."
Ban also said he understands the concern for security and anger many Israelis feel — but that "walls, checkpoints, harsh responses by the security forces and house demolitions cannot sustain the peace and safety that you need and must have."
A political solution must be reached to "break this cycle of violence and fear," Ban said, urging both Israeli and Palestinian leaders to "stand firm against terror, violence and incitement."
"Non-violence requires more courage and strength than violence," he said. "At this difficult time, let us say "enough is enough."
Israeli leaders have condemned Palestinians for inciting violence and on Tuesday announced the arrest of a top Hamas leader for that reason.
The Israeli military said Hassan Yousef was arrested overnight in Beitunia, southwest of Ramallah.
"Yousef has been actively instigating and inciting terrorism and publicly encouraging and praising the execution of attacks against Israelis," the military said in a statement.
Yousef — who previously has been arrested and imprisoned — is a co-founder of Hamas whose son later spied for Israel between 1997 and 2007, according to The Associated Press.
U.S. Secretary of State John Kerry is expected to meet this week with the Israeli and Palestinian leaders. He called Monday for both to take urgent actions to stem the "senseless" violence.