HONG KONG — The summer dominance of "Barbenheimer" has driven millions across the world to see two very different movies and delight in a rare moment of cultural confluence. But in Japan, the light-hearted conflation of the two blockbusters has stirred anger from those who view it as trivializing the deaths of hundreds of thousands in the cities of Hiroshima and Nagasaki, where the U.S. dropped atomic bombs in 1945.
Internet memes and mashups of Barbie's pink wonderland with nuclear mushroom clouds have been embraced by the official Twitter account for the Barbie movie, which initially responded positively to the mashups.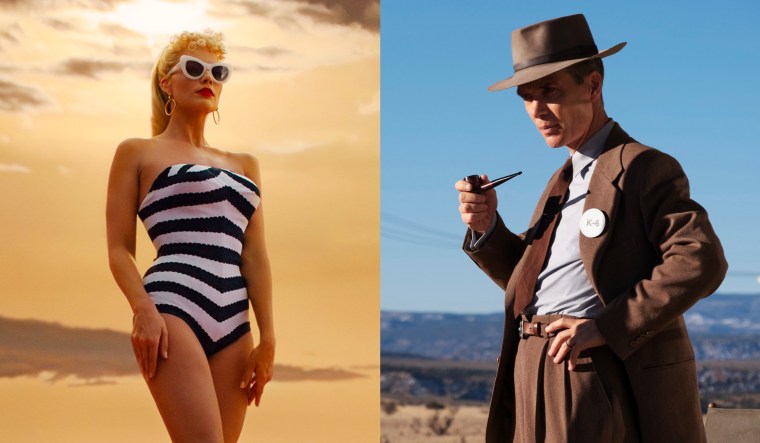 "It's going to be a summer to remember," a now-deleted tweet from the account said in response to a mashup poster that showed Margot Robbie, who plays Barbie, on the shoulder of Cillian Murphy, who plays Robert Oppenheimer, the father of the atomic bomb.
"We're always thinking PINK," the studio said in another tweet, which was still online as of Tuesday morning, in reply to a poster showing Robbie and Ryan Gosling (Barbie's Ken) driving the iconic pink car away from a nuclear explosion. 
Memes about the two films, which were released on the same day in most countries, have been catching on for weeks, but once the official studio account joined in, they enraged fans in Japan, with the hashtags #StopBarbieRelease and #NoBarbenheimer trending as people called for a boycott.
Barbie's Japanese account said Monday that the postings by the main Barbie account, operated by Warner Bros. headquarters, were "extremely regrettable," urging its American counterparts to take prompt action, in a rare public display of internal corporate division. 
"Neither this movement nor these activities are officially sanctioned," it added, referring to the "Barbenheimer" trend. 
The studio has now apologized.
"Warner Brothers regrets its recent insensitive social media engagement. The studio offers a sincere apology," Warner Bros. Film Group told NBC News in a statement.
However, the apology may do little to win back Japanese fans. 
Maki Kimura, 43, who lives in Kanagawa, said in an interview that despite her excitement it was now "impossible" for her to watch "Barbie."
"I loved Barbie so much," Kimura said. "But we cannot remain silent about the atomic bomb. Even if our favorite people or things want us to change our opinions." 
That Barbie is scheduled for release in Japan on Aug. 11, two days after the anniversary of the Nagasaki bombing, only further disappointed fans.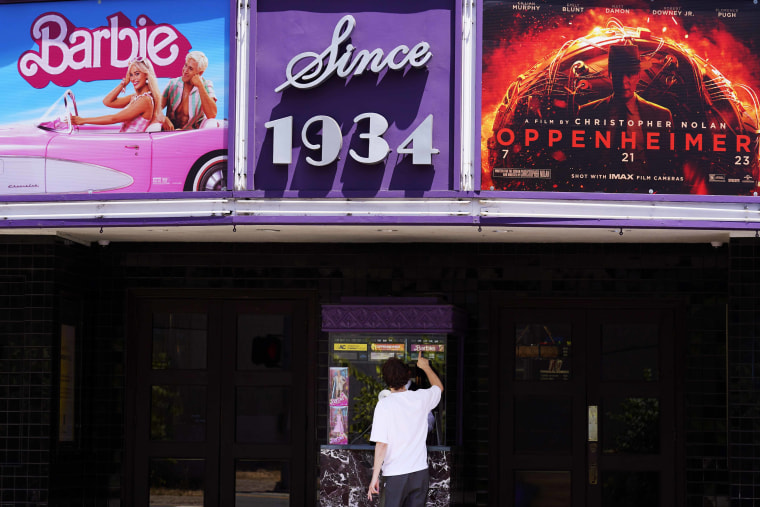 "Really bad timing," Chiho Komoriya, 45, a customer support agent from Sendai, said. "I feel sorry for the film crew," she said, adding that she was now hesitant to watch the film.
"Oppenheimer," released by Universal Pictures, does not have a release date in Japan. Universal did not immediately respond to a request for comment from NBC News. In response to a question from The New York Times, Universal said it was not aware of the Barbenheimer controversy. (NBC News and Universal Pictures are both units of NBCUniversal.)
"It's a problem of making jokes about nuclear explosions and making jokes about the bombing of Hiroshima, Nagasaki, which killed so many people," said Jeffrey Hall, a Japanese studies lecturer at Kanda University of International Studies in Chiba, Japan.
Across television sets in Japan, documentary series and movies are regularly screened in the weeks leading up to the commemoration of the bombings, focusing on the plight of those who suffered from the nuclear fallout, many of whom are still reeling from radiation effects passed down to the current generation. 
"So the image of a mushroom cloud is something that Japanese people don't associate with happy, friendly jokes, but something that is very seriously linked to death and suffering," Hall said.
Despite the online uproar, U.S. Ambassador to Japan Rahm Emmanuel posted approvingly of Barbie on Wednesday.
This isn't the first time the two movies have stoked controversy in the region. 
Some social media users and critics have pointed to the absence of Japanese victims in Oppenheimer — director Christopher Nolan said that "to depart from Oppenheimer's experience would betray the terms of the storytelling."
Barbie, meanwhile, is banned in Vietnam over a scene that features a map showing the hotly contested South China Sea, though Warner Bros. defended its picture as nothing more than a "child-like crayon drawing" rather than any kind of political statement.
Childhood fans of Barbie, like high school teacher Kaori Kikuchi, have always admired the character. But she said the "Barbenheimer" incident had drained all the excitement over the film.
"Even if the movie is so amazing, I'm sure I'll remember the meme with the atomic bomb, therefore I can't watch 'Barbie,'" Kikuchi, 28, said.