BIR HADAJA, Israel — What's the answer to a high-visibility camel problem? To one group of Bedouins, it's making the animals glow.
Large signs in Hebrew and English warn motorists passing through the Negev Desert on Israel's Highway 40 to "BEWARE OF CAMELS NEAR THE ROAD."
While the more than 6,000 camels at large in southern Israel might seem peaceful, they have proved to be a deadly foe for nighttime drivers. The animals — known as ships of the desert — have roamed the Middle East for centuries but recent accidents involving camels have prompted calls for action.
Father-of-three David Cohen hit one while driving home on December 14 and later died from his injures. His case sparked an outcry, with a regional council chief telephoning Israeli Prime Minister Benjamin Netanyahu to ask for a mandate to shoot camels on sight.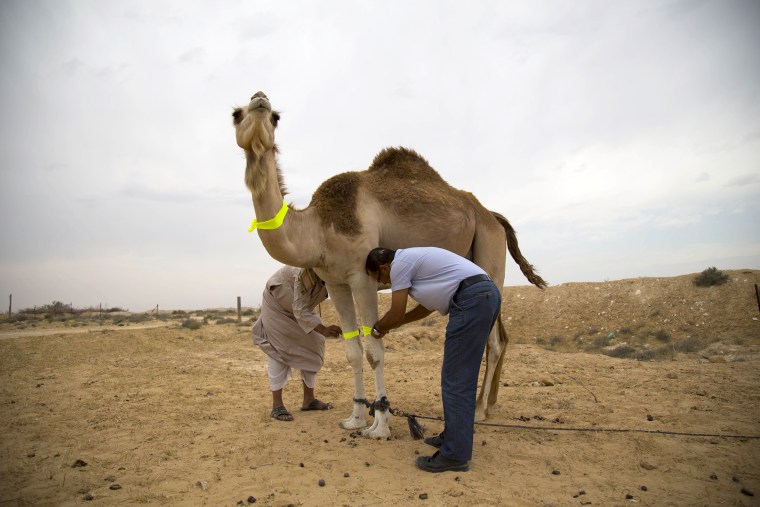 The regional council of Nave Midbar has taken a different approach: it's making the camels glow in the dark.
Armed with a bag full of glowing yellow bands, council veterinarian Sliman El Sana has been meeting with Bedouins to test the plan — and the results have been illuminating.
"Our first priority is to save lives," Sliman said. "We tested the visibility at night on a few camels wearing the glowing bands and the results were great."
He has been outfitting camels with three glowing bands each — one on the neck and one on each front leg. It's been a cheap solution, easy to execute and — most importantly — one embraced by the Bedouins themselves.
"My camels roam freely at night and it is very hard to see them," said Yusuf Ben Hamid, who owns 15 of the animals. "I think the glowing bands will protect my camels from accidents."
Still, both the Bedouins and road-safety campaigners agree that more must be done. Some Bedouins also have started placing GPS trackers on their camels to alert them when they are about to cross highways, but safety campaigners say the government must get involved.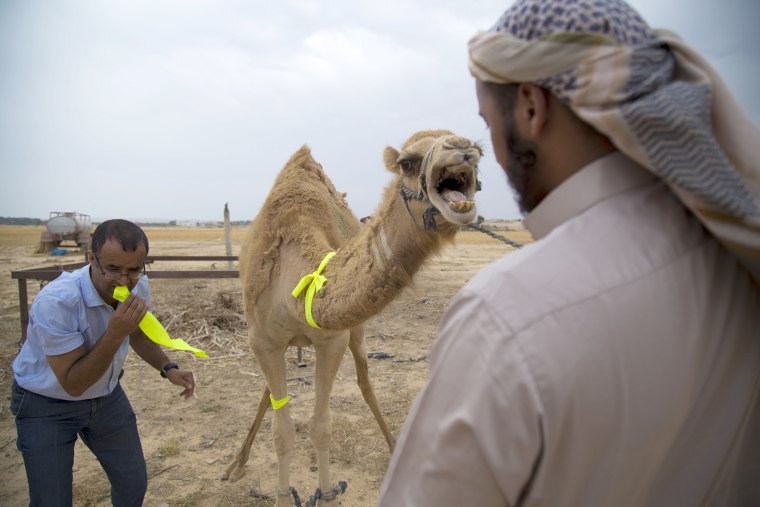 There were 57 Israelis involved in accidents with animals in 2014 compared to 27 in 2013, according to road-safety campaign group Or Yarok.
"[Last year] represented the deadliest year involving car accidents between cars and animals," Or Yarok head Shmuel Aboav said. "The authorities must take responsibility for this before more people die. The state must improve the road infrastructure so that the animals do not roam in the vicinity of the vehicles, and particularly deter pet owners and impose heavy fines to significantly reduce this dangerous phenomenon."