LONDON — A Belarusian tennis star was jeered as she walked off court Sunday night without shaking hands with her Ukrainian opponent.
Victoria Azarenka, ranked 20th in the world and a two-time grand slam winner, was beaten at Wimbledon in three sets by Ukrainian Elina Svitolina, who has vowed not to shake hands with any Russian or Belarusian players.
After the pair's fiercely competitive fourth round match ended on Court No. 1 on Sunday evening, the victorious Svitolina waved to the crowd — which then began to boo Azarenka.
Appearing bemused, Azarenka shook her head and gestured to the crowd by tapping her wrists together as she walked off.
By a longstanding tradition, players shake hands over the net after every match.
"What should I have done? Stayed and waited?" Azarenka said in her post-game press conference.
"She doesn't want to shake hands with Russian, Belarusian people. I respected her decision," he said.
Belarus has been a staunch ally to Russia in its invasion of Ukraine, including taking part in joint military drills. Its dictator of three decades, Alexander Lukashenko, claimed to have helped avert a recent mutiny by the Wagner mercenary group last month.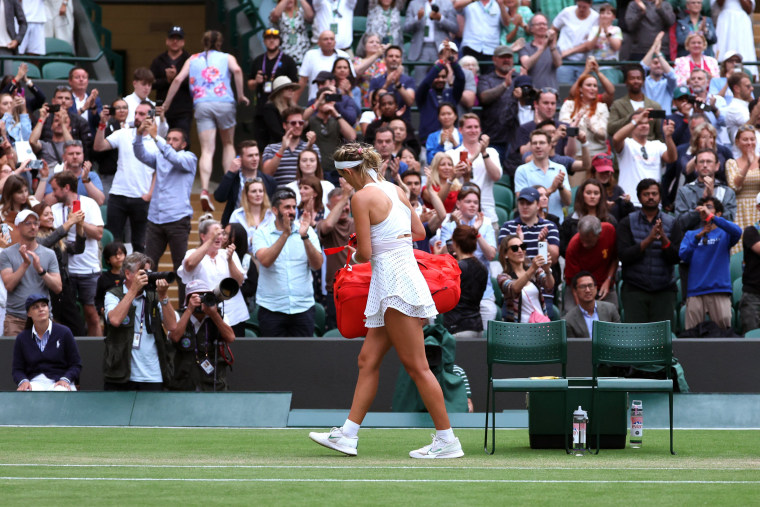 Russian and Belarusian players were allowed back at Wimbledon this year, providing they don't express support for Russia's military action, after the All England Club banned them in 2022.
Svitolina, 28, told reporters after the match that the crowd may have been expecting the players to shake hands and suggested that the organizers of Wimbledon make an announcement saying handshakes won't be happening when Russian or Belarusian players face Ukrainians.
"Each player that loses and there's no handshake is getting booed, I feel," Svitolina said. "I already said multiple times that until Russian troops are out of Ukraine and we take back our territories, I'm not going to shake hands. I don't know how more clear I can be."
Azarenka 33, has been one of the biggest stars in women's tennis for more than 10 years. She twice won the Australian Open, in 2012 and 2013, and was ranked No. 1 in the world. She reached the final of the U.S. Open three times, losing to Serena Williams in 2012 and 2013, and to Naomi Osaka in 2020.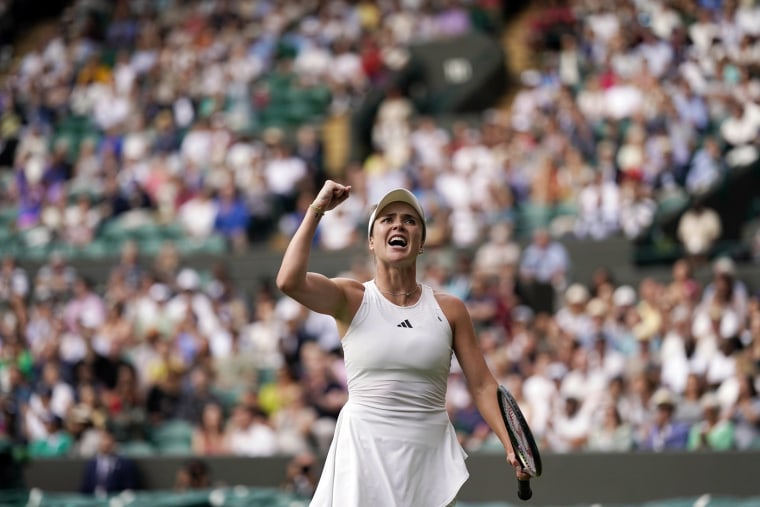 Svitolina, who gave birth in October, qualified via wild card. She next faces tournament favorite Iga Swiatek of Poland in the quarter final.
The International Olympic Committee said in March that Russian and Belarusian athletes could start to return to some events under a neutral banner.
FIFA, which runs the soccer World Cup and acts as a global governing body for the game, banned Russia and Russian clubs from competing in Qatar 2022 days after the Ukraine invasion began in February of that year.
CORRECTION (July 10, 2023, 1:38 p.m. ET): A previous version of this article misstated who Victoria Azarenka lost to at the 2020 U.S. Open Final. She was beaten by Naomi Osaka, not Coco Gauff.