Amid the chaos of Russia's brief uprising, an unlikely figure emerged to take credit for calming the spiraling situation. Alexander Lukashenko, the president of Belarus and often called "Europe's last dictator," has been ruling one of the world's most authoritarian regimes since the mid 1990s.
This weekend — as Yevgeny Prigozhin's Wagner mercenaries were marching on Moscow, and President Vladimir Putin scrambled to defend the city — Lukashenko sought to portray himself as peacemaker and savior of Russia.
To hear him tell it, he was responsible for talking Putin down from his threats to kill Prigozhin, instead persuading the Russian president to allow the Wagner leader and his fighters to leave Russia for Belarus, according to reports in the country's state media.
In this modern Russian drama, it was surprising casting for the role of rational mediator and Kremlin counterweight. Lukashenko is widely seen in the West as a Putin puppet of a Russian satellite state, particularly since 2020 when the Russian president helped him stay in power during weeks of demonstrations against his rule and the violent crackdown that followed.
"Without Russia, Lukashenko will not survive a single day," Sviatlana Tsikhanouskaya, Lukashenko's main rival in that year's internationally condemned presidential election, told NBC News on Thursday.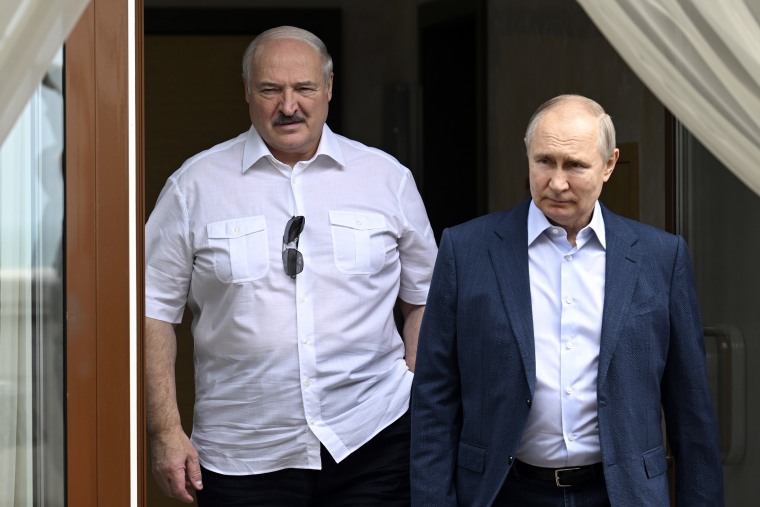 Lukashenko's part in the Putin-Prigozhin deal was all about "self-preservation," she said. "Let's be clear, Lukashenko was saving himself, not Putin. He realizes that if Putin's regime starts crumbling, his own regime will fall down first."
Tsikhanouskaya was forced to flee with her children to neighboring Lithuania after Lukashenko claimed a landslide in the 2020 vote and crushed protesters who, backed by international election monitors, said the ballot was rigged. Her husband, Sergei Tikhanovsky, a political blogger, was jailed for  18 years in December 2021 for organizing riots, following a trial condemned as a sham. 
Responding to the weekend's events in Russia,  Tsikhanouskaya believes Lukashenko's role in the Putin-Prigozhin truce had been inflated. "He was just a messenger for Putin in this situation, not a broker," she said. She added that the presence of Wagner fighters on Belarusian soil threatens not only its people, but also the European Union countries that border it: "It escalates Russia's domestic conflict to our territory, makes Belarusians hostages of Russia, and creates a threat to Belarusian sovereignty and to our neighbors."  
Lukashenko's spotlight moment came about amid a feud between Prigozhin and the Russian Defense Ministry. Wagner has led the fighting for several key Ukrainian cities, including Bakhmut, an eastern city that became a key symbolic prize for Putin when he claimed to have seized it last month at the cost of thousands of men.
But its leader has been heavily critical of the country's military commanders, using his well-oiled social media machine to launch repeated diatribes against Defense Minister Sergei Shoigu and Gen. Valery Gerasimov, chief of the general staff, whom he accused of downplaying Wagner's role and not supplying his fighters with sufficient ammunition 
It came to a head this weekend, resulting in a standoff between Prigozhin and the Kremlin that many experts said was the biggest challenge of Putin's 23 years in power. Just as the crisis threatened to boil over into an internal Russian conflict, Prigozhin announced he was turning around — thanks, according to Lukashenko, to a deal he brokered.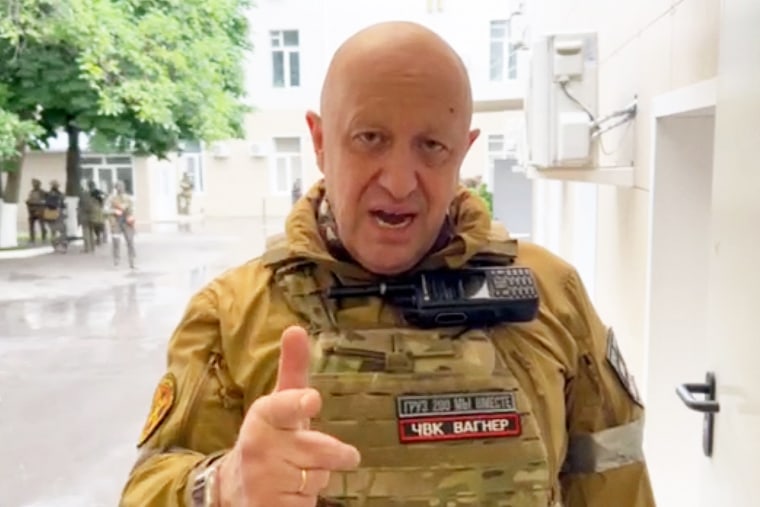 Belarus watchers in the West are now debating how much to believe this version of events, and what this means for his former Soviet republic.
"Putin was really, really humiliated," said Rosemary Thomas, Britain's ambassador to Belarus between 2009 and 2012. "It's very humiliating to have to cave into Prigozhin; it's super humiliating to have to rely on Aleksandr Lukashenko, of all people."
It's "pretty well known" Putin and Lukashenko "loathe each other," Thomas added. But the deal "has given Lukashenko a bit of the moral ascendancy — at least for the time being."
With Putin and Prigozhin seemingly weakened, the only Russia ally "to benefit from this situation is Lukashenko," said Maryna Rakhlei, a Belarusian national and former journalist, who is a senior officer at the German Marshall Fund of the United States, a nonpartisan think tank. "He has the symbolic capital of being able to portray himself as an independent actor and a regional peace broker," she said.
But that doesn't answer the question of "why Lukashenko?" added Rakhlei, who is now based in Berlin, adding that it remains unclear why it took a relative outsider to arrange a truce between the warring factions of the Russian state.
Belarus will likely remain a pariah in the eyes of the West, accused by human rights groups of silencing political opposition with rigged trials, unfair punishments and torture. Lukashenko has clung to power following a string of elections widely regarded as rigged, so much so that the United States and European Union no longer recognize him as the country's legitimate leader. 
Despite a wealth of documentary evidence and witness testimony, Lukashenko denies the allegations of human rights abuses and being a Putin stooge. In October, he told NBC News that he "occasionally quarreled" with his Russian counterpart but they remained "utmost close friends and reliable partners" who had "absolute trust in each other."
NBC News has contacted Lukashenko's office for comment on his role in the Putin-Prigozhin deal, as well as Belarus' human rights record and relationship with the Kremlin.
In recent years, Belarus has been drawn closer and closer into Russia's orbit and, in June, it allowed the Kremlin's tactical nuclear weapons to be deployed on its soil. 
Now it's unclear what the future holds for Lukashenko, or indeed Putin and Prigozhin.
The Belarusian leader is "basically a laughing stock in large parts of the West, but he's been able to play this role and I think he's going to play it for all it's worth," Thomas said, noting that the danger for all three men is not over. 
Lukashenko, she said, is still "going to have this nervousness and anxiety about what would happen if Putin was to fall — because he's still so reliant on him."