BEIJING — U.S. Secretary of State Antony Blinken arrived in Beijing early Sunday on a high-stakes diplomatic mission to try to cool exploding U.S.-China tensions that have set many around the world on edge.
Blinken was to begin two days of talks with senior Chinese officials in the afternoon. He is the highest-level American official to visit China since President Joe Biden took office and the first secretary of state to make the trip in five years.
The trip comes after he postponed plans to visit in February after the shootdown of a Chinese surveillance balloon over the U.S.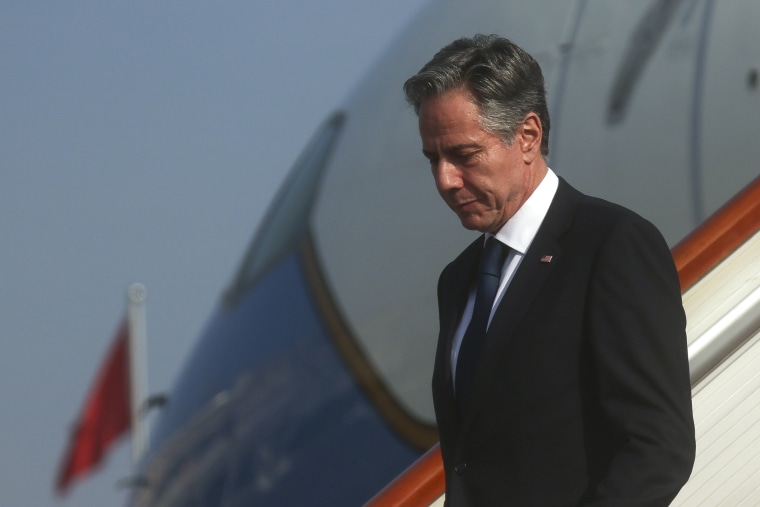 Blinken plans to meet with Chinese Foreign Minister Qin Gang on Sunday, top diplomat Wang Yi, and possibly President Xi Jinping on Monday, according to U.S. officials.
Biden and Xi agreed to Blinken's trip early at a meeting last year in Bali. It came within a day of happening in February but was delayed by the diplomatic and political tumult brought on by the discovery of what the U.S. says was a Chinese spy balloon flying across the United States that was shot down.
The list of disagreements and potential conflict points is long, ranging from trade with Taiwan, human rights conditions in China to Hong Kong, as well as the Chinese military assertiveness in the South China Sea to Russia's war in Ukraine.
Shortly before leaving, Blinken emphasized the importance of the U.S. and China establishing and maintaining better lines of communication. The U.S. wants to make sure "that the competition we have with China doesn't veer into conflict" due to avoidable misunderstandings, he told reporters.
Biden and Xi had made commitments to improve communications "precisely so that we can make sure we are communicating as clearly as possible to avoid possible misunderstandings and miscommunications," Blinken said Friday.