LONDON — One of the world's most famous museums has a problem: Some of its treasures are missing, and it needs the public's help to find them.
The British Museum in London this week appealed to the public to help recover around 2,000 lost, stolen or damaged items from its vast collection.
Details and images were released Wednesday of the missing loot — which includes jewelry and gems from the Greek and Roman eras — in the hope of generating some leads on where they ended up.
"If you are concerned that you may be, or have been, in possession of items from the British Museum, or if you have any other information that may help us, please contact us at recovery@britishmuseum.org," the museum said in a statement.
It came after the museum admitted last month that there had been a major theft, saying it had fired an unnamed member of the staff and announcing an independent review and recovery operation.
The museum said it was acting on the advice of recovery specialists by not sharing the full details of each item or the exact images. The pictures it supplied are of similar objects and officials are hoping they have revealed enough to generate responses from the United Kingdom and beyond.
The missing loot includes gems and semiprecious stones set in rings. Some are ancient and some are modern imitations, while some feature classical figures or animals. Also stolen were golden earrings dating to the Late Bronze Age, around the 15th the the 11th century B.C.
None of the stolen items were on public display — only around 80,000 objects are on display at any time, making up just 1% of the museum's sprawling collection of 8 million pieces.
A police investigation is underway into the thefts. London's Metropolitan Police said it interviewed an unnamed man in August in relation to this, but no arrests have been made.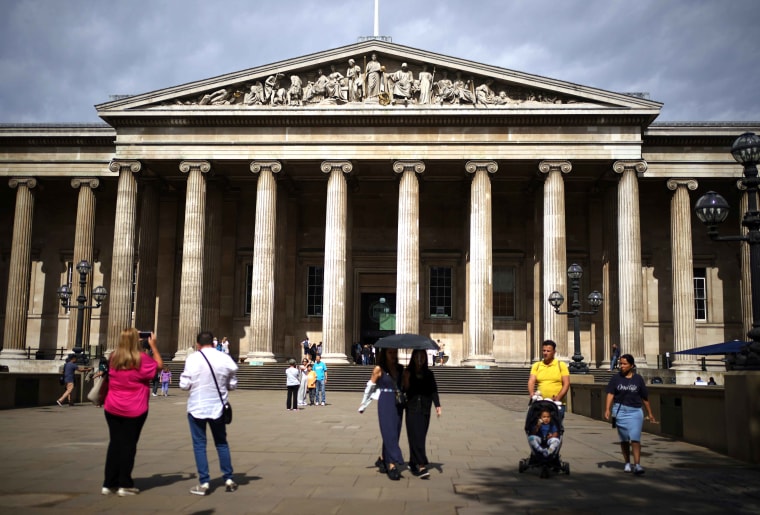 Christopher A. Marinello, CEO of Art Recovery International, which has recovered more than $600 million of stolen artwork and treasures, told NBC News that the British Museum theft was likely carried out by an insider who had been selling items online, including on eBay, for as many as 30 years.
"We get reports every single day of thefts from museums, churches, cultural institutions, private individuals," he said Wednesday.
"But what sets this apart is that it's a major museum, such as the British Museum that is so well-funded and secure. It was quite alarming."
The investigation centers on the system through which the museum allows staff access to its treasures. Many things in storage are largely of interest to scholars and curators and may only be brought out for study or major exhibitions, affording them less security than things upstairs behind glass panels.
"But when things are in storage, and many museums have most of their collection below ground in storage … there still needs to be very strict security protocols in place," Marinello added.
Insider theft at major museums is not unheard of, he said.
"In fact, 10 years ago, I was involved in a very similar case in Sweden, where a curator was stealing things from various Swedish museums outside of Stockholm, selling the objects to buy cars, to buy suits. And it was years before he was discovered," he said.
The British Museum should publish a full, exact list of every stolen item with accurate pictures, Marinello argued, to stop people from buying stolen objects — and even offer compensation to people who have already bought some.
But it's unlikely the museum has photos of everything that was stolen, he said, meaning that some may never be recovered.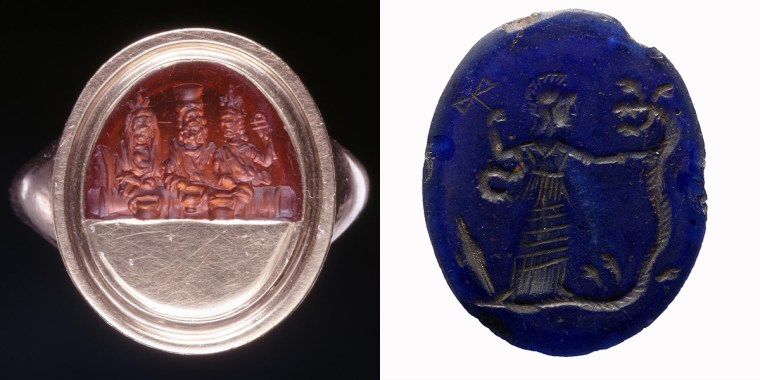 The scandal comes after the debate over what European museums should do with items taken from colonized nations across Africa and Asia in the 18th and 19th centuries has intensified in recent years.
Much of the museum's collection was acquired during Britain's colonial expansion during the Victorian era and many countries have requested the return of items. Museums in the Netherlands, Germany and France have agreed to return various artifacts, including human skulls.
The British Museum's most contentious include the Benin bronzes which were taken during a military conflict in West Africa in 1897.
The latest scandal challenges the museum's position that it is the safest place to keep the world's treasures, experts believe.
"They've been saying, 'These objects are much better preserved in the British Museum. We have much better security. We can't trust that these objects would be safe in your countries,'" Marinello said. "Now that this step has been taken, that argument is gone."