LONDON — Hundreds of thousands of vacationers were in limbo around the globe Monday after British travel firm Thomas Cook collapsed, prompting the largest peacetime repatriation effort in the United Kingdom's history.
The company went out of business after it failed to secure a rescue package from its lenders, Chief Executive Peter Fankhauser said early Monday.
The U.K.'s Civil Aviation Authority (CAA) confirmed that Thomas Cook — the world's oldest travel company — had closed its doors, and that the regulator and the government were mobilizing a fleet of aircraft from around the world to bring home more than 150,000 British customers currently abroad.
According to Reuters, Thomas Cook currently has 600,000 clients abroad, including the British citizens.
The CAA confirmed to NBC News that Thomas Cook customers were stranded in 18 countries around the world.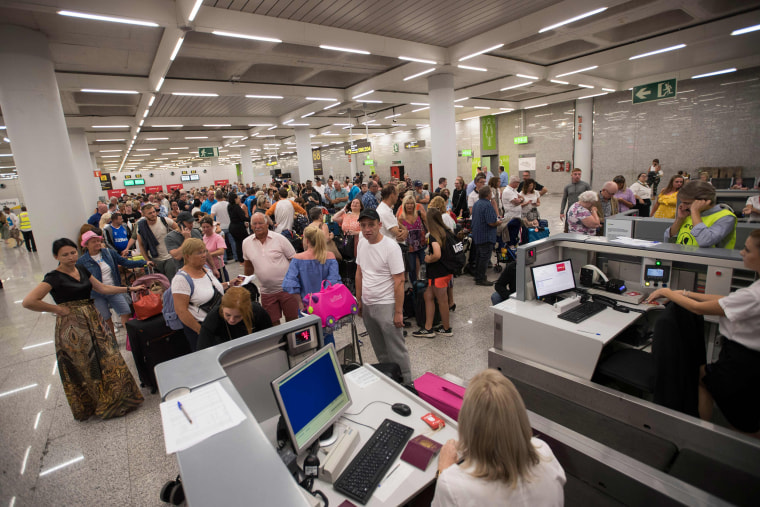 British Transport Minister Grant Shapps tweeted that the company's collapse has led to the "biggest peacetime repatriation in the U.K. history."
"We will bring everyone home," Schapps said. "An enormous task, there will be some delays, but we're working round the clock to do everything we can."
Meanwhile, Reuters reported that U.K. Prime Minister Boris Johnson questioned whether the directors of companies such as Thomas Cook were properly encouraged to avoid bankruptcy.
Johnson said Thomas Cook had made a request to the government for around 150 million pounds ($186 million), but that bailing it out would have set up "a moral hazard in the case of future such commercial difficulties that companies face."
The CAA said that the first repatriation flight has left John F. Kennedy International Airport in New York City and was headed for the English city of Manchester with more than 300 passengers on board.
Due to the significant scale of the situation, "some disruption is inevitable," it said.
Thomas Cook ran hotels, resorts and airlines for 19 million people a year in 16 countries. It also employed 21,000 people.
On Monday, the company's website was down. Instead, it ran a message saying the U.K. business had "ceased trading with immediate effect and all future flights and holidays are canceled."
Customers who were still in the U.K. and had yet to travel were told by the CAA not to travel to the airport as their flight would not be running. Those who were already overseas were also told not to go to the airport in their destinations until their flight back home has been confirmed.
Hundreds of stranded passengers took to social media to share their anger and disappointment.
"We're currently in Turkey with our 7-year-old son due to fly home on Wednesday," Liverpool-based Natasha Cook tweeted Monday. "Haven't received any emails, unsure of what to do next, highly doubt our Thomas Cook rep will be at the hotel today and I couldn't blame her. All those jobs gone! Awful, someone should be accountable!"
Greece's tourism ministry said some 50,000 tourists were stranded in Greece, mainly on its islands. It is estimated that around 22,000 tourists will be repatriated within the next three days, Tourism Minister Haris Theocharis said in a statement Monday.
Meanwhile, the head of Turkey's Hoteliers Federation said Thomas Cook's collapse meant Turkey could see 600,000 to 700,000 fewer tourists annually.
In an interview, Osman Ayik told Reuters there were some 45,000 tourists in Turkey who came from the U.K. and the rest of Europe via Thomas Cook.
Meanwhile, Tunisian tourism authorities alleged that Thomas Cook owed the country's hotels 60 million euros ($66 million) for stays in July and August, Tourism Minister Rene Trabelsi told Reuters. Around 4,500 Thomas Cook customers are still in the country.
The British aviation regulator has been contacting hotels hosting Thomas Cook customers to tell them that they will be paid by a financial protection scheme. Some customers at a hotel in Tunisia said they were prevented from leaving the property unless they paid extra fees, the BBC reported.
While vacationers figured out how to get home, some of the company's employees posted pictures of themselves walking from their last flights.
"I actually feel so sick and empty inside. My dream job gone in a blink of an eye," Kia Dawn Hayward, a member of the company's cabin crew, said on Twitter. "Us staff at Thomas Cook could fill a sea with all our tears right now."
The liquidation marks the end of one of Britain's oldest companies that started life in 1841 running local rail excursions before it survived two world wars to pioneer holiday packages and mass tourism.
Crippled by its 1.7 billion pounds ($2.1 billion) of debt, Thomas Cook has been hit by online competition and a changing travel market.