The U.S. Navy SEAL killed by direct fire during an ISIS-led siege in Iraq was identified Tuesday as Charlie Keating IV, a Phoenix high school graduate — and grandson of the banker who came to symbolize America's savings and loan crisis of the 1980s.
"Our state and nation are in mourning today over the loss of a U.S. serviceman — and one of America's finest," Arizona Gov. Doug Ducey said in a statement.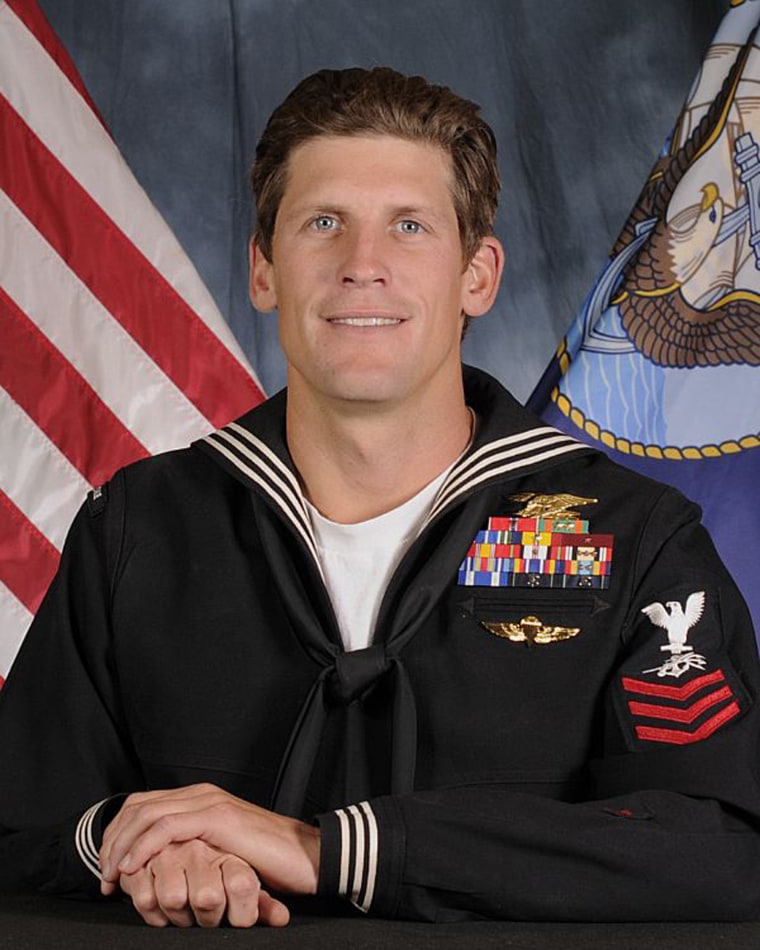 Keating IV, 31, had been advising and assisting Kurdish Peshmerga forces north of Mosul on Tuesday when he was struck, officials said earlier, without naming the Navy SEAL.
Keating IV, a graduate of Arcadia High School, is the third American service member to be killed in direct combat since the fight against ISIS began in 2014, the Obama administration said.
"His death is a tragic reminder of the daily sacrifices made by our men and women in uniform — fighting evil and extremism on the front lines to protect freedom and democracy at home and throughout the world," said Ducey, who also ordered all flags in the state to be flown at half-staff Wednesday.
Related: ISIS Attack Kills U.S. Navy SEAL Near Irbil, Iraq
Keating IV's death near Iraq's second-largest city occurred as ISIS fighters conducted a large-scale attack — an offensive highlighting how dangerous the operation remains to root out the terror group from the country.
The Navy SEAL was part of a quick-reaction force that was beset by 125 ISIS forces in 20 vehicles, several truck bombs and bulldozers that raged on for hours against Kurdish forces and the American trainers in Tel Askuf, U.S. Army Col. Steve Warren told reporters Wednesday.
In addition to the American forces on the ground, 31 U.S. aircraft, including 29 warplanes and two drones, launched 11 airstrikes.
Nearly 60 ISIS fighters were killed. Three Peshmerga soldiers were also killed.
Warren said it was not clear if the ISIS fighters were aware that American advisers were on the ground. The militants were able to punch through the Kurdish line of defense and the U.S. forces were caught up in the battle, he added.
Keating IV was based in Coronado, California, outside San Diego, according to Ducey. His fiancée also lived in Coronado, reported The San Diego Union-Tribune.
Keating IV was a former student-athlete at Indiana University where he attended from 2004 to 2006 and was a track and field and cross country runner, the university said in a statement.
"When Charlie left IU to enlist and try to become a SEAL, I don't think it really surprised any of us," Robert Chapman, a professor of at IU Bloomington who served as the men's cross country coach from 1998 until 2007, said in the statement. "You could tell he was a guy who wanted to be the best and find out what he was made of, and serving as special operations forces for his country embodied that."
Keating IV's grandfather, Charles Keating Jr., was the central figure in a financial scandal that saw his real estate company and its subsidiary, Lincoln Savings & Loan Association, become mired in scandal in 1989, reported NBC affiliate KPNX.
Five U.S. senators — dubbed the "Keating Five" — were investigated by the Senate Ethics Committee for corruption for supposedly intervening when Lincoln's lending practices were being probed by the Federal Home Loan Bank Board. One of the senators received a formal reprimand. Another of the senators involved, Arizona's John McCain, was cleared.
Keating Jr. was eventually indicted on fraud and racketeering charges, and served almost five years in prison, although his related convictions were overturned on technicalities. In 1999, he pleaded guilty to bankruptcy fraud but did not have to go back to prison. He died in 2014 at age 90.
According to the Arizona Republic, Keating IV was known as C-4 because he had the same name as three generations before him.
"What happened in the past, I really don't care. I'm really close to him," the younger Keating told the Republic in May 2004 when he ran in the Class 4A state track and field championship, and his grandfather watched him compete for the first time.