CHONGLI, China — With Beijing readying another Olympic bid — this time for the 2022 Winter Games — more and more of China's middle class are discovering the millennia-old pastime of skiing.
"I love to ski because it's exciting and funny, and the snow is so beautiful," 16-year-old Qiaochu Chen told NBC News at a resort 160 miles outside the Chinese capital.
Chen was one of what officials at the Genting Secret Garden Ski Resort estimate will be up to 300,000 visitors for the year. That would be double the 150,000 visitors last year and 50,000 when the resort opened three years ago.
While Chinese archaeologists claimskiing was invented in China (Norway and Russia also claim this accolade), ski culture is relatively new in the country. Less than 5 percent of people in Beijing, China's largest ski market, currently partake in the sport, and 80 percent of those who do are beginners, according to China's state-run People's Daily newspaper.
Beijing is competing against Kazakhstan's Almaty for the 2022 Winter Games, and Olympic officials will visit the city from March 24 to March 28 before making their decision at a meeting in Kuala Lumpur, Malaysia, on July 31.
Officials in China are hoping they can push more people to hit the slopes and capitalize on Beijing's presence in the Olympic bidding process.
The Chinese government has launched the "300 Million People Winter Sports Plan" in an effort to introduce more young people to winter sports and build a base of athletes for future Olympics.
At the Genting Secret Garden Ski Resort — which would host the freestyle skiing and snowboarding events if Beijing wins the 2022 bid — some effects of the push were already evident.
"I see a lot changes taking place here now," said Zhiyou Song, who runs the ski school at the resort. "We haven't made any advertisements, but a lot people have got to know us from TV or from media saying we may hold the Winter Olympic Games. I think it can attract more people interested in skiing," said Song, who himself started skiing in 1991.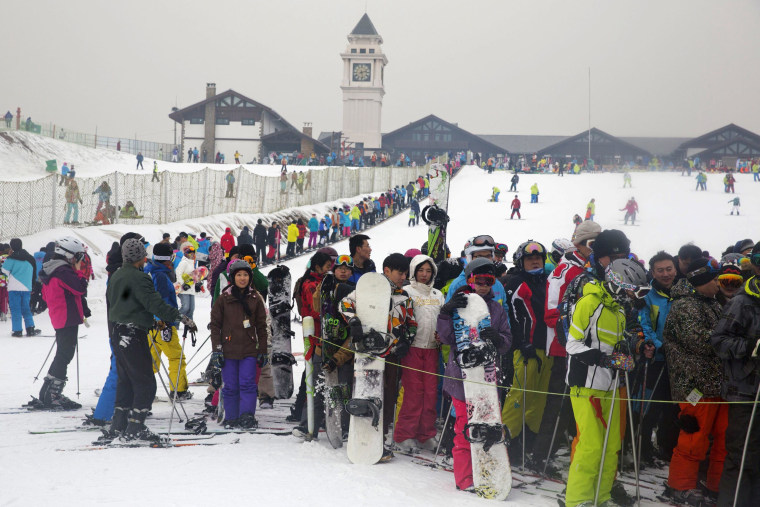 Tony Shi, 35, was on the slopes on a recent afternoon. He said he took up skiing three years ago after seeing a James Bond movie.
"The people in the movie were skiing in Russia and I fell in love with skiing," he said, adding that he thinks "China is a good market for skiing and it will be a big business in the future. More and more resorts, and more and more skiers."
From the top of the resort — nearly 6,900 feet high — Chinese skiers and snowboarders of varying skill levels can be seen navigating the slopes.
Ms Yangsaid that after learning to ski in Switzerland, she had expected to find Chinese ski resorts in poor condition by comparison — but was pleasantly surprised.
Still, she said she really wishes that Beijing will win the Olympic bid.
"Then the facilities and the infrastructure will be better," she explained.
One thing that could stand in the way of that is the distance between proposed venues for the Beijing 2022 games. The plan to have the majority of events outside of Beijing — save for skating, curling and ice hockey — has drawn concern from the Olympic working group. During the most recent assessment last year, the working group scored the Beijing bid worst on transport and the environment.
To counter these worries, the Chinese government is developing a high-speed train to cut the travel time down to 50 minutes from Beijing to one of the major proposed Olympic venues in Chongli — currently more than three hour's drive away.
"I want to introduce skiing to my good friends and my classmates"
Another potential hurdle is snow — or lack thereof. Chongli County, where many of the snow-based Olympic events are planned to be held, only gets an average of 39 inches of snow per year. By comparison, Colorado's Aspen resort gets an average of 200-300 inches of snowfall a year. Genting's white ski trails are made of about 30 percent artificial snow, according to the resort, and stand in stark contrast to the brown, lightly snow-flecked hills around them.
Still, none of that appears to be deterring determined Chinese youngsters set on earning their place in the country's next generation of snow stars.
Eleven-year-old Quan Zheng and 10-year-old Han Wang have only spent a handful of days skiing between them, but are already talking about the next time they will be back.
"I'm going to introduce skiing to my good friends and my classmates, and then they can come and ski too," said Zheng.
"I want to try the highest ski mountain next time!" Wang added.
NBC News' Julia Zhou contributed to this report.