LONDON — British police on burglary patrol have sparked a backlash after officers apparently entered several unlocked homes without permission and tweeted photos of themselves inside.
Coventry City Police tweeted the images under the hashtag #stoleninseconds, a campaign to remind people to lock their doors when they go out.
Most pictures posted under the hashtag showed officers pointing at open windows and unlocked side-gates from the outside. However, at least two of the photos showed officers apparently having entered a property without permission.
Those two tweets were removed from the police department's official account, but not before NBC partner ITV News, the BBC and others took screenshots on Twitter.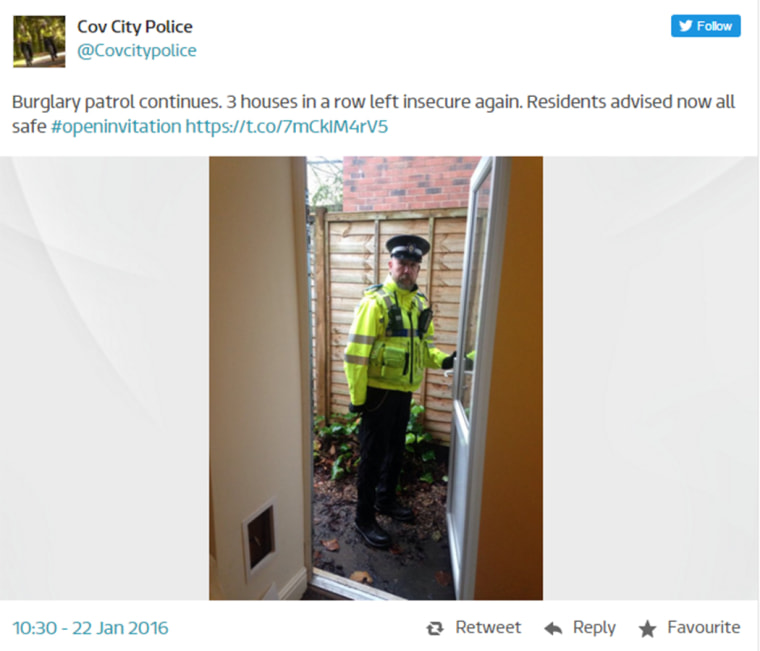 The message accompanying one image read: "Another house left open, owner advised, that's 6 in half hour!! Stop making life easy for thieves. #stoleninseconds."
Brits on Twitter reacted with dismay to the officers' tactics, with some questioning the legality of their actions.
A smaller proportion were in favor of the officers' efforts.
Coventry City Police said in a statement that they had "very positive feedback from residents" who were "grateful for officers pointing out" that their houses were unlocked.
"We encourage our police teams to be proactive and creative in their use of social media to engage with the public and get messages across," the statement added. "We haven't received any complaints from residents but obviously we will take on board social media comments."
The force declined to comment on why some of the tweets had been deleted.