PARIS — Éric Zemmour does not mind comparisons to Donald Trump. 
"We are not the same but we have points in common," the far-right TV pundit, who Tuesday declared his candidacy for French president, told NBC News at a recent book signing outside Lyon. "He is very American and I am very French, almost to the point of being a caricature." 
In fact, a central plank of his political vision echoes Trump's "Make America Great Again" message: "I want a French France," he has said.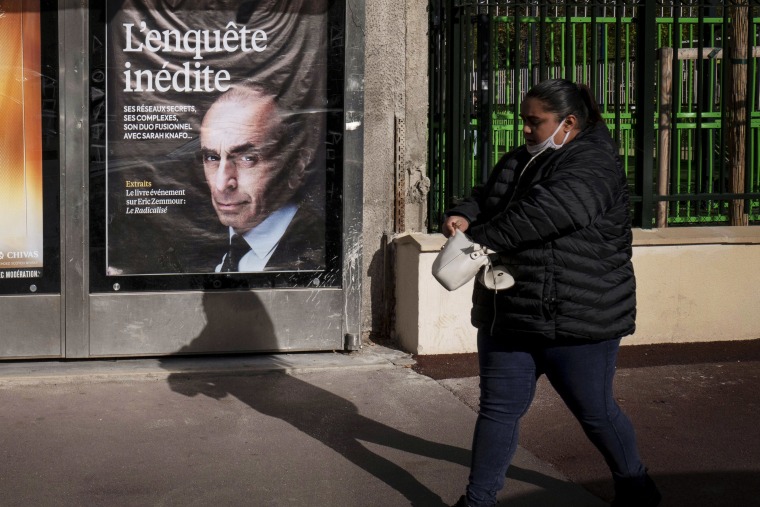 Slight and charismatic Zemmour, whose parents were French Algerian Jews, may be very French, but the media frenzy surrounding him and his background as an outspoken star of the small screen is drawing parallels to the former American president's meteoric rise. A recent video of Zemmour pointing a sniper rifle at journalists in Paris has been watched by millions. His controversial opinions on women and France's role in World War II have shocked many.  
But his leitmotif is immigration and Islam. 
"We will not let ourselves be dominated, subjugated, conquered, colonized," he said in a video announcing his candidacy Tuesday.
"We will not let ourselves be replaced," he added, a nod to the "great replacement," a conspiracy theory which posits that European, white and Christian populations are being supplanted by nonwhite immigrants from Africa and the Middle East, particularly Muslims. It has been adopted by white supremacists, and linked to mass shootings in the United States and New Zealand. 
Seemingly out of nowhere, Zemmour, 63, has electrified France's presidential race. The neatly-dressed firebrand has hammered home warnings of a country in decline and exploited sentiments thriving well beyond its shores to emerge as a new leader of the country's formidable far right, while still appealing to more mainstream conservative voters. More than one poll has predicted he could overtake Marine Le Pen, the doyen of the hard right, to reach the final round of the election in April and go head-to-head with President Emmanuel Macron.
"I think people are not enough afraid of him — they don't think he can make it," said Gaspard Gantzer, a former strategy and communications adviser to the last Socialist president of France, François Hollande. "Nobody thought that Trump could win."
Modest beginnings
Zemmour spent much of his early childhood in Drancy, a modest Parisian suburb whose high-rise social housing and private apartment blocks dwarf the small detached properties set back behind iron railings below.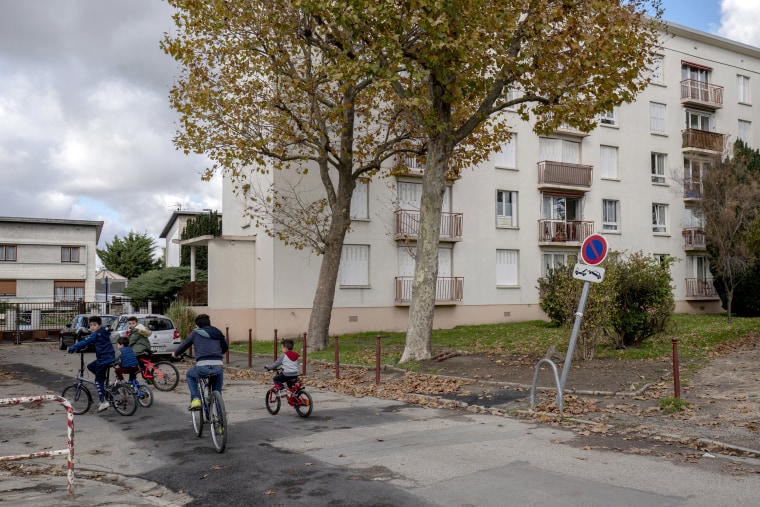 The population of this sprawling suburb reflects the waves of immigration over the years, including those who arrived from southern Europe and former African colonies like Algeria. His parents, widely reported to be named Roger, an ambulance driver, and Lucette, a housewife, moved to France from Algeria in 1952. Storefronts tout everything from French patisserie to kebabs, the streets are clean if not beautiful, and the houses neatly kept. In one central bar, men congregate around a television checking the numbers they've drawn in a lotto-style game against those on the screen.
The extent of Drancy's diversity is difficult to grasp exactly because France's commitment to universalism, which subsumes other identities into Frenchness and encourages immigrants to integrate, largely prohibits the government census from counting people by race or religion.
It is this Frenchness that Zemmour wants to preserve, and what has led him to label Islam as "incompatible with France." On a recent visit to his home suburb televised by TV channel CNews, he confronted a woman who was wearing a headscarf. 
"You're not doing as the French do," he told the woman, who was introduced as Rachida, a naturalized French citizen, and who had just insisted that she is French. 
"I work, I pay my taxes, I raise my children," she responded. "See the woman that I am, not the piece of fabric on my head." 
"I see only the fabric on your head, because you only show that … you say to everyone, 'I'm Muslim,'" Zemmour responded.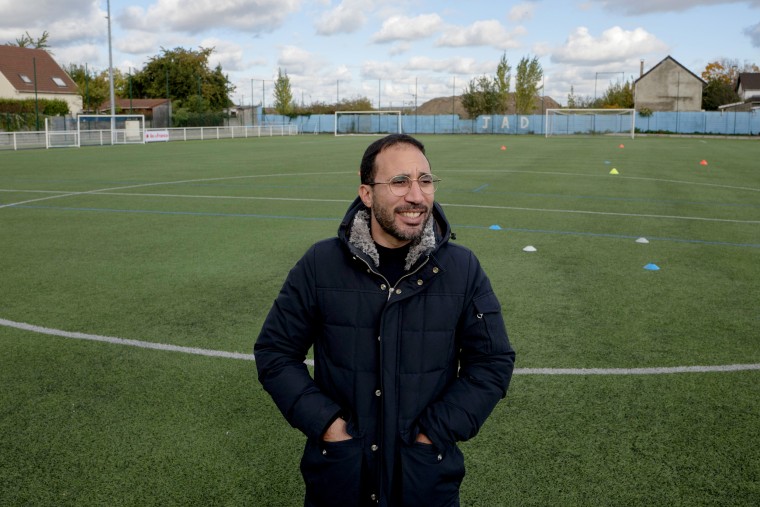 Hamid Chabani, a deputy mayor of Drancy and the founder of a Franco-Berber cultural center in the suburb, said Zemmour's rhetoric was dangerous and risked emboldening the most extreme members of the Muslim community in France. The Berbers are an indigenous people of North Africa.
"It's Islamism that's not compatible with France, it's the terrorists who aren't compatible with France," he said in his office in Drancy's municipal building, which is framed by a neat square complete with bright bedding plants and a fountain. "We have the right to have a religion."
"If he wins, the risk is civil war," Chabani said, adding that he doubted Zemmour would win.
France has one of the largest Muslim populations in Europe, a legacy of its colonial domination of large parts of Africa and the Middle East. In recent years, it has also been bloodied by deadly terrorist attacks, many of which were carried out by homegrown radical Islamists. 
Zemmour says he makes a distinction between Islam and Muslims and says everyone has the right to practice their religion. He says he has nothing against foreigners, but prefers French people, and asks that immigrants assimilate. He wants to oblige parents to give their children "French" names rather than foreign ones such as Kevin or Mohammed. 
He has warned repeatedly of the "great replacement," an idea popularized by the French writer Renaud Camus.
Asked by NBC News whether the "great replacement" was in fact a conspiracy theory, Zemmour demurred, describing it as an "unstoppable" demographic process. 
Some in Drancy believe he speaks cold hard truths even if they say he sometimes goes too far. 
Michelle Ardinge, a French citizen born in Madagascar who now runs a funeral home in the suburb, said she agreed with most of what Zemmour said on immigration.
"We're a cosmopolitan country, but still at home you shouldn't feel invaded by foreigners who don't respect anything," she said.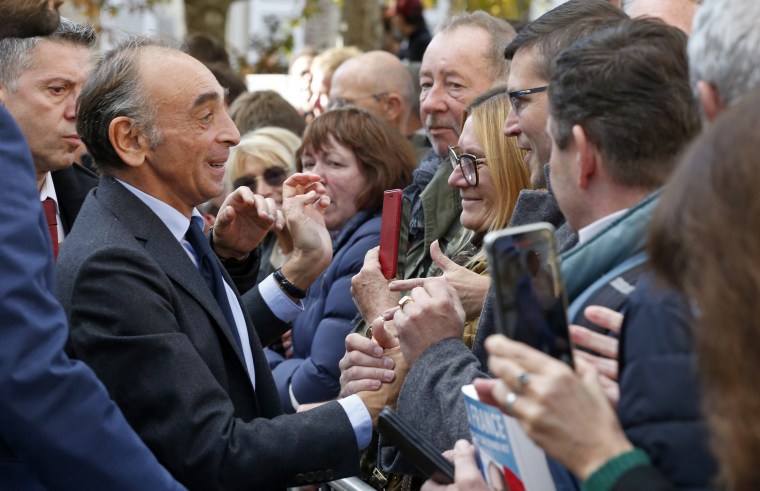 But Zemmour's controversial opinions have also landed him in hot water. 
Last month, he went on trial for inciting racial hatred for calling unaccompanied child migrants "thieves," "killers" and "rapists" on TV last year.
Zemmour said in a statement that the proceedings were nothing more than a further "intimidation attempt" and that he would not attend the trial because he believes political debate should not take place in courtrooms.
His lawyer, Olivier Pardo, told RMC radio that the charges don't hold up: "He's wanted for 'racial hatred,' for inciting racial discrimination with regards to unaccompanied minors, but as far as I know, unaccompanied minors are neither a race, nor a nation, nor an ethnicity."
'Immeasurable good luck' 
While espousing Frenchness, Zemmour's own roots come from further afield. 
He was born in Montreuil in the eastern suburbs of Paris; his parents had moved to metropolitan France from Algeria — a colony that gained its independence in 1962 after 132 years of French rule. 
Zemmour has said his parents "idolized" France and that he and his family, whose surname means olive tree in Berber, successfully assimilated to the French way of life. In his most recent book,  he writes that he always thought it "immeasurable good luck" to be able to become the compatriot of the likes of René Descartes and Gustave Flaubert. 
He has spoken about how growing up, he wore a skullcap in the synagogue but not on the street, and how his name was Éric outside and Moses inside the place of worship.
As for his own beliefs, Zemmour has said he's doubtful about the existence of God but that he goes to the synagogue when he wants to re-immerse himself in the rites of his childhood and to remember his parents. 
He has shocked many with his claims that France's wartime Vichy regime, which teamed up with the country's Nazi occupiers, "protected" French Jews while handing over foreign ones. 
Around 76,000 Jews are estimated to have been deported from France to the death camps during World War II. The majority went through a camp in Drancy, situated less than a mile from the modest apartment block where Zemmour grew up.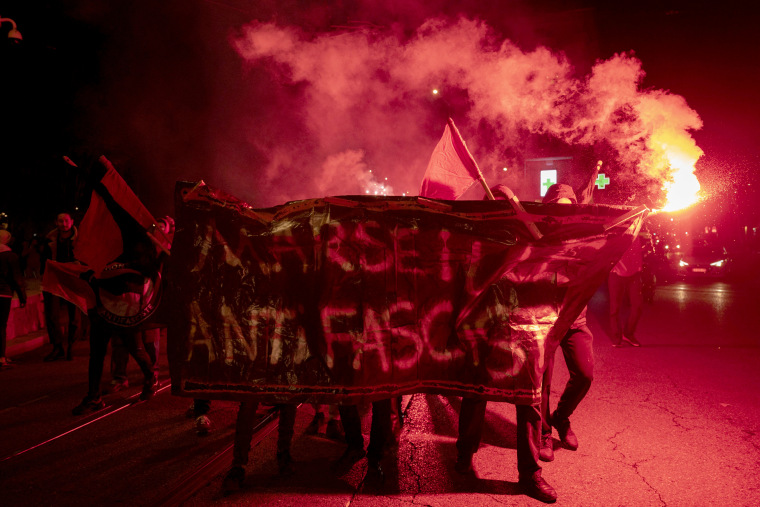 Today, a somber sculpture of figures lying across one another, a symbolic rail carriage and a museum mark the site of what was then an antechamber to Auschwitz concentration camp. But it took time for France to reckon with this dark chapter in its history. In 1995, then-President Jacques Chirac acknowledged that France had "handed over those under its protection to their executioners," finally owning up to the country's role in the Vel d'Hiv round-up, a mass arrest of Jews by French police in 1942. 
France's chief rabbi, Haïm Korsia, has described Zemmour as anti-Semitic and racist. 
In response, Zemmour accused Korsia of being a "court Jew" who wanted to deliver his scalp to Macron.  
For Serge Klarsfeld, a historian and Nazi hunter, it is what Zemmour says about Muslims that is most alarming. 
"He speaks like Hitler," Klarsfeld said. "He has a beastly vision of society and what he says is either it's them or us." 
Some blame the media for giving oxygen to Zemmour's ideas. 
A recent poll found that 2 in 3 French people are concerned that a "great replacement" could happen in France. 
But Zemmour's supporters say efforts to protect the French people and their interests do not make Zemmour  — or them — racist. As for the charge of anti-Semitism, they point to the fact that he is Jewish and say he will protect Jews against insults and attacks by Islamists. 
Press contacts around Zemmour did not respond or declined to field requests for comment regarding allegations that the TV pundit's speech is racist, sexist, Islamophobic and anti-Semitic, as well as clarification about his run-ins with the French justice system.
Among his most vocal supporters is a group of young people, Génération Z, who have a strong online presence and are led by a cherub-faced president, Stanislas Rigault. 
Sitting on the terrasse of a Parisian cafe, the 22-year-old former law student described Zemmour as "the brains" of the French right and said he was the only person capable of synthesizing the working-class electorate of Le Pen, with those who usually vote for the conservative Les Republicains. 
"It's those two electorates that could lead to victory in the end," he added.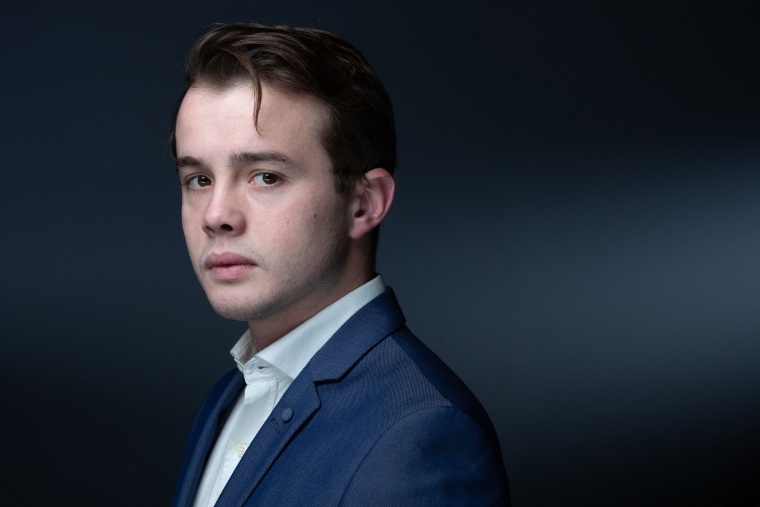 Recent polls consistently put Macron ahead of right-wing candidates, but that hasn't stopped supporters from throwing their weight behind Zemmour.    
Other fans include a group of teachers who recently wrote an Op-Ed in a conservative daily in which they lamented the influence of "progressive propaganda" on schools and called for reform founded on "merit, excellence and authority" — a transformation they say only Zemmour has the courage to pull off. 
The authors believe standards in French schools are in decline, children are no longer taught to love their country, teachers no longer have enough authority, and ideology is seeping its way into the classroom, a spokesman for the teachers, Guillaume Bessières, said recently over coffee. 
"He wants to keep ideology away from the classroom," Bessières said of Zemmour, adding that Zemmour differentiates between teaching and raising children. It's up to parents to orientate children morally and politically, Bessières said. 
"When schools take charge of raising children, and even the ideology of children, for us it's a danger," he added. 
But for others, it is Zemmour himself who poses a threat. 
A recent poll found that he is the most rejected political personality in France, with 70 percent of eligible voters considering him "racist," 66 percent "misogynist" and 67 percent considering him "dangerous." Zemmour has denied being a misogynist or racist. 
Recent polls have also shown Le Pen to be Macron's principal rival once again, overtaking Zemmour. 
Separately, on Friday, lawyers announced that Zemmour and one of his political aides, Sarah Knafo, would launch legal proceedings after Closer magazine claimed they were expecting a baby. 
But the polemicist won't give up without a fight — and like Trump, one place that starts is by pushing back against the media. 
"It is necessary to refuse the language that the media imposes," Zemmour said recently. "Trump does that in his own way and I do it in mine."