Former Red Sox slugger David Ortiz suffered serious internal injuries after he was shot in the back while at a bar in his native Dominican Republic, according to authorities.
Ortiz, 43, was at the Dial Bar and Lounge in the eastern part of Santo Domingo on Sunday night when a gunman fired once at close range, hitting Ortiz in the back, said Dominican Republican National Police Lt. Juan de Leon. The bullet exited through Ortiz's stomach and hit television host Jhoel López, who was at the bar with Ortiz.
Ortiz underwent surgery at the Center for Advanced Medicine in Santo Domingo, and doctors removed his gallbladder and part of his intestine, Ortiz's spokesman, Leo López, said, adding that Ortiz's liver was also damaged.
Download the NBC News app for breaking news and politics
López said the baseball star was in stable condition in intensive care. He was flown back to Boston Monday night and transported to Massachusetts General Hospital for further care, a Red Sox spokesperson confirmed, adding the team would work with his doctors and family for any updates.
"We have offered David's family all available resources to aid in his recovery," the Red Sox said in a team statement earlier.
And Red Sox president and CEO Sam Kennedy recalled how Ortiz played such a critical role in helping the city of Boston heal in the wake of the Boston Marathon bombing.
"In 2013, when we needed David Ortiz the most, he was there for us," Kennedy said Monday. "Our focus is on his health and on getting him back here for treatment."
Ortiz famously look the microphone before a game at Fenway Park, on April 20, just five days after the attack, and spoke out for the city of Boston: "This is our (expletive) city and nobody's going to dictate our freedom! Stay strong!"
Former President Barack Obama also wished Ortiz well Monday.
"Six years ago, David Ortiz's spirit and resolve helped us all begin to heal from the Boston Marathon bombing. Today, I want to join many others in wishing him a speedy recovery of his own," Obama wrote on Twitter. "Get well soon, Papi."
Ortiz's father, Leo, had earlier told reporters outside the health clinic that his son was out of danger. He said he had no idea why someone would have shot at his son.
"He is out of surgery and stable. He is resting," Leo Ortiz said. "'Big Papi' will be around for a long time."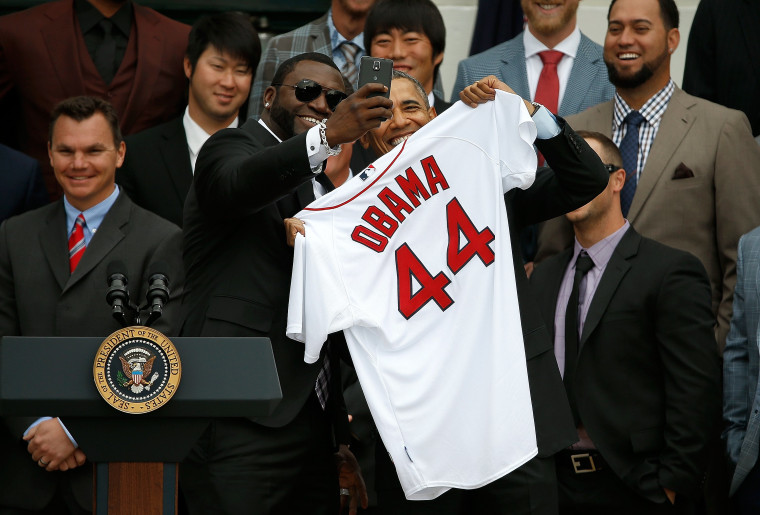 Jhoel López was hit in the thigh and was being treated at a different facility.
The suspected shooter, identified as Eddy Vladimir Felix Garcia, arrived at the bar on a motorcycle with another man shortly before firing the single shot then trying to escape on the bike, according to police. The two men fell off the motorcycle, but the man who didn't fire the gun escaped on foot.
Garcia was left behind and video shows him being attacked by a group of bystanders who served him swift kicks to the head as he sat on the ground. Garcia was captured by the crowd, who handed him over to police.
Garcia, from Las Caobas, Santo Domingo Oeste, was also being treated for injuries, according to police. He was previously arrested for drug possession in 2017.
The motive for the shooting is under investigation.
Ortiz hit 541 homers in 20 major league seasons, including 14 with the Red Sox. He helped lead Boston to three World Series titles in 2004, 2007 and 2013. He retired in 2016 as a 10-time All-Star and two-time World Series MVP.
The 2004 world title was Boston's first since 1918.